Strong investor demand pushes commercial property yields below 5% in Queenstown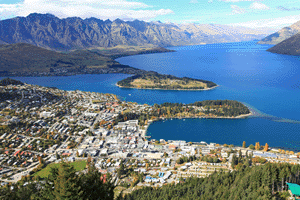 Strong investor demand for commercial properties in Queenstown is driving yields down to under 5%, according to Bayleys Research.
"While the [Queenstown] CBD in general is sought after, there are clearly parts of the CBD that are considered better than others," Bayleys said in its latest report on the district's commercial property market.
"As the scale of tourism in Queenstown expands, it is anticipated that the CBD's prime retail area will enlarge as well. 
"Retailers will look at opportunities to access the growing consumer spending in the area which may include an initial positioning on the fringes."
Eventually areas in the CBD that were currently considered fringe locations, would come to be regarded as prime, increasing the CBD's prime retail footprint over time.
At the moment there was a shortage of prime CBD retail properties available for sale and for lease, with both investors and tenants chasing anything new on the market.
Prime retail properties were renting for between $1200 and $1500 a square metre and selling at yields in the 4.5% to 5.5% range, Bayleys said.
There were more secondary retail premises available to lease, and these were renting for $600 to $800 per square metre.
However there was a shortage of secondary retail properties for sale, and those that did come onto the market were achieving yields of 4.5% to 6%.
The office market in Queenstown was more subdued, although prime office space was selling at yields in the 5% to 6.5% range.
"While there is a manageable amount of vacant space in Queenstown, tenant demand for accommodation that is available remains generally subdued," Bayleys said.
"There are cases of good quality space remaining vacant for an extended period of time.
"As a consequence, rental levels have remained largely unchanged over recent years."