Geoff Cooper says the intent of the proposed Unitary Plan is about letting Aucklanders decide how and where they want to live through markets, while managing the costs of these choices
By Geoff Cooper*

In recent times there has been a surge in research completed on the economic implications of Auckland's spatial form.
A common theme of this research has been Auckland's land use policy and the appropriate regulatory framework required to give residents greater choice in where they live and work, while managing the unintended consequences of these decisions.
The policies required to achieve such solutions are straight forward.
They include removing the barriers to development, particularly in high demand areas but also on the periphery of the city; but if the policies are simple, the path to implementing such policy is far more complex.
The most notable obstacle is the divergence in interests between current and future residents.
This is not unique to Auckland. Local governments around the world face this challenge, where residents first to an area make it difficult for others to move in.
This comes about because of the perceived costs of additional people moving to an area.
It is a challenge that requires far more thought by policy makers.
A wider range of tools is clearly needed, including mechanisms by which existing residents can share in the benefits of population growth either through the provision of greater amenity and levels of services, financial compensation or both.
It has become clear that if the value created by a growing population is not widely shared, then well directed urban policy will always be difficult, to the detriment of Auckland's competitiveness and economic potential.
Cities are the new centrepiece – but they are not without costs
Cities have become a centrepiece of the global economy. For the first time in history, over 50% of the world's population is living in cities, generating more than 80% of global economic output1.
Cities have become more important because knowledge has become more important.
Cities specialise in proximity, reducing the distance between people and in so doing, reducing the costs of moving ideas, people and goods throughout the economy.
This is what makes cities more attractive, generating higher wages and more opportunities. It helps explain why Auckland is growing rapidly.
Density also creates costs however. Congestion, environmental degradation and high house prices are common ills of density.
Such costs require careful management through a range of tools including prudent and well-targeted regulation, investment in infrastructure, a broader array of demand management tools and market based mechanisms that reflect development costs.
The competitiveness and growth of Auckland will be defined in large part, through its ability to implement such tools and manage these costs of density.
Urban policies to enable growth
Where you live and work matters.
The role of urban policy is to ensure that people have choices over where they live and work, without compromising other urban priorities such as public space, heritage and the environment.
Urban economists broadly agree that people should be able to determine themselves, where they choose to live and work, except where other social costs are incurred by such decisions.
If the first part of this sentence suggests a simple land use planning rulebook, the second is reason to pause and reconsider.
Greenfield development may be cheaper for an individual household but more costly for Auckland generally, since it often requires expensive infrastructure funded in part, through rates and commonly generates greater congestion costs.
In actuality, land use choices are riddled with externalities or unintended consequences, both positive and negative – meaning that the choices we make about where to live and work can have a wide range of impacts on others.
An individual worried about how a neighbour's renovations will affect their view; the retiree concerned about the new liquor store in town; the homeowner desperate to sell with a neighbour who hasn't mowed their lawn in months.
Each of these scenarios involves unintended consequences and costs (real or perceived) to seemingly innocent bystanders.
Effects of this nature must be taken seriously by policy makers, planners and economists alike.
All of this makes urban planning complex. It is not just a masterplan, rather it is a considered and cohesive plan that tries to balance the needs of everyone, home owners and renters, young and old, to ensure a good living standard for residents across social, cultural, economic and environmental aspects.
It is wrong to boil urban planning down to up or out. It is both. It also much more.
The proposed Auckland Unitary Plan is several volumes detailing thousands of different policies applying across Auckland. The level of consultation on the plan is unprecedented in the history of local government in this country. It is outside the scope of this article to describe even a fraction of the issues in question here.
Instead, we focus on just three issues that are notable for their consistent absence in the wider debate on Auckland's land use planning and housing affordability; the political economy of urban policy, Auckland Council's proposed urban limit policy and the policies behind a compact city.
The political economy of choice
'Auckland Unleashed' (the precursor document to the Auckland Plan), showed a significant amount of initial support for a compact city model. This resulted in an Auckland Plan and subsequently, a proposed Unitary Plan, laying out a model for urban development allowing for considerably more intensification in tandem with opportunities for dispersed urban development.
Since this time, there has been a concerted push back against this vision with corresponding policy changes.
Height limits have been reduced, density constraints tightened.
Attractive suburbs (as measured through prices) have been made more difficult to build in.
Homeowners in these areas stand to benefit with such constraints pushing house prices up further, but for the estimated one million new residents expected to arrive over the next 30 years or for those people from lower socioeconomic groups looking to locate closer to the city centre, the news is not so good.
Two important conclusions have emerged from the planning process.
The first is that planners are wrongly vilified as the architects' of high house prices in Auckland. This view is not supported by the evidence and its continued insistence is unhelpful to the debate.
Second, the political economy of urban policy plays a defining role in its final state.
While significant gains for housing choice were made in the proposed Unitary Plan, much of this was lost as the plan progressed. The difference between the proposed and notified plans was the incorporation of community consultation.
This is not to say that community consultation should be blamed, omitted or lessened in any way; it is the linchpin of local government and something to be protected.
Community consultation has only served to emphasise the real costs of intensification that are enacted on existing residents.
Asking residents to accept these costs for nothing in return has, unsurprisingly, yielded only incremental progress.
There is no reason to think a repeat will deliver something different.
If Auckland is to enable a quantum change in housing choice as envisaged in the Auckland Plan, new models of planning must be considered.
Auction schemes may form part of the solution, where community costs are priced through market mechanisms and facilitated negotiations rather than regulation.
For instance, one would expect significant latent demand for housing in high demand areas in much the same way that we see this occurring through land banking on the periphery of the city. Such profits could be shared by developers and communities (perhaps facilitated through local boards) to ensure the returns to growth are shared by current and future residents.
Moving on from urban limit debates
A lack of land supply is widely cited as a contributing factor in Auckland's rampant house price growth. Simple economics would support this view, as does the proposed Unitary Plan.
Auckland Council's proposed urban limit policy is to ensure an average of seven years infrastructure-ready, forward land supply.
While there is a defined boundary in place (the "rural urban boundary"), there will always be 20 years' forward supply of development capacity meaning that the RUB will not constitute a binding constraint on supply.
Once implemented then, approximately 20% more urban zoned land will be available outside the current urban limit.
This is an enormous amount of land, enough for 61,000-76,000 new dwellings or roughly equivalent in size to Hamilton.
Embedded in this policy is a subtle but important deviation in the driver of Auckland's urban limit policy. Where previously it was used to actively create a 'compact city', the rural urban boundary is now designed to facilitate the efficient provision of infrastructure required for greenfield housing development.
Any calls for further land release on the periphery of Auckland should be done in the context of this proposed policy. Doing so should largely put an end to this debate, helping to refocus attention on more important issues.
Rising to the challenge of housing affordability
There is widespread misunderstanding as to the tools wielded by local government in New Zealand to achieve a compact city.
Auckland Council is a regulatory authority; it is not a construction firm and has shown no appetite for forcing people to live in high density living.
Further, there has been no discussion about large scale subsidies for high density living and no consideration given to introducing minimum height restrictions anywhere in Auckland.
The toolbox for intensification largely consists of releasing those regulations that have prevented people from living in higher density areas.
It has become clear that far too little attention is given to assessing the economic benefits of such policy directives – and far too much on urban limit policy.
Given that land prices are highest on the isthmus – signalling high demand – and generally decline with distance from the city centre, this is puzzling.
A recent working paper by Melanie Luen, an economist at Auckland Council has shed light on this issue, showing evidence of a considerable 'regulatory tax' on housing development in the current urban limit. This implies that regulations are restricting supply so developers are unable to respond to rising prices, with house prices remaining at elevated levels as a result.
These findings are all the more important as a new round of apartment and terraced development attempts to get traction (see Figure 1).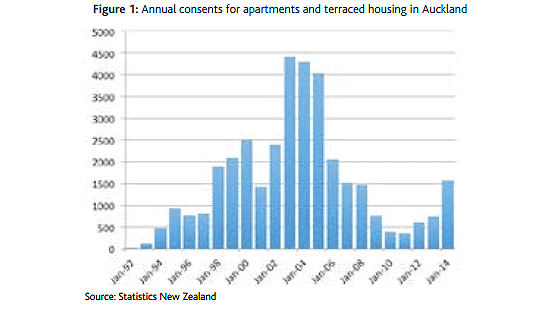 Let Aucklanders decide urban form through housing choices
The intent of the proposed Unitary Plan is, in many ways, about letting Aucklanders decide how and where they want to live through markets, while managing the costs of these choices.
It is clear however, that this 'intent' is heavily mediated by the political economy.
The future development of urban policy must progress on this understanding in tandem with more rigorous cost benefit analysis of land use policy.
Doing so would help reveal the true benefits of realising greater intensification, which we would expect to be significant.
In this context, the renewed focus on Auckland's urban issues is welcomed.
The recent work by NZIER, MRCagney, Demographia and others, examining the trade-offs of urban policy are important and constitutes a much needed addition to what is an ever-evolving field of study in Auckland.
Table 1: Recent empirical work on Auckland's urban form

-----------------------------------------------------
1. The Economist, 'Benchmarking the future competitiveness of cities', 2013
-----------------------------------------------------
Geoff Cooper is the chief economist for Auckland Council. This article was first published in the Auckland Council July Economic Quarterly.