Tainui Group Holdings' plans for a huge mixed use development at Ruakura get the nod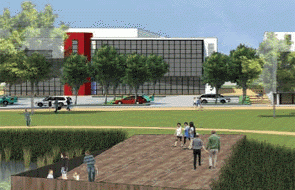 A multi billion dollar residential and commercial property development planned for Ruakura on the outskirts of Hamilton has moved a step closer.
A government appointed board of inquiry has released a draft decision approving the necessary re-zoning of the land from rural to residential and employment, with its final decision expected next month..
The project is being proposed by local iwi investor Tainui Group Holdings, which owns 500 hectares of land at Ruakura, along with local development company Chedworth Properties which owns some adjoining land.
Tainui's plans include the staged development of 1,800 new homes set around a wetlands and green belt recreation area, local shopping precincts, a "knowledge zone" close to the University of Waikato, AgResearch and the Waikato Innovation Centre and a major commercial and logistics hub which would act as an inland port.
The new logistics centre would incorporate a rail connection to reduce the number of trucks moving through the Waikato road network.
The development is expected to eventually see more than 10,000 full time jobs based in the area.
Tainui Group Holdings chief executive Mike Pohio said once the final decision was made, the company would need to apply for the necessary consents.
But it was hoped that ground work for both the residential and commercial precincts could get underway by mid to late next year.
The decision gave the company more clarity on the planning framework that was required and it looked forward to working closely with the local community and council over the coming months as it worked through the next planning steps, he said.