A studio apartment fetches $12,500 at auction and its two bedroom sister sells for $18,000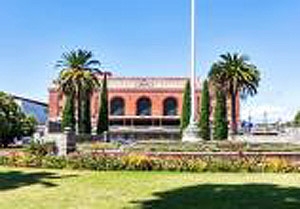 A studio apartment on the fringe of Auckland's CBD sold at auction today for $12,500, while a two bedroom apartment in the same complex sold for $18,000.
The studio was rented for $300 a week, providing the investor who bought it with a gross rental yield of 125% a year, while the two bedder was rented for $410 a week, providing its new owner with a gross yield of 118%.
But of course there's a catch behind those sensational figures.
Both apartments were part of the Grand Central student accommodation complex in the historic former Central Railway Station building.
The complex had weathertightness issues after it was converted to apartments and has since had extensive remediation work carried out.
The individual apartments in the complex are also on leasehold titles, which meant the studio's owner faced outgoings including ground rent of $12,024 a year plus council rates of $889 a year, which would leave just $2747 for the landlord to play with from the annual rent of $15,600.
That would bring the net rental yield down to about 22%, which is still an exceptional return given that most suburban investment properties selling in Auckland at the moment are likely providing gross yields of 5-6% and some even less.
The total outgoings including rates and ground rent on the two bedroom unit were $17,183, which provided a net yield of 23%.
Both units were offered as part of specialist apartment realtors City Sales regular fortnightly auction, and there was competitive bidding on both.
The result shows that there is exceptional money to be made in the leasehold apartment market by those investors who have the stomach for it, with most mum and dad investors scared off by recent ground rent increases.
However the new owners will have one eye on what happens when the ground rent is next reviewed in 2018 as part of a regular seven year review cycle. 
'Silvery tongued sales patter'
Pity the original purchasers of many of the leasehold units coming back on to the market though. Many leasehold apartment complexes in Auckland were originally sold down through property spruiking outfits with initial ground rent holidays in place.
Their buyers were taken for mugs who fell for silvery tongued sales patter and failed to factor in what could happen when market ground rents kicked in.
Units in the Grand Central complex originally sold for between $100,000 and $150,000 each and their owners may have faced additional costs from the weathertightness remediation work the complex required, which would add to their huge capital losses when they sold.
Don't feel too sorry for the vendors of the two units that have just sold though, as it's understood they were Australian.
On a happier note, a two bedroom shoebox in the Forte building on Symonds St, which was on a freehold strata title, sold under the hammer at the same auction for $240,000, giving its new owner a gross rental yield of 8.6%.
The vendor would also be happy because QV records show it was purchased in 2011 for $185,000, providing a handy capital gain that reflects the rise in freehold CBD apartment prices over the last couple of years.