Alistair Helm examines the July property market statistics and interprets what he finds. He thinks underlying economic strength will win through against the current headwinds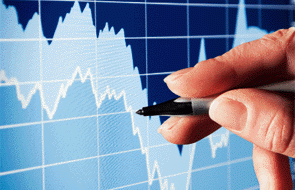 The latest set of data released by the Real Estate Institute provides a further update on the state of the property market around the country.
I have taken the details of sales volumes and prices and inputed them into charts to provide some clarity around the key trends and what that can tell us about the current market and the outlook for the next year.
Sales Trends
In terms of property sales the number of sales per month keep slipping - 5,893 properties sold in July, down 13% as compared to July last year.
This takes the total for the first 7 months of the year to 42,057 as compared to the first 7 months of last year with a total of 47,423 a decline of 11%. 
The market peaked in October last year when the moving annual total hit 80,677.
The current moving annual total has slipped to 74,753 as shown in the chart below.
Property sales are the lead indicator of the market and as such tracking a trend in sales is key to the potential future outcome of the market in price movements.
As such the next chart is important as it looks at a 3 month moving average period of sales data.
This is showing a change in the trend in sales volumes as the rate of decline is reversing and potentially in a couple of months we could well be seeing year-on-year increases again.
The factors behind this reversal of the decline in sales is a shift in the balance between the positive effect of the broader economic growth pitched against the financial constraints placed upon the market by the combination of LVR and rising interest rates.
There is no doubt that the latter has had a major impact on sales coming as it did (far from coincidentally) starting in October of last year.
However I suspect that the improving sentiment around recent references to delays in future increases in interest rates and potential loosening of LVR policy may be bringing about this reversal with the underlying economic strength winning through.
Price Trends
Pricing as stated earlier is more of a lag indicator of the property market and this is seen in the latest set of statistics of the Stratified Median Price Index from REINZ.
The data is reported monthly for each of the main 3 metro areas as well as the whole of NZ and the balance of the North Island and the balance of the South Island excluding these main cities.
Detailed below are the chart for each of these 6 views of the property price trend covering the past 7 years tracking the latest data for July matched to the peak of the market pre-GFC and the bottom of the market in late 2009.
New Zealand
Auckland
Wellington
Christchurch
Other North Island (excluding Auckland / Wellington)
Other South Island (excluding Christchurch)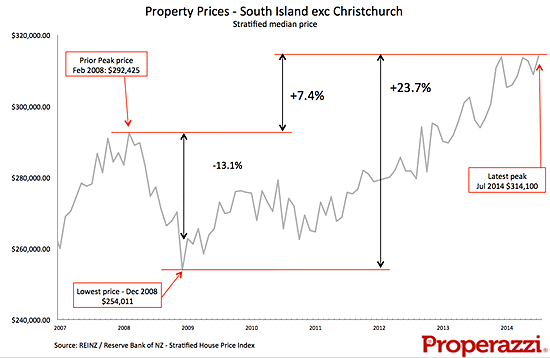 ---------------------------------------------------------------------------------------
The above article was written by Alistair Helm, and is republished with his approval. The article was originally published on Properazzi here