Alistair Helm shows how to look behind the vested interest of real estate industry stories based on 'statistics'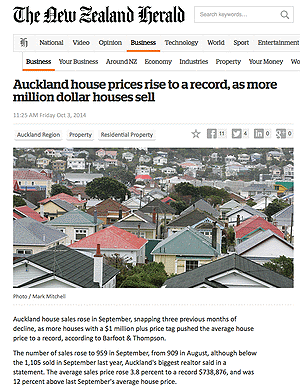 I remember hearing somewhere that it was bad news that sold newspapers - apparently not so when it comes to property ...
... or so you would imagine if you read the recent headline from the NZ Herald detailing the September results from Barfoot & Thompson.
The headline: "Auckland house prices rise to a record, as more million dollar homes sell".
Reading the article after I had reviewed the numbers from Barfoot & Thompson's report on their website got me thinking.
How different the article and quite possibly the headline might have been if the reporter had reviewed the data rather than just the press release.
Here are the first two paragraphs of the article as published:
"Auckland house sales rose in September, snapping three previous months of decline, as more houses with a $1 million price tag pushed the average house price to a record, according to Barfoot & Thompson.

The number of sales rose to 959, from 909 in August, although below the 1,105 sold in September last year, Auckland's biggest realtor said in a statement. The average sales price rose 3.8 percent to a record $738,876, and was 12 percent above last September's average house price."
Now let me using the source data from Barfoot & Thompson September report and provide an alternative two paragraphs:
"Auckland houses sales continued to fall in September, the 8th consecutive months to see sales fall on a year-on-year comparison. Significantly sales of properties in the $400,000 to $600,000 price range saw falls of 22 percent.

The number of sales at 959 were 13 percent below September last year, Auckland's largest realtor said in a statement. The median sales price continues to go sideways at $635,000, a trend that has been seen for 4 months now since a peak of $645,000 was reported in May."
The facts are simply the facts.
It is just that the NZ Herald decided to copy and paste the press release from Barfoot & Thompson and I chose to spend a bit of time looking at the key facts. 
When it comes to reporting on the property market and presenting facts there are some key points to bear in mind that are critical to helping make a more informed decision as to the article:
1. Sales data is only relevant when compared with prior year.
Property sales are seasonal. There is no value in comparing one month with the prior month unless it is seasonally adjusted data.
Here is the representation of Auckland sales by Barfoot & Thompson to demonstrate the state of sales:
2. Average sales price is not an accurate and trusted measure in property sales reporting.
The range of property for sale especially to the high end of value can have a significant impact on the average price. Let me show you.
Lets say that the September 2014 sales had been the same - 959 but instead of 161 sales over $1m there had been just 146, 15 less properties sold over $1m (that 146 sales is how many properties sold for over $1m last September) and then lets say that an extra 15 properties sold at say $700,000. This scenario would have seen an average price of $710,000 - that is $28,000 less than the actual all for the sake of 15 properties! - that is how misleading it is to quote average prices.
3. Median price or better yet the Stratified median price is the most respected and trusted method of tracking house prices.
Here is the median price for Auckland properties sold by Barfoot & Thompson measured by median price which shows the levelling off.
4. Real estate companies have a vested interest in presenting favourable articles based on statistics.
They want to be seen as selling more than other companies or reporting higher prices or indicating that it is a great time to buy or a great time to sell or that there is a shortage of listings or a massive selection of listings.
All of which as you can judge are often conflicting situations, 
As a final thought, researching the quote that 'bad news sells newspapers' I came across this article from The Guardian ( a media source I trust) who in a 2007 article on just this subject made the observation "peoples' interest in news is much more intense when there is a perceived threat to their way of life".
It got me thinking - of course rising house prices, especially at the level they have attained in Auckland are what might be thought of as a "perceived threat to their way of life" - so maybe in the case of property news good news is actually bad news and the team at the NZ Herald are the smartest guys in town.
---------------------------------------------------------------------------------------
The above article was written by Alistair Helm, and is republished with his approval. The article was originally published on Properazzi here.