English says Land Information NZ has begun looking at the practicalities of a Foreign Buyers Register; English says Govt still on boosting housing supply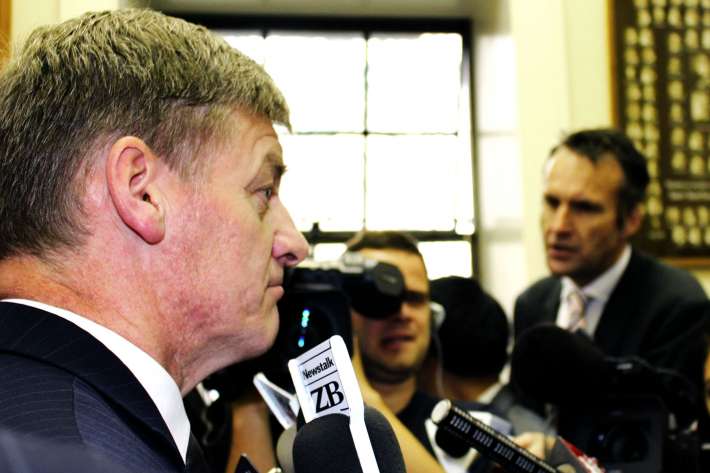 By Bernard Hickey
Finance Minister Bill English has revealed Land Information New Zealand (LINZ) has been doing some early research into the practicalities of a Foreign Buyers Register, a measure called for by Opposition politicians and already in place in Australia.
His comments followed Prime Minister John Key's disclosure yesterday that China's President Xi Jingping had asked for New Zealand's help in tracking down a number of corrupt officials and their associates who had fled to New Zealand, and had often bought assets here.
Real estate agency group Juwai said over the weekend that a 15-20% surge in Chinese investment in New Zealand real estate was likely in 2015 and 2016 as wealthy individuals sought safe, clean places for them and their families to live outside of China. Auckland's property market surged again in October and November as interest rates fell and concerns about a Capital Gains Tax and a ban on foreign buyers were removed when National won re-election.
English was asked by reporters in Parliament if a Foreign Buyers Register would help New Zealand and China track illicit capital flows into Auckland's property market. "Possibly, but there's pretty strict requirements in our banking system now with our anti-money laundering laws and you'd want to be sure that any other measures add to the effectiveness of those other existing rules," he said.
"The anti money laundering rules are pretty tight and have just been implemented over the last few years at great expense and any further measures would need to be demonstrated to increase the effectiveness. Generally, we've got a corruption free and transparent system and we want to keep it that way," he said.
Asked again if a Foreign Buyers Register should be adopted, English said: "As we said last week, we're open minded about whether there's some effective mechanism, but in the big picture, the biggest pressure on our housing market is lack of supply, and that's the bit we're focusing on because we believe that will make more difference for more New Zealanders in the long run to have more affordable housing on the ground faster, regardless of what other influences are on the market."
Asked if Treasury and LINZ were researching a Foreign Buyers Register, he said: "I gather there's some going on, but I'd need to check with the Minister of Land Information to see what they're doing. This issue has been around for a couple of years, there's nothing new about it."
A spokesman for LINZ later said: "LINZ has done some preliminary work in the area of tracking foreign ownership of residential property.  We will continue to monitor developments around the world in terms of land and property registers."
The tone of English's comments towards a Foreign Buyers Register has been more conciliatory than that of Housing Minister Nick Smith in recent weeks. Key was also more open to the idea in comments at a post-cabinet news conference yesterday.
The issue has become more prominent in the last fortnight in the wake of an Australian Parliamentary report calling for tougher rules on foreign buying of Australian residential property, including a type of stamp duty on purchases by non-residents. Labour Leader Andrew Little has supported looking at such a fee, along with calling for a Foreign Buyers Register.
English agreed flows of capital from China into New Zealand's property market were expected to grow.
"I'd expect that the flows from China are going to grow, but when you look at Chinese ownership of property across New Zealand, to the extent that you can measure it, looks relatively limited compared to our traditional offshore investors of Singapore, Japan, US, Australia," he said.
"We don't know in detail the immigration status of the owner of every piece of property. These issues have been raised before in terms of how complicated it would be try to establish exactly who owns what. Australians have had one in place for a while. There's a question of the cost and complexity of getting the data and what you can use it for, other than political debate."
Key downplays China risk
Meanwhile, Key downplayed suggestions that corrupt money from China was being laundered through Auckland's property market, pumping up prices.
Key said the "vast overwhelming bulk of people buying them in Auckland are New Zealand residents or New Zealand citizens."
"That pattern could change over time. I accept that as China gets wealthier and other countries get wealthier they may look to spread their wings a bit more, and that's an issue that New Zealand like every other country has to consider both the pros and cons of that because there's a bit both ways," Key told a news conference on Monday.
Key said the Government was open minded about a foreign buyers register.
"If there's a credible register we're not afraid of such a thing, we're just saying we don't think that's the answer to the issues. All a register would give you is arguably a bit better information on what's happening and that might be of merit, but realistically for us tackling the housing issue, which we're doing effectively, still sits in that issue of release of land and speeding up the supply of new product," he said.
'Sercret register'
Labour Housing Spokesman Phil Twyford accused the Government of hiding the work on a Foreign Buyers Register.
"Last week Andrew Little called on John Key to adopt the Australian policy on foreign buyers. Bizarrely, at the same time John Key, Bill English and Nick Smith tried to claim a register was either unnecessary or not going to achieve anything," Twyford said.
"Today Land Information NZ has revealed it has been working on a register so we find out National has been developing this in secret and not telling New Zealanders. This is another example of John Key and his Government hiding the truth from Kiwis," he said.
"Clearly this register was a policy they were planning to launch as a big start to next year. Too bad their secret register has been discovered."
Money laundering?
Meanwhile, English deflected suggestions that corrupt Chinese money was pumping up property prices in Auckland, arguing it was just as possible as corrupt local money.
"It's quite possible in the same way that some real estate auctions may be affected by New Zealanders who have got illicit money from drugs. The banks have got requirements to meet around anti-money laundering, which are pretty intensive these days. We'd expect them to be following those regulations," he said.
Donations rejected
Elsewhere, Little told reporters he had rejected two donations to the Labour Party from two Chinese donors while he was Labour Party President from 2009 to 2011.
He said he had a hunch that he could not determine the ultimate source of the funds and had therefore rejected the funds.
National Party President Peter Goodfellow told reporters in Parliament he was as confident as he could be about the source of the National Party's donations, but that National did not have the resources to do indepth investigations. He said some donations had been rejected, but none had been linked to corruption in China.
Elsewhere, Key told reporters that Immigration officials did the best checks they could on the sources of fund.
"Yes, but as best they can. I think the challenges always are in tracking the final routes of these things," Key said. He rejected a suggestion that New Zealand would keep a cut on the sale of any properties or assets that were repatriated to China.
"If somebody is here in New Zealand that has undertaken illegal behaviour and brought illegal funds with them to New Zealand, they should be returned, provided they can be met with the conditions that I outlined earlier (around human rights and the death penalty)," Key said.
"But we are not looking to get some sort of pay back for that," he said.
(Updated with more comments from Little, Goodfellow, Twyford and Key, English picture)