Minister Nick Smith proposes buildings with unreinforced masonry must be assessed and strengthened twice as quickly as other buildings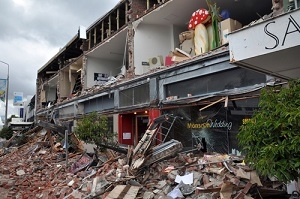 The Government's proposing to toughen the rules around earthquake strengthening buildings with unreinforced masonry.
It's planning to update the Building Act, so that buildings with dangerous parapets, facades and verandas, are assessed and upgraded twice as quickly as other properties.
The Minister for Building and Housing, Nick Smith, is referring to buildings with masonry that can fall onto public roads, footpaths or other thoroughfares local councils say have enough foot or vehicle traffic below them to justify more urgent upgrades.
He estimates around 2000 buildings will fall into this new category of 'priority buildings', which will include most commonly used retail areas or central business districts around the country.
He explains, "The effect of being a 'priority building' is that the times for assessment and upgrade requirements are halved.
"In a high risk area, this means the assessments will need to be completed in two and a half years, instead of five, and upgraded within seven and a half years rather than 15. In a medium risk area, the assessments would need to occur in five years instead of 10, and the repairs within 12 and a half years, rather than 25."
Smith says it's a matter of striking a balance between keeping people safe, while keeping costs down and preserving heritage buildings.
"These latest changes are about targeting the requirements at parts of buildings that pose the greatest risk in areas of high and medium seismic risk", he says.
"We also believe there is an additional duty of care to protect people in a public place like a road or pedestrian walkway that justifies these buildings being given higher priority."
Smith says it's a matter of learning lessons from the February 22, 2011 Canterbury earthquake.
"Falling parts of unreinforced masonry like parapets and facades killed 35 people that tragic day, including every passenger on the Red Bus except Ann Brower. I pay tribute to her fastidious advocacy and professional research that has persuaded us to change the law and prioritise these buildings for upgrade.
"I also acknowledge the strong submissions from Christchurch Mayor Lianne Dalziel and her council."
The law changes are included in the Building (Earthquake-prone Buildings) Amendment Bill, which was reported back from Parliament's Local Government and Environment Select Committee today.
The Bill includes a number of changes that were announced by the Minister in May, such as zoning New Zealand into areas of low, medium and high risk, and the prioritising of education, hospital and emergency buildings.
It's still subject to a second reading, select committee stages and third reading. The Government aims to have the legislation passed by the end of the year.