Iwi and hapū group surrender right to develop public land in Auckland, making way for Government to push on with housing plan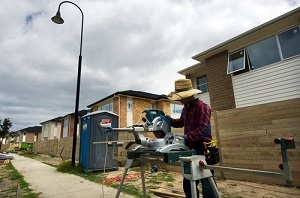 A group of iwi and hapū is permitting the Government to go ahead with its plans to build houses on Crown-owned land around Auckland, which it has first dibs on to develop.
Building and Housing Minister Nick Smith says the Housing Mahi Ngātahi Agreement, reached between iwi, hapū and the Government, includes "a shared commitment for 20% of new houses delivered through the Auckland housing programme to be made available for purchase by community housing providers, and for a further 20% priced as affordable for first home buyers".
The Crown and Ngā Mana Whenua o Tāmaki Makaurau – a group of 13 iwi and hapū – signed an agreement in 2012, which says that if the Government wants to develop land subject to a Right of First Refusal for state housing purposes, it has to give the iwi and hapū the first opportunity to be the developer.
But the agreement between the Crown and the group will now enable the Government to use the 500 hectares of vacant public land for housing, while ensuring Treaty settlements are upheld.
The Auckland iwi, Ngāti Whātua, has also agreed to withdraw legal proceedings to allow the Government's programme to continue at pace.
Smith says the Crown's assessment of potential sites is progressing with a focus on those parcels of land with the capacity for 60 homes or more.
"The next step will be issuing an Invitation to Partner, seeking private sector expertise and capacity for delivering housing developments. Individual projects may include iwi partners where they have taken up the opportunity."
Smith hopes the first development agreements will be in place this year, and the first homes from the programme completed by the end of 2016.
Smith's office confirms no money has been exchanged in reaching the deal. 
Labour housing spokesperson Phil Twyford claims Smith has been "completely humiliated once again" and that Ngāti Whātua has "used his blunders to their full advantage to extract an excellent deal for Aucklanders that the minister would never have developed himself".
"Nick Smith blundered his way through the entire process of trying to get large scale vacant public land developed for housing. He didn't do his homework and forgot that Ngāti Whātua has first right of refusal for sales of government land. Then he said he could ignore the law and Ngāti Whātua's legitimate claims.
"Now the minister has been forced to settle to get out of a court case. This is a humiliation for him, meaning he cannot sell land off to other developers until the iwi has agreed.
"The irony is that Ngāti Whātua's deal is an excellent one for Aucklanders, extracting a commitment from the Government for 20 per cent affordable homes and another 20 per cent for social housing. This is a much better outcome than Nick Smith would have delivered.
"If he had any sense left at all he would have worked with Ngāti Whātua from the start instead of stumbling and blundering his way into a court case", Twyford says.