If residential property yields are next to nothing then commercial yields aren't far behind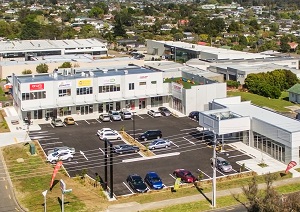 The yields at Colliers latest commercial property auction dipped well below 4% with a property at Devonport on the North Shore achieving a yield of 3.6% and another at Avondale achieving 3.89%.
The yields on four shops in the same block at Glen Eden ranged from 4.68% to 7%, and Knight Frank sold a large industrial property at Papakura for $7.95 million.
See below for the details:
Commercial Properties Sold at Auction by Colliers International:
4034 - 4038 Great North Rd, Glen Eden, west Auckland. A block of four retail shops (pictured at right) that were sold separately at auction: a 68.6 square metre shop leased to Bruce Lee Sushi, sold for $635,000 providing a yield of 4.68%; an 88.7 square metre premises leased to Pita Pit sold for $800,000 providing a yield of of 4.7%; a 124.5 square metre shop leased to Arum Cafe sold for $910,000 providing a yield of 5.5%; a 392.9 square metre premises leased to Snap Fitness sold for $1.825 million providing a yield of 7%.
Other Properties Auctioned by Colliers International included:
Recent Commercial Property Sales by Knight Frank:
62 Hunua Rd and 2 Croskery Rd, Papakura. A large industrial property on two sites with a combined land area of 9903 square metres and building floor area of 5823 square metres. Sold for $7,950,000. The agents were Damon Wylie and Layne Harwood.
If you are interested in buying commercial property, interest.co.nz's commercial property database link has details of nearly 6,000 commercial properties that are listed for sale throughout the country.

To search the database, click on the property tab at the top of this page and then click on "Commercial properties for sale" from the drop down menu, or you can click on the link below:
---

You can find almost all commercial property for sale in our comprehensive nationwide listings which are searchable across any major type.
Find this free resource here.