Britomart developer's opposition to council plans for Quay Street leads to u-turn over location of bus interchange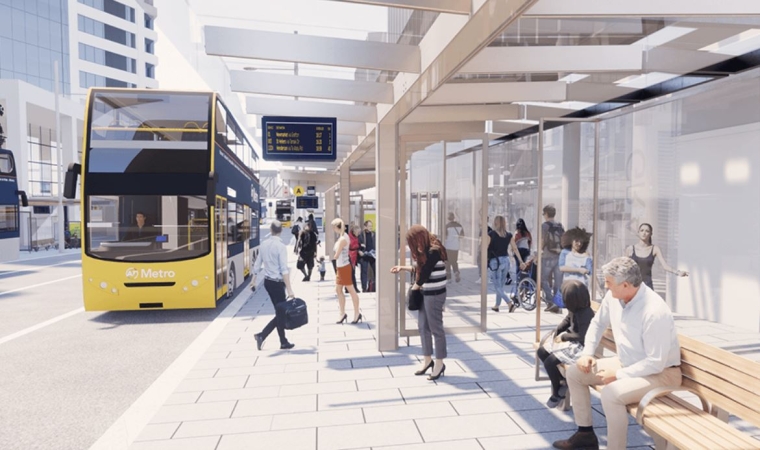 Plans to build a multi-million dollar bus interchange between Commerce Street and Britomart Place on Auckland's Quay Street have been canned after developers Cooper and Company said it would impact on their real estate interests in the upmarket Britomart precinct.
Auckland Council staff have now been told to go back to the drawing board.
Auckland Transport (AT) planned to build two new bus interchanges in the Downtown area. One on Quay Street between Commerce Street and Britomart Place and another station on Lower Albert Street. It said the two terminals would allow people to access, or transfer between buses, ferries and trains and construction was expected to start in late 2019 or early 2020.
The Lower Albert Street Bus Interchange would be used to cover northern and western services, while the Britomart East Bus Interchange would be used to cover southern and eastern services. The two stations were expected to cost $39 million.
But according to the Auckland Council's Auckland City Centre Advisory Board, the planned location of the Britomart East Bus Interchange project has now been scrapped following a review.
"As a result of this review, and through discussion between Auckland Transport and Auckland Council, it has been agreed that the proposal for a bus interchange on Quay Street between Commerce Street and Britomart Place is not in line with the aspirations and vision for the downtown waterfront area as set out in the City Centre Masterplan and would not deliver an outcome that is best for Auckland.
"As such, future option identification and assessment work for bus facilities in the Britomart East area will discount options that include bus stops in Quay Street between Commerce Street and Britomart Place and also the installation of a roundabout at the Quay Street and Commerce Street intersection.
"This is seen as a positive outcome and acknowledges the importance of connecting the city with the waterfront through good quality public realm outcomes. The Britomart East bus interchange project team are now working through the development of long list options which will be assessed through the business case process. This will take into account the importance of connections to other modes and the quality of the public realm connecting them."
Auckland Council planning committee chairman Chris Darby says he first met with the developers Cooper and Company late last year and they weren't happy with the idea of having a bus interchange on Quay Street.
The company has been at the forefront of the urban renewal of the Britomart precinct in Auckland's CBD and was founded by former Russell McVeagh partner and Lion Nathan director Peter Cooper.
Darby says the company wasn't keen on having their prime real estate interests affected by "a wall of double decker buses on Quay Street".
So despite the council and AT's best laid plans Cooper and Company won the fight and public transport came in second. The council has now decided to scrap all plans that include bus stops on Quay Street between Commerce Street and Britomart Place, as well as the installation of a roundabout at the intersection of Quay Street and Commerce Street.
"So we'll press reset and start again," Darby says.
One of the options mentioned in this week's council report would see bus stops, or a bus layover on Quay Street, relocated to between Britomart Place and Tangihua Street. But despite the fact it would move the facility closer to the Ports of Auckland and further away from the CBD, this isn't a concern for Darby.
"There are benefits and costs with all of these options. It's not just transport benefits. We have to look at the economic and environmental benefits involved as well."
He says he's hoping to see a report looking at the viable alternatives in the next month.
The Britomart East Bus Interchange was part of the council's Downtown Programme, which involves a number of major public works projects, including the Ferry Basin Redevelopment, the Quay Street enhancement, the creation of a new downtown public space and new moorings for cruise ships at the end of Queens Wharf. The projects are all due to be completed in time for the America's Cup in 2021.
No-one from Cooper and Company was available to comment for this story.