Buy The Pine Tree Paradox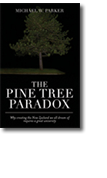 'A bold idea we urgently need; a book you must read'
The Pine Tree Paradox sets out a vision for New Zealand driven by innovation, not agriculture. While 'being innovative' is orthodox economic thinking in New Zealand today, our approach is not nearly bold enough. A clear-eyed review of our national strengths reveals that we are well-placed to transform our economy into a global centre of innovation. What is required is a world-class university; Stanford-on-the-Waitemata. Parker contrasts our economic experience with that of Northern California and asks: why not us?
The cost of this book delivered is NZ$24.50 incl. GST. It is only available by credit card (Visa or Mastercard only), and only for NZ delivery.

About the Author
Michael Parker is an equity analyst living in Hong Kong. Originally from Wellington, he has spent the last decade in San Francisco, New York and - on really good days - Waiheke. He has a law degree and bachelor of commerce from the University of Otago and an MBA from NYU.