BusinessDesk: SkyCity first-half profit jumps 17% to record NZ$78.8 mln on Auckland recovery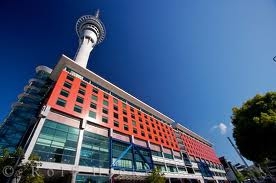 SkyCity Entertainment Group first-half profit jumped 17% to a record on improved earnings from its flagship Auckland casino and hotel complex, which benefited from the Rugby World Cup and a turnaround in gaming revenue.
Profit rose to $78.8 million, or 13.7 cents a share, from $67.1 million, or 11.7 cents, a year earlier, the Auckland-based company said in a statement. Sales rose 10.3 percent to $494 million.
The company said the momentum of the first six months continued into January and February, giving it the confidence to forecast 'normalised' full-year profit at the top end of its guidance, in "the high $140 millions." SkyCity spent $50 million revamping its Auckland operations, including new VIP gaming facilities.
The biggest improvement in Auckland came from slot machines, where revenue jumped about 17 percent, while non-gaming revenue from hotel, restaurants, the Sky Tower, conventions and parking, rose about 23 percent. See SkyCity's bond issuer page here.
The improved results were "mainly due to strong fundamentals in our Auckland gaming business," said chief executive Nigel Morrison. That momentum "has continued through the first half of the 2012 financial year and through in January and February."
Shares of SkyCity traded yesterday at $3.64 and have gained about 7 percent in the past 12 months. The stock is rated 'outperform' based on a Reuters poll of 11 analysts.
The company will pay a first-half dividend of 9 cents, up from 8 cents a year ago and beating the 8.5 cents payment forecast by Forsyth Barr.
SkyCity said talks are continuing with the government over the construction of a National Convention centre, which if concluded would see the company invest $350 million in the project.
In return it wants an early renewal of its Auckland casino licence beyond 2021, an increase in gaming and changes to gaming regulations.
"Discussions have been progressing proactively" since the National government was returned in last year's elections, it said.
The Rugby World Cup provided a one-time revenue boost of $11.5 million and added $4.7 million to profit, the company said, adding that the impact "was less significant than expected."
In Auckland, gross gaming revenue rose 12 percent to 197 million and non-gaming revenue climbed to $71.9 million from $58.5 million. Slot machines generated $117.9 million in sales, up from $101 million.
The company's Adelaide casino lifted sales by 6.9 percent to A$82.6 million, with gains of above 8 percent for both slot machines and local gaming tables, while food and beverage sales fell by 1.1 percent to A$8.9 million.
SkyCity Darwin revenue growth was just 0.2 percent to A$63.6 million. At SkyCity Hamilton, revenue climbed 14 percent to $26.5 million.