Government wants to regulate how the word 'secured' is used in debt securities sold to the public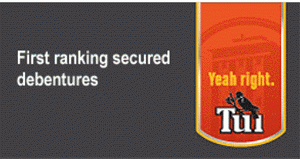 By Gareth Vaughan
It may be a case of shutting the stable door well after the finance company horse has bolted, but the Government plans to regulate use of the word "secured" when it's used in the context of debt securities sold to the public.
"I consider that it is desirable to regulate the use of the term 'secured' and related terms," Commerce Minister Craig Foss says in a Cabinet paper outlining proposed regulations to be introduced through the Financial Markets Conduct Bill.
"In Australia, in some contexts the use of the term 'secured' is only permitted where the security is likely to be sufficient to cover the amount secured . This corresponds to the ordinary meaning of the word. I propose that New Zealand adopts a similar approach to ensure that investors may not be misled by the use of inappropriate language."
Many finance companies that collapsed in recent years, losing the bulk of their investors' money, had promoted their debenture stock as "secured first ranking debentures." However, when the mainly property financiers met their Waterloo, in many cases, the value of the assets secured was inadequate to cover the company's obligations to investors. See full details of the finance company collapses in our Deep Freeze list here.
Foss says the description of security in relation to debt products is one of the most difficult areas to convey in a way that is meaningful and informative to investors.
"Current disclosure often provides considerable detail on the security for the debt product on issue. However, it can fail to give the investor a sense of how far that security will go to cover losses arising out of failure," says Foss.
"The term 'secured' can be misleading. While it has a particular legal meaning, the ordinary meaning of 'secure' implies something that is safe and reliable. Some investors in failed finance companies appear to have taken more comfort from the description of their investments as 'secured' than was warranted in the circumstances."
One finance company with genuinely secured debentures on offer is ANZ subsidiary UDC Finance, a plant, equipment and vehicle lender. As of March 31 UDC had $1.467 billion worth of secured debenture stock on issue, with $2.125 billion of UDC tangible assets pledged as collateral for secured stock.