Auckland Council seeks up to $200m in 10-year bond issue as Mayor Len Brown says 'we don't have a blank cheque to fund Auckland's growth'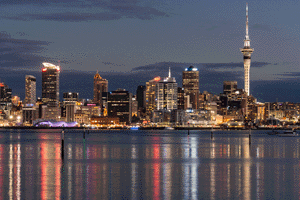 Auckland Council is seeking up to $200 million through an issue of 10-year secured, unsubordinated retail bonds.
The SuperCity has outlined an indicative issue margin of between 80 basis points and 83 basis points over the 10-year semi annual mid swap rate, with the interest rate to be set this Friday March 14.
The offer also opens on Friday and closes a week later on March 21 with the bonds to be issued on Tuesday March 25. They're expected to be listed on the NZX debt market on March 26. Auckland Council is seeking $150 million plus oversubscriptions of up to $50 million. It says proceeds will be used for "general corporate purposes."
Investors must subscribe for a minimum of $5,000 worth of $1 bonds and multiples of $1,000 thereafter. Interest on the bonds will be paid twice a year with the bonds due to mature on Monday March 25, 2024. Joint lead managers are ANZ, BNZ and Westpac.
'Tough choices are ahead'
Details of the bond issue come on the same day Auckland Council starts reviewing its budgets and work plans for both the Council and its Council Controlled Organisations (COOs) over the next 12 months. In a statement Mayor Len Brown says tough choices are ahead with Auckland planning for "significant growth" over the next decade. Brown says Auckland's Long-term Plan for 2012-2022 is reviewed by the Council every three years.
"With Auckland continuing to experience strong growth, we will need to work hard to strike a balance between investing in vital infrastructure, and keeping our rates and debt low and sustainable," Brown says.
"Auckland's AA credit rating is testament to the careful and responsible approach we have applied to financial management. But we don't have a blank cheque to fund Auckland's growth, and so we need to be clear about the priorities in the Auckland Plan, and prepared to make tough choices in some cases."
"We also need to take advantage of the scale that has been achieved through amalgamation. That's why I want us to take a thorough look at the opportunities presented by public-private partnerships, alternative funding and commercial partnerships. The focus needs to be on providing higher quality services to Aucklanders, while transferring direct costs from ratepayers," Brown says.
The statement also quotes Councillor Penny Webster, who chairs the Council's Finance and Performance Committee, saying the review is an opportunity for all Councillors and local boards to have an in-depth examination of the budgets.
"I am confident we can continue to find savings and efficiencies, while making the investments we need to," says Webster.
"The Mayor said that as part of the review he would be asking the Council to look at three areas to more actively manage the growth of debt while providing for important investments in infrastructure, including: 1) Investigating alternative funding for transport projects such as tolls or a congestion charge 2) Continuing to make efficiency savings and reducing operating expenditure. The Council has already identified $1.7 billion in savings across the 10 year (Auckland) plan, but it is believed further savings can be found."
"(And) 3) Delaying lower priority capital projects to create room for more significant infrastructure projects to go ahead - which is likely to require some tough decisions from Council, Webster adds. More detail is available here.
Debt projected to double to more than $12 billion
As of December 31 last year Auckland Council had total borrowings of $6.1 billion with an average term to maturity of 6.3 years. Debt is forecast to grow to more than $12 billion by 2022. In the half-year to December 31 the Council had an operating surplus of $161 million. Revenue was $1.7 billion and expenses $1.5 billion of which $175 million stemmed from net finance expenses. Total assets stood at $37.4 billion.
Details of the bond issue are included in an investor presentation. The charts and information below are taken from the investor presentation. You can see more on Auckland Council's borrowing strategy and plans in this video interview with Treasurer Mark Butcher here.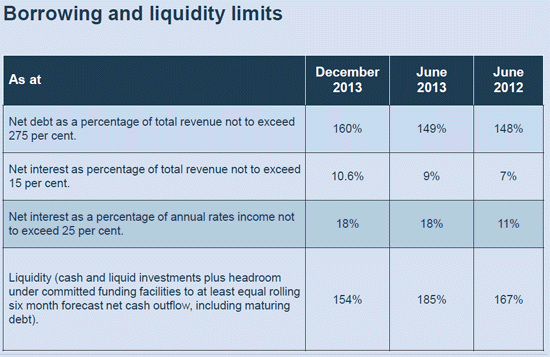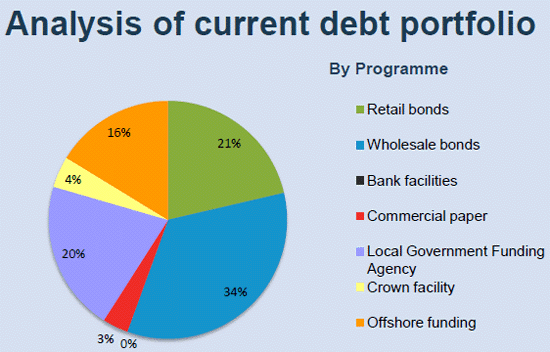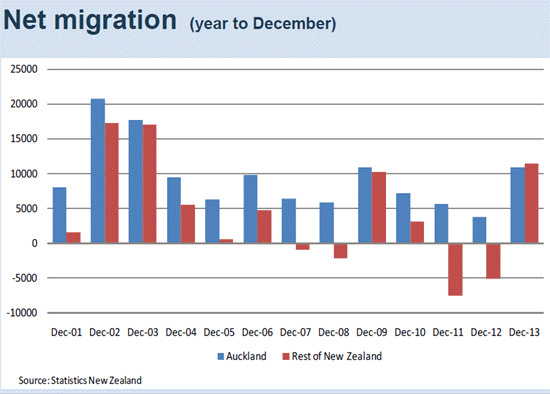 Issuance strategy

1) Funding requirement projected to be NZD 1 billion per annum for 2014-2018 period

• Funding targets are against floating rate

• Preference for long dated funding to match long dated assets

• Diversify across markets to reduce reliance on domestic funding

2) Domestic Funding

• $4 billion retail debt programme established with future domestic issuance expected under this structure

• Existing wholesale issues and 5 NZDX listed retail issues to remain

• Improved liquidity by increasing existing tranche sizes and consolidation of existing maturities

• Local Government Funding Agency

3) Offshore funding

• Agnostic in terms of market or currency – but hedged back into NZD

• Preferred issue size is to a maximum of NZD 400 million

• Open to private placement under reverse enquiry

Credit rating

AA" long-term and "A-1+" short-term rating by S&P and "Aa2" by Moody's. Both ratings affirmed in November 2013.

Two key risks to manage

• Ability to service existing debt - mitigated by rates certainty, expenditure control and hedging strategy

• Refinancing - mitigated by diversification of funding sources, bank standby facilities and investments

Operating budget is balanced every year and rates are reset on an annual basis to ensure balanced budget

• Debt Strategy Objectives

• Manage refinancing risk

• Lengthen maturity profile

• Reduce debt servicing costs