Treasury reports OBEGAL surplus of NZ$414 million in year to June 30, 2015; First budget surplus in 7 years; Govt meets political target; Result a turn-around from forecast of deficit in May Budget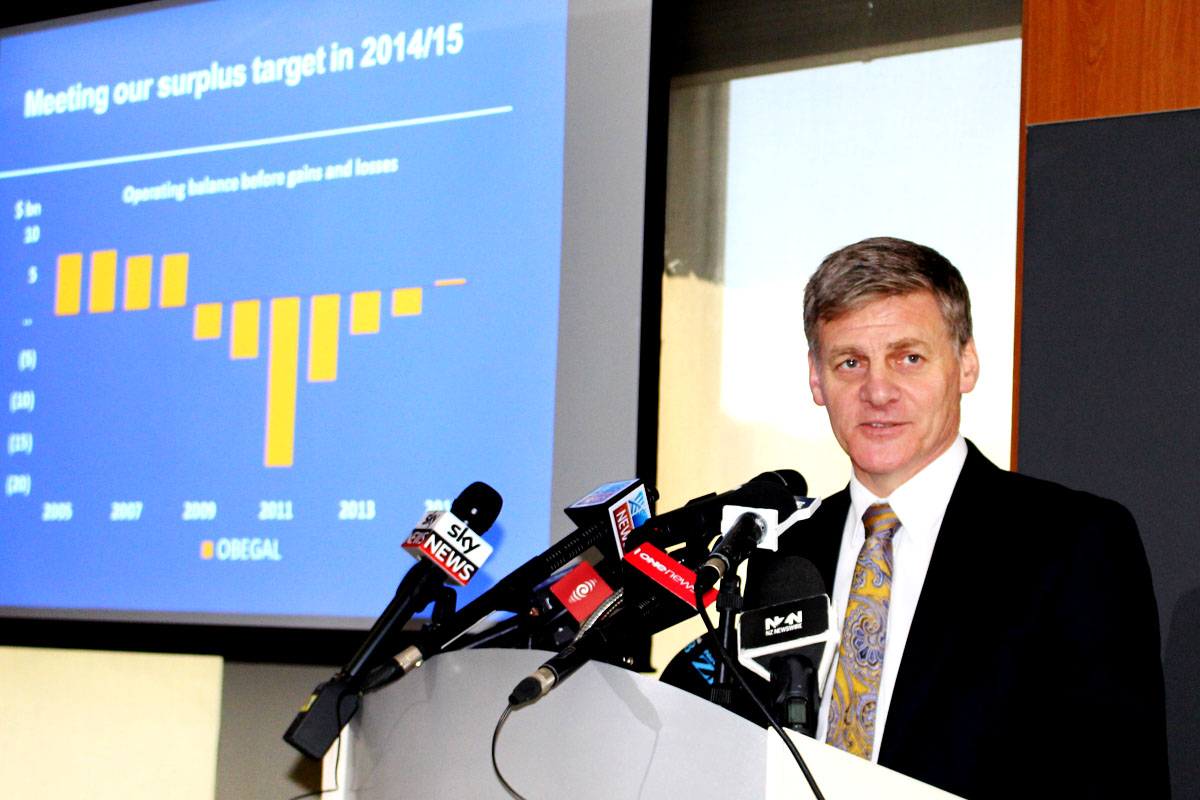 By Bernard Hickey
The Government has achieved its four-year-old political target of returning the Budget to surplus for the first time since 2009.
But Finance Minister Bill English has warned National will keep the shackles on spending and he was cagey about whether the Budget would stay in surplus given slowing economic growth and very low inflation.
Treasury reported the Government posted an Operating Balance before Extraordinary Gains and Losses (OBEGAL) of a surplus of NZ$414 million or 0.2% of GDP in the year to June 30, 2015.
This was the first budget surplus posted by the Government in the last seven years and meets a political target the Government has focused on since 2011.
It's also a major turnaround in the Government's finances in recent months, given Treasury forecast a deficit for 2014/15 in the May budget of NZ$684 million or 0.3% of GDP.
The Government's operating balance inclusive of gains and losses was a surplus of NZ$5.8 billion or 2.4% of GDP.
Core Crown expenses grew by NZ$1.2 billion or 1.7%. The increase in spending was lower than the pace of growth in the economy, resulting in expenses easing to 30.1% of GDP, compared with over 34% four years ago.
"You can see the surplus on this diagram. If you look carefully. And hold your glasses a bit further out from your face," English said in the Budget news conference while pointing to the chart (see picture).
English said the Government would keep spending under tight control, given the challenges of slowing global growth and very low inflation.
"There's a bit more concern actually about whether the world economy's getting into a low growth, deflationary path," English said.
"So that means the government has to take a different approach to reducing debt and maintaining surpluses than we have done in previous cycles," he said.
"So there won't be any sense of the constraints coming off because I think in the past that has been the expectation after a period of constraint. It's important that we continue to focus on improving our expenditure management so that we don't slip into old habits and put that 10 kilos back on again."
The OBEGAL deficit hit a high of NZ$18.4 billion of 9% of GDP in 2010/11 after the Global Financial Crisis and the Canterbury earthquakes.
Asked about whether the Government would reach the surplus for 2015/16 forecast in the May Budget, English was cautious.
"The Budget 2015 one was pretty slim. We've had six months of growth that were softer than expected, that seems to be coming right now. But we've yet to see what impact that will have on the forecast," he said.
Asked again if he would like to stay in surplus, he said: "We've got to adjust a bit to this lower inflation, lower growth, environment that we find ourselves in and that's the process we will go through the next few months."
"We would certainly prefer to have surpluses because it would help us deal with the debt issue, but what we have learnt out of the last few couple of years is that the way to achieve that in the low inflation, low growth, world is to focus very much on the drivers of demand for expenditure, which is why the government is spending a lot of time, and will do  through Budget 2016, on social investment and on balance sheet management, because the surplus will be a result of doing that job well rather than relying on some strong uplift in tax revenue, which now looks unlikely."
Asked if he could promise another surplus, he said: "We are going to go through a process of re-doing the fiscal targets, that's the bet answer I can give you."
Political reaction
Labour Finance Spokesman Grant Robertson described the surplus as "one black drop in a sea of red."
"The Finance Minister has finally found a surplus needle in his haystack of debt," Robertson said, describing it as a rounding error rather than a surplus.
He said the Government had manipulated the books by delaying Canterbury rebuild spending and 'overcharging ACC by NZ$350 million.
"Without such trickery National would be in deficit again and that's at the peak of the economic cycle when New Zealanders would rightly expect the books to be in the black."
Robertson said the Government was unlikely to sustain surpluses.
"National's financial management will go down in history as one small surplus – at the peak of the economic cycle – out of nine Budget deficits. At the peak of the cycle the previous Labour Government was able to post a surplus of $7 billion and had unemployment below 4 per cent, compared to nearly 6 per cent now," he said.
"John Key and Bill English might want to pop the champagne corks for finally getting a surplus but in the absence of a plan for regional economic growth, decent work and higher wages it will leave most New Zealanders feeling pretty flat,"
Green Finance Spokeswoman Julie Anne Genter said the surplus had come at the cost of better health and education.
"We think New Zealanders could have got a surplus today and ensured that every hungry child had a school lunch, giving them their best chance of getting a good education," Genter said.
"With better financial management, the Government can achieve a surplus while enhancing government services, making life better for our children, and cleaning up our air and water," she said, pointing to the potential for a carbon tax, less road spending and solar power systems for schools.
(Updated with more detail, reaction, chart)