Motor Trade Finance borrows $220 mln through medium-term notes issue secured by loans for (mostly) used cars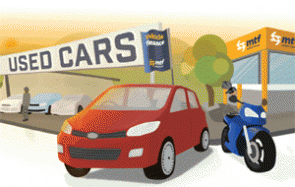 Motor Trade Finance Limited (MTF) is borrowing $220 million from institutional investors through the securitisation of car loans.
The MTF medium-term notes, with an aggregate expected term of up to four years, are backed by receivables originated by MTF dealers and franchises. The company says its initial $200 million offer was heavily oversubscribed, resulting in AN increase to $220 million. A "broad mix" of offshore and domestic institutional investors bought the notes.
Credit rating agency Fitch has assigned its highest structured finance rating of AAA to $194 million of the notes, with a further $20.7 million of notes rated between AA and B.
"The ratings assigned to the notes reflect the credit quality of MTF receivables, and the track record and industry experience of MTF," said MTF CEO Glen Todd.
"MTF is pleased with the strong investor support shown for the issue and welcomes the opportunity to further broaden its investor base and provide MTF dealers and franchises with efficient, longer term funding," said Todd.
Fitch said the total collateral pool consisted of 20,906 auto loan receivables totalling approximately NZ$217.8 million, with an average obligor exposure of NZ$10,418.
"The loan receivables, originated by MTF, are amortising principal and interest loans for both new (8.1% of the portfolio) and used (91.9%) vehicles, with a portfolio weighted-average (WA) seasoning and remaining contract term of 7.6 and 33.8 months, respectively," Fitch said.
It's the first auto backed security deal in the New Zealand debt capital market this year and MTF's third and biggest since 2012. The notes were issued by Trustees Executors Limited in its capacity as trustee of MTF Torana Trust 2016. Previous MTF car loan securitisation deals saw the company borrow $100 million in June 2012, and $200 million in July 2014, with both issues also for terms of four years.