If NZ rates stay low, demand for NZ Govt bonds will likely rise. If the decoupling extends it will mean that our rates won't rise like their international counterparts, says Westpac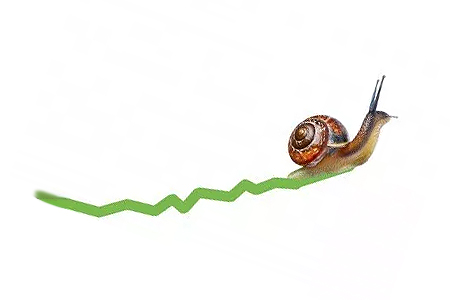 By Imre Speizer*

The correlation between long term NZ yields and long term US yields has weakened. One explanation is unsynchronised RBNZ and Fed cycles.
NZ term yields thus may not rise as much as previously expected.
NZ and US term yields recently decoupled
Changes in NZ long-term yields have been closely correlated with changes in US long-term yields since the early 1990s (Chart 1*). However, during the past year, that relationship has weakened significantly. Since September 2017, the US 10yr treasury yield has risen by 70bp, while in contrast, the NZGB 2027 yield has fallen by 70bp.
Chart 1 - Relationship between NZ and US term yields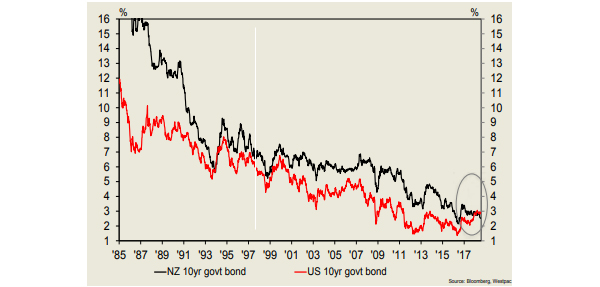 One result is that NZGB yields are now well below UST yields, to an extent unseen in modern history (Chart 2).
Chart 2 - NZ-US yield spreads at record lows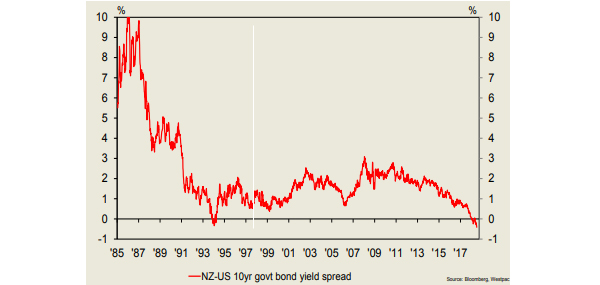 Why do they usually co-move?
A long-term bond yield is commonly described as a function of future expectations of short-term rates plus a term risk premium**. In the case of NZGBs, long-term yields can be described as a compounded string of expected OCR rates plus a term premium.
This seems at odds with the observation that NZ long-term yields co-move with US long-term yields. The reconciliation here is that US and NZ monetary policy cycles are usually somewhat synchronised (Chart 3). This synchronisation occurs because economic growth in major countries such as the US affects growth in NZ. With that in mind, NZ markets will watch US markets for signals regarding interest rate direction and magnitude.
Chart 3 - RBNZ & Fed cycles have been synchronised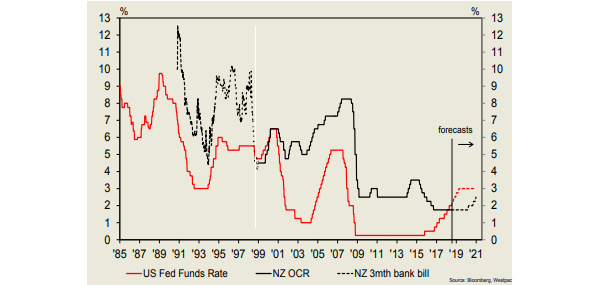 An explanation for the decoupling
The synchronisation of NZ and US monetary policy cycles appears to have weakened from 2015 onwards. The Fed started hiking in December 2015 and is expected to continue until 2019. Meanwhile, the RBNZ cut rates between June 2015 and November 2016, and is expected to remain on hold until mid-2020. Knowing this, NZ bond markets are likely to put less weight on US monetary policy as a guide to future NZ monetary policy (and in turn, bond yields).
We tested this hypothesis by creating a simple model of NZ 10yr yields, the explanatory variables being the US 10yr yield and the NZ 1yr swap yield (the latter is used as a proxy for NZ monetary policy expectations). We estimated the changes in sensitivity of NZ 10yr yields to the explanatory variables via rolling 52-week regressions from 1997 to now.
The results support our hypothesis. The NZ 10yr sensitivity to the US 10yr was high during 2011-2015 (such that a 10bp rise in US yields resulted in a 7bp-10bp rise in NZ yields), but fell quite sharply in the latest year. In contrast, the NZ 10yr sensitivity to NZ 1yr yields (the RBNZ proxy) rose quite sharply during the latest year (Chart 4).
Chart 4 - NZ 10yr sensitivity to US has fallen sharply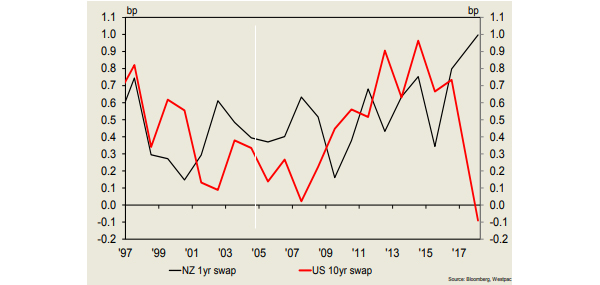 If we accept that NZ long-term yields have decoupled from the US, then OCR expectations assume even more importance for NZ long-term yields than they have done. OIS markets are pricing 45% chance of an OCR cut by mid2019, while not pricing a rate hike (fully) until 2021 (Chart 5). In other words, the prospect of higher NZ long-term yields is distant.
Chart 5 - No OCR hike expected until 2020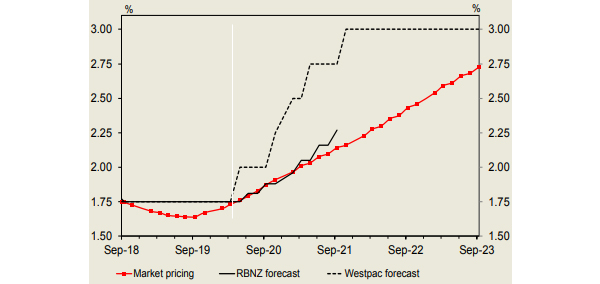 Implications
If the correlation between NZ long term yields and US long term yields remains weak during the next few months, and if the correlation between NZ long term yields and OCR expectations remains strong, then NZ long term yields have only modest upside potential.
This should attract global NZGB investors. The likelihood that NZ yields won't rise as much as global counterparts means that NZGBs are likely to outperform (as they have done for the past year).
While NZGB yields are now well below UST yields at all points on the yield curve, at the long end they are less so (Chart 6). Thus, bond investors (and swap receivers) may see better opportunities at the longer end of the curve.
Chart 6 - NZ yields well below US mid-curve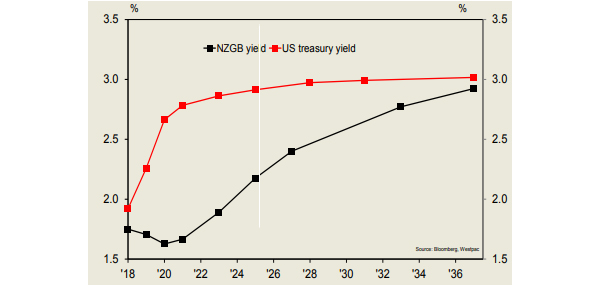 In turn, this means that there is only modest steepening potential for the NZ yield curve. For the 2-10yr swap curve slope, we would expect a 80bp-100bp range to hold for the remainder of 2018.
---
* prior to 1990 the relationship was much weaker - there was very high inflation in NZ, which gave rise to the RBNZ's inflation-targeting regimes.
** a term premium is not direct observable, but can be estimated. It is usually the smaller component of the total yield. For example, it is currently estimated at -0.50% for a 10yr UST bond yielding 3.00%.
---
Imre Speizer is the senior market strategist in the economics team at Westpac NZ. This article was originally published here, and is reposted with permission.