Deputy Prime Minister Winston Peters highlights benefits of NZ-China FTA in bid to get the US to enter into an agreement with NZ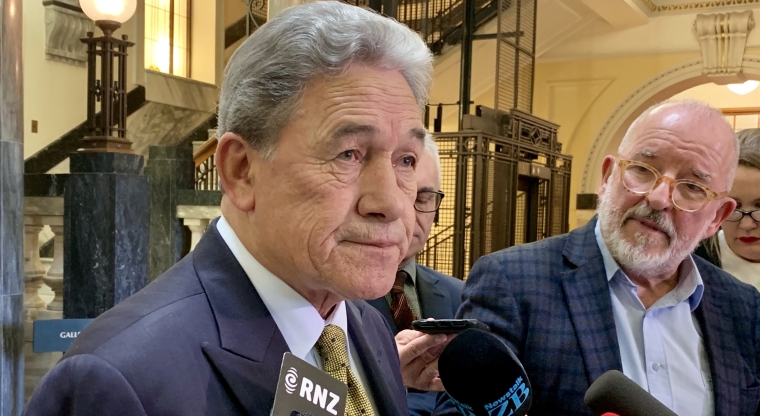 Deputy Prime Minister and Foreign Affairs Minister Winston Peters is urging the United States to agree to advance a free trade agreement (FTA) with New Zealand.
Delivering a speech at the Centre for Strategic and International Studies Washington on Wednesday, Peters highlighted the opportunities the US was missing out on.
He emphasised both the economic benefits of a bilateral trade agreement, as well as the "strategic and symbolic" significance, saying it would indicate to the Indo‑Pacific community "that the US is in the region to stay".
"It would signal that US involvement in the region will be broad and comprehensive, with an ambitious economic programme to mirror the US's strategic and security objectives," Peters said.
In the same breath, he talked up the fruitfulness of NZ's free trade agreement with China - the superpower that would perhaps be most interested in these "security objectives".
While once a critic of the NZ-China FTA, which is slowly being upgraded, Peters said it had seen trade between the two countries triple in a decade.
"While we seriously admire the boundless creativity and innovation that comes out of the US – particularly your truly amazing ICT companies – the reality is that the US also remains a huge producer of more traditional goods and services, much of which is destined for export markets," Peters said.
"And this is where we have the real concerns for the US' future prosperity.
"While most countries in Asia have been actively negotiating trade agreements between them, with the staggering economic growth of China one obvious symbol of the greater trade engagement seen across Asia, the US has in the last 20 years only negotiated three FTAs in Asia: with Australia, the Republic of Korea, and Singapore.
"While these are significant countries in the region, they are by no means the biggest economies. In fact, taken together these three countries represent just 12% of Asia's GDP…
"Notwithstanding the fact that US exports to the world have grown by 5.3% on average per year since 1990, the share of US' total exports to NZ over the same period dropped from nearly 18% to 10%.
"During that same time, imports from our regional partners with whom we have FTAs have grown in relative importance.
"By example, China's exports to NZ have grown on average by 17% per year, and China's share of total exports to NZ has grown from 1% to 20% during that time, becoming our largest source of imported goods. 
"This trend is even more marked for the US' share of imports across Asia.
"In 1990, 17.4% of all goods imported to Asia came from the US. By 2018, that 17.4% had fallen to just 7.4%.
"That means that the US has lost half of its market share over a 28-year period, and gives you a sense of the significant scale of lost opportunities for US exporters and workers."
Peters acknowledged the US pulling out of what was originally the Trans-Pacific Partnership, saying before amendments were made to get the multilateral trade agreement to where it's at now, "many of us in NZ had similar reservations".
"Although some were disappointed [by the US]… we understand and respect the right of your administration to make this decision," Peters said, recognising President Donald Trump's preference for bilateral agreements.
He pointed out how US Vice President Mike Pence last year conveyed Trump's offer 'to make bilateral trade agreements with any Indo-Pacific nation that wants to be our partner'.
"We stand here to say NZ is uniquely ready in our fulsome record and attitude to "free and fair" trade to take up the President's offer," Peters said.