Rio Tinto's dangling the potential closure of Tiwai Point in front of the Government. What's its power play and what are the consequences for New Zealand?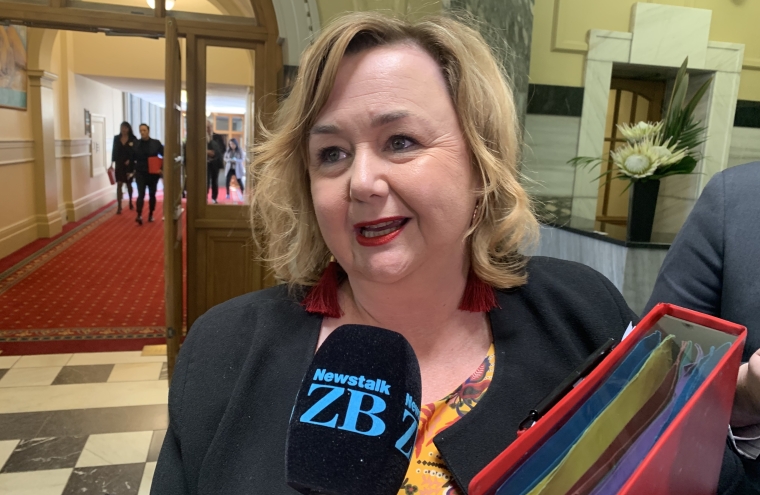 By Jenée Tibshraeny
Rio Tinto made waves on Wednesday, announcing closure of its aluminium smelter at Tiwai Point was on the cards, as it began a strategic review of New Zealand Aluminium Smelters (NZAS).
While its news was met with cynicism by stakeholders, and the Government ruled out giving it a subsidy, it was a bombshell nonetheless.
NZAS employs nearly 1000 people and makes up about 13% of the country's electricity demand.
If it closes, or even downsizes, New Zealand's electricity market gets shaken up.
Power bills fall in the short-term at least, and businesses/government are forced to re-evaluate their future investment plans. For better or worse, the effects reverberate through the economy.
So then, as sceptical as one may be about Rio Tinto's latest play, its strategic review is worth paying attention to.
Is Rio seriously considering closing NZAS, which is one of the two smelters in the world that produces ultra-high purity aluminium and the only one to do so using renewable energy?
NZAS Chief Executive Stew Hamilton told RNZ's Kathryn Ryan circumstances were different to the last time Rio Tinto put its hat out and received a $30 million payment from the Government.
He emphasised high energy costs and fluctuating aluminium prices, pointing out Rio Tinto hadn't called a strategic review of this sort before.
Meridian, which supplies NZAS with electricity, said it only found out about the review the night before it was announced. NZAS accounts for 39% of Meridian's contracted sales by volume.
Its CEO Neal Barclay told interest.co.nz: "The fact the smelter owners have called a strategic review shows that they wish to find a solution.
"If they wanted to exit, they could have exercised their right under the contract to reduce consumption or exit with 12 months' notice. The fact they have not, means that a closure is not a focus right now."
Barclay said in an investor conference that the company wasn't prepared to "take one for the team," or provide NZAS with even more heavily discounted electricity to keep supply tight to the benefit of other electricity companies.
Meridian will surely bend back as far as possible, won't it?
Harbour Asset Management's head of equities, Craig Stent, isn't convinced.
"It is our understanding that NZAS currently pays a blended price of around $57/mwh for its electricity from Meridian [a bit more than half the wholesale price, plus or minus] and is seeking to get that cost down by circa $10-12/mwh, which equates to a direct hit to the earnings of the electricity industry of $50-80 million per annum," he said.
"We would expect negotiations to continue to take place and for participants to meet somewhere in the middle.
"At the same time, Meridian will want to also get a win-win outcome, whether that is for a longer contract term or other terms such as demand management."
Stent noted: "The economics of the smelter, whilst not stellar, do appear to be cashflow positive according to Meridian and others."
What does Rio want?
NZAS's Hamilton told RNZ it isn't asking for another taxpayer handout.
Rather it wants a prolonged review of electricity transmission pricing methodology (TPM) to wrap up, and favour more of a user pays model than is being proposed.
Commissioned in 1971, the Manapouri hydroelectric power station (New Zealand's single largest power station) was built specifically to supply Tiwai Point.
Accordingly, NZAS believes it's unfair Meridian is having to subsidise the cost of investment in transmission assets in other parts of the country.
Fudged cost/benefit analysis and disagreement on how to move forward with TPM has seen the process extend over a decade.
If the proposed beneficiary model, which includes a cap to ensure no individual customer pays more than 3.5% above what they pay under the current system, gets the go-ahead, it will be implemented from April 2021.
NZAS maintains these changes, being consulted on until October 31, will be too little, too late.
Electricity and transmission costs make up about a third of NZAS's input costs.
The company met with Energy and Resources Minister Megan Woods in recent months and asked her to push things along. She told media she made it clear she wasn't getting involved, as the review was an independent process run by the Electricity Authority.
Meridian expects NZAS to save $10 million in transmission costs under a new regulatory period starting next year. If the proposed TPM is implemented, it will save another $12 million a year.
Put in context, NZAS reported expenses related to "raw materials, energy and consumables used" of $524 million in the 2018 calendar year.
Is electricity pricing really the issue, or is it simply the only lever Rio has?
The director of Enerlytica energy research and advisory firm, John Kidd, said electricity wasn't the root problem, even though NZAS was pitching it as the solution.
"Energy would not be an issue if global aluminium markets were stronger," he said.
"Energy is however the one value driver over which NZAS does have direct domestic influence, and with over 13% of the electricity market, is a lever Rio continues to be unafraid to pull."
Kidd said Rio's modus operandi power play was to be "opportunistic and disruptive".
"NZAS's move has been carefully timed to apply maximum leverage to exploit a cocktail of processes and uncertainties," he said.
These include the transmission pricing review, generators being in the process making new-build decisions to meet anticipated higher demand, ongoing uncertainty around gas supply ahead of what could prove to be a volatile 2020; and election year.
All this said, what would happen if the smelter was shut?
Barclay of Meridian said electricity prices, particularly in the South Island, would fall in the short-term.
"Beyond that, the entire market will find a new equilibrium."
S&P Global Ratings said this could take two or three years.
Stent of Harbour Asset Management said Transpower would need to make a number of transmission upgrades to release hydro generation from Manapouri and Clutha, and move it up the country.
He said it was estimated the major work would take three summers to complete, but altogether upgrades would take up to eight years.
"We would also likely see closures of thermal plant and deferment or cancellation of geothermal and wind development projects that are currently in the pipeline," Stent said.
National Energy Research Institute CEO, Simon Arnold, agreed heightened competition from an oversupply would put pressure on operations that are fuelled by more costly forms of energy, such as the Huntly Power Station, causing them to close.
S&P Global Ratings said Genesis Energy and Contact Energy would face a higher degree of risk because of their exposure to thermal generation, while Meridian Energy and Mercury NZ would face less risk given their portfolios fully consist of renewable generating assets.
Is much-needed investment in new capacity on hold while we wait for Rio to update the market on its review by March 2020?
Barclay said: "Meridian has a wind project north of Napier that is currently in a pre-feasibility stage.
"The wind farm, called Harapaki would comprise 41, 4-4.3MW turbines, with the final capacity confirmed by the technology Meridian selects during its procurement process later this year.
"Any decision to build this would be considered in the context of this review."
With New Zealand's gas resources expected to be depleted within the next 7-10 years, and electricity demand set to increase substantially, new capacity is crucial.
This Ministry of Business Innovation and Employment (MBIE) graph shows how reliant New Zealand is on more wind capacity being built.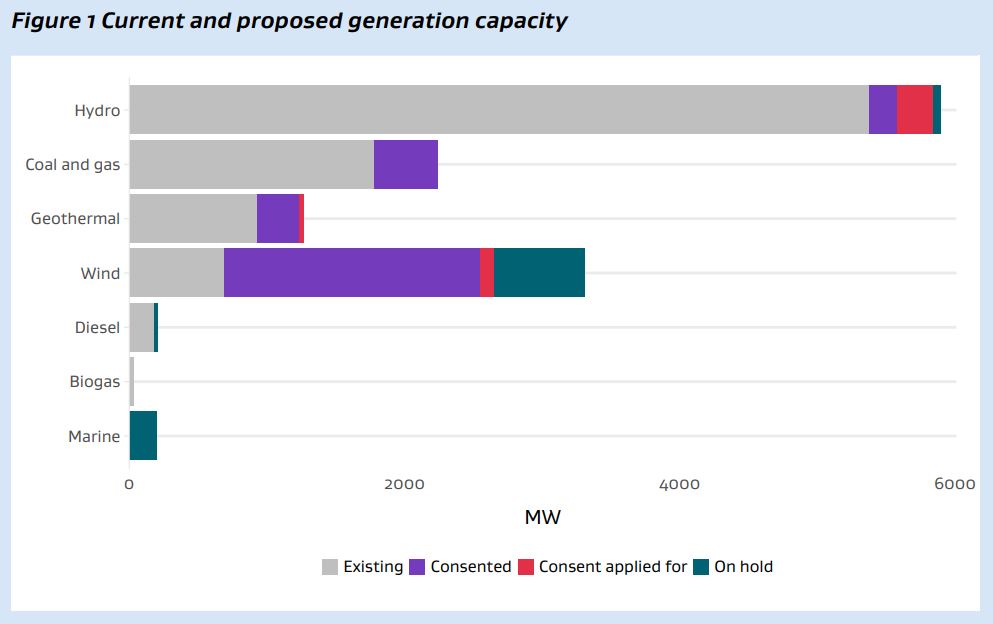 This MBIE graph shows the effect a hypothetical closure of Tiwai in 2030 is expected to have on new electricity capacity built: