Government responds to criticism its approach towards Covid-19 testing has been 'reactive and conservative' by saying it'll work with businesses to trial rapid antigen testing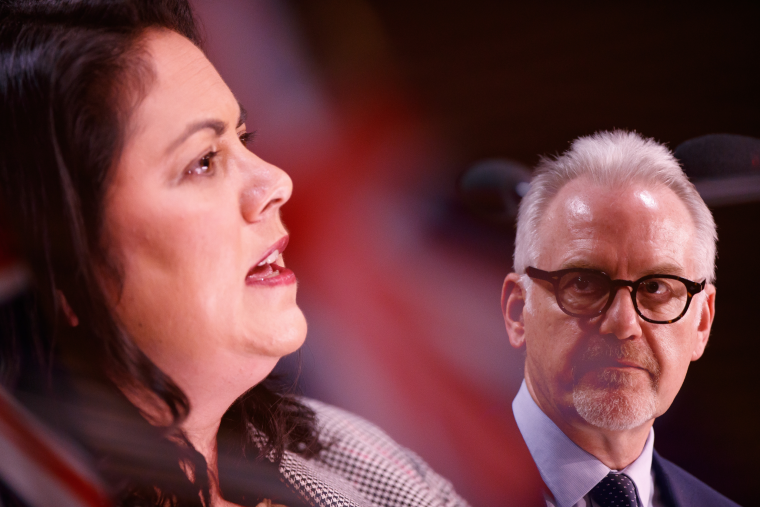 The Government has announced plans to start working with businesses to trial rapid antigen testing (RAT).
However, it can't specify which sectors will be involved, what the trial will entail, when it will start and when other businesses or organisations will be able to use RAT.
Associate Minister of Health Ayesha Verrall is meeting with business leaders on Friday to discuss how such testing could be used, particularly in sectors where workers are out and about and can't work from home.
She's meeting with former Air New Zealand CEO and adviser to the Government Rob Fyfe, Auckland Airport CEO Adrian Littlewood, representatives from the primary industries sector and those from multinational corporations who have had experience with RAT overseas.
Verrall made the announcement at the same time the Government released a review of the way testing for Covid-19 is being managed in New Zealand, which it commissioned a group of technical experts to do.
The Ministry of Health Covid-19 Testing Technical Advisory Group, led by Otago University's Christchurch dean and head of campus David Murdoch, concluded the strategy used to date has been "reactive and conservative".
The group explained the approach has been conservative largely due to New Zealand pursuing an elimination strategy. Because we've had zero tolerance for Covid-19 cases, the types of testing used have had to be very sensitive.
However, the group said that as there's likely to be more Covid-19 in the community as restrictions lift once vaccination levels rise, "there is urgent need for greater investment planning, innovation and flexibility in testing methods and testing approaches".
It supported trialling RAT. While it's less sensitive to detecting the virus - particularly among asymptomatic people - it can produce a result in less than an hour, and potentially be done by oneself without the need of a laboratory.
RAT is already being used at Middlemore Hospital, and will start being used at Auckland City and North Shore hospitals within in the next few days.
The group said salvia testing is another form of testing that could be used for surveillance purposes.
It's less invasive than nasopharyngeal swabs and can easily be used in situations where frequent testing is required.
The group said New Zealand has been slow to adopt saliva testing, again due to concerns around accuracy.
However, it noted saliva tests pick up the delta variant more easily than previous variants, making them a "widely accepted" alternative type of PCR test with similar levels of sensitivity to nasopharyngeal samples.
Verrall said the "toolbox" used to respond to Covid-19 is changing as more people get vaccinated.
National's Covid-19 Response spokesperson Chris Bishop was critical of the pace at which the Government has adopted alternate types of testing.
"Saliva PCR testing should be rolled out daily for border workers, for residents in MIQ facilities, and for surge capacity resource in an outbreak like we are seeing right now," Bishop said.
"Saliva testing is being used at private hospitals in Auckland right now and we should be doing the same in public hospitals.
"We had the capacity to do thousands of saliva tests during this most recent outbreak and yet the government said no. All this at a time when people lined up for 10-12 hours at a time and many people gave up altogether.
"Rapid antigen testing should be being used for all essential workers including healthcare workers, aged care support staff, supply chain (transportation, ports and airports), emergency first responders, and high-risk customer-facing roles such as in supermarkets, schools and universities."
The Ministry of Health Covid-19 Testing Technical Advisory Group's report can be read in full here. Its members include:
Prof David Murdoch (Chair) – Dean and Head of Campus, University of Otago, Christchurch
Kirsten Beynon – Medical Laboratory Scientist (Virology), General Manager, Canterbury Health Laboratories, Canterbury District Health Board and West Coast District Health Board Laboratory
Dr Tim Blackmore – Infectious Diseases Physician and Clinical Microbiologist, Wellington Southern Community Laboratories, and Capital and Coast District Health Board
Dr Maia Brewerton – Clinical Immunologist, Allergist and Immunopathologist, Auckland District Health Board
Pisila Fanolua – Charge Nurse Manager, Managed Isolation Quarantine Facilities
Dr Susan Morpeth – Clinical Microbiologist and Infectious Diseases Physician, Counties Manukau District Health Board; Chair of the New Zealand Microbiology Network (NZMN)
Prof Patricia Priest – Epidemiologist, Dunedin School of Medicine, University of Otago
Dr Ian Town – Chief Science Advisor, Ministry of Health (was not involved with the rapid review to ensure independence and no conflicts of interest)