Fitch highlights global supply chain impact stemming from Shanghai lockdown as China pursues zero-Covid policy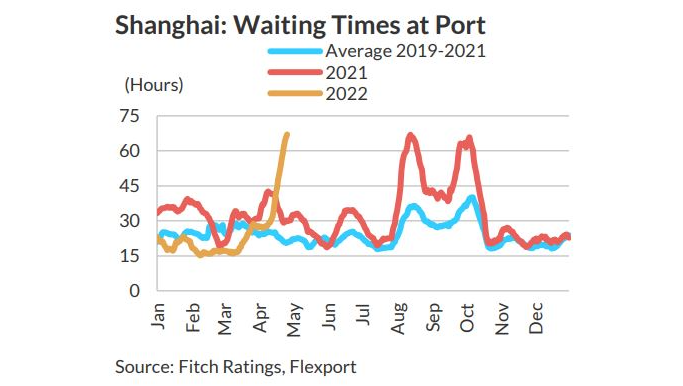 Shanghai's Covid-19 lockdown may intensify global supply chain disruption and push up already elevated shipping rates and input costs, credit rating agency Fitch says.
Fitch makes this point in a note titled Macro Data Yet to Reflect Impact of China's Lockdown on Supply Chains.
Increasing Omicron cases in Shanghai led to a lockdown in late March with mass testing, people confined to their homes, and transport restrictions in place. Freight traffic volume in the Shanghai area thus plunged in early April and remains 80% below late-March, Fitch says. Shanghai handles a fifth of China's port volumes, with China in turn accounting for 15% of global merchandise exports.
"Lockdown measures that affect parts of China's highly integrated supply chain have ripple effects on other regions. The Chinese authorities have tried to limit disruption by requiring workers to sleep at factories and at the port of Shanghai in a 'closed loop' bubble with no direct contact with the outside world. Even so, the restrictions mean that vessels are being loaded and unloaded at a slower pace, resulting in a build-up of container ships waiting to dock at Shanghai's port. Shipping analysts Windward estimate that 500 ships were queueing in mid-April, up from 260 in February," Fitch says.
On top of this, a shortage of drivers means there aren't enough trucks available to take raw materials and empty containers to inland factories for manufacturers to fill and send back for export.
"Waiting times at Shanghai port have surged, and throughput in April declined sharply with national exports dropping by an estimated 5.3% month-on-month. The bottleneck in Shanghai is already affecting supply elsewhere, as suggested by the latest uptick in the US [manufacturing] ISM supplier deliveries index for April," says Fitch.
Windward recently said one in five, or 1,826 container ships, were waiting outside ports around the world with 506 of these waiting for access to Chinese ports. 
Meanwhile, Fitch goes on to say the Shanghai lockdown comes with few signs of improvement in global goods shortages.
"Even before the latest lockdown in China, the time taken to transport freight from Asia to the US West Coast was twice as long as it was at the start of the pandemic, while shipping rates are six times higher than they were in early 2020," Fitch says.

"Congestion at US West Coast ports has eased in recent months but this could prove temporary. The container backlog in Shanghai port eventually will make its way to US West Coast ports, likely causing congestion in the summer months. But with US ports struggling with staffing shortages and constraints on distribution channels, supply-chain disruptions are unlikely to be resolved rapidly."
Long Beach and the Port of Los Angeles import about 40% of all containerised goods into the US.
"While China maintains its zero-Covid policy, further lockdowns will likely lead to disruptions to global supply chains," Fitch says.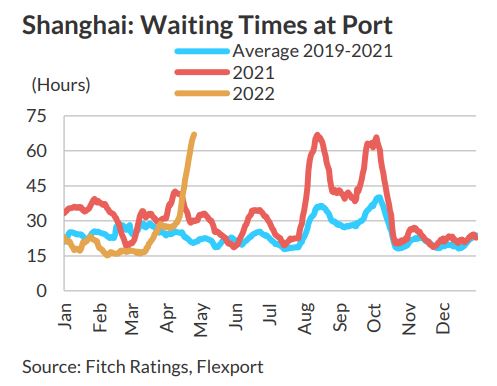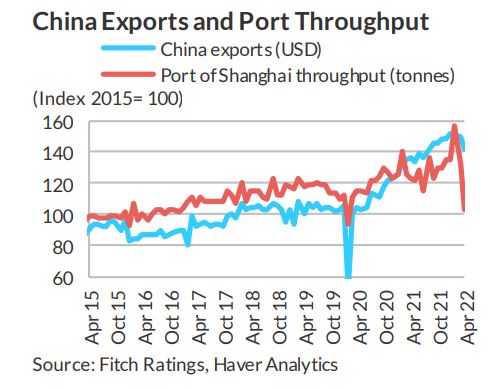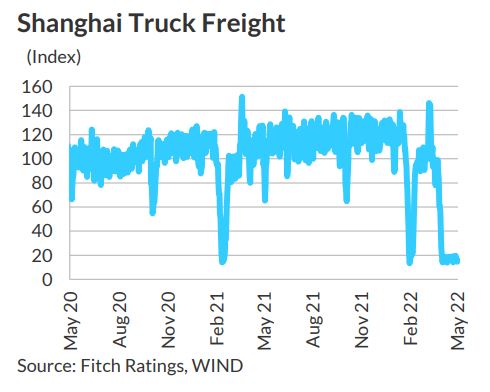 *This article was first published in our email for paying subscribers. See here for more details and how to subscribe.