The second of a ten part guide series on how to tackle the often complex challenges companies face when they are growing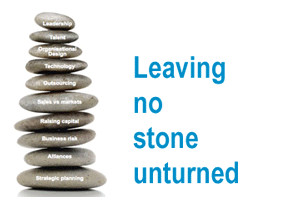 By Andrew Gibbs*
Resources are stretched. Your company is growing rapidly.
You need additional resources and expertise, yet you've got to reserve capital. A merger or acquisition would solve a lot of the problems but you can't bear the thought of somebody else making the decisions.
Sound familiar?
A business alliance could hit the spot.
Imagine teaming up with a like minded partner who might be an individual or organisation sharing your core values.
This partnership, if properly managed, can provide the resources your business needs to make the next quantum leap.
But beware. Like personal relationships, business alliances can be a two-edged sword.
Lack of quality time, the daily grind of managing the relationship, bickering over future direction and a general feeling of incompatibility all lead to a dysfunctional business relationship or, worse, a breakdown that can ricochet through your company with disastrous results.
Picking business team players
Picking the perfect business partner may be one of the most complex decisions you make. Teamwork is the driver for success in all walks of life; the careful planning that goes into picking a worldbeating rugby team like the All Blacks is no different from selecting who will form part of your business team.
Like the All Blacks' selectors, you need to be very clear on the skills you want and ensure each of your business partners is a perfect fit in the team.
And remember that while you may have many players on your business team during its life, each relationship has to be built on trust with complete faithfulness to the goals and aspirations of the alliance.
It requires a well thought out process for identifying, developing and managing successful alliances, and you have to be committed in terms of dedicating time and resources to make it work for both of you.
How can you reduce 'alliance failure'?
Make someone in the organisation accountable for:
• working out what you really want in a partner,
• putting in the hard yards in terms of structuring, negotiating and committing to an alliance that meets the needs of both parties, and
• keeping it all on track including monitoring and tweaking the relationship to maintain the passion as the relationship evolves.
It takes more than chemistry
Before you start the preliminary negotiations, you need to know exactly what you're prepared to give back.
Ask yourself:
• how much control are you are willing to give up?
• how much time you are prepared to invest?
• what management resources you are prepared to commit to making the relationship work?; and
• are you prepared to wear the cost of developing and maintaining a partnership or alliance structure, irrespective of the number of partners you collect in a lifetime?
Just as we grow from personal relationships, we learn from strategic alliances. This knowledge and expertise, however painful, should be embedded in corporate capability so you can replicate the process without going right back to the beginning each time.
Who is right for you?
As your business grows, your needs change according to the size and maturity of your business. In the early stages you'll be looking for a more experienced partner to fill in the capability gaps. As you get older and less fleet of foot, you may want to inject a bit more enthusiasm and fresh thinking into your business by teaming up with younger, more entrepreneurial partners (see Figure 1).
Your ultimate success in picking the right partner for your business team, irrespective of the stage you are at, will be determined by knowing that:
• you both can work together to achieve similar objectives
• you are both committed to making it work
• both parties gain from the relationship, and
• both parties will equally share the risks and rewards.
Now you're ready to make up a list of candidates to determine if they fit financially, operationally, legally and from a governance and regulatory perspective.
You'll also need to know if they have a good track record in maintaining sound business relationships and that they have the will and resources to make a genuine, long term commitment.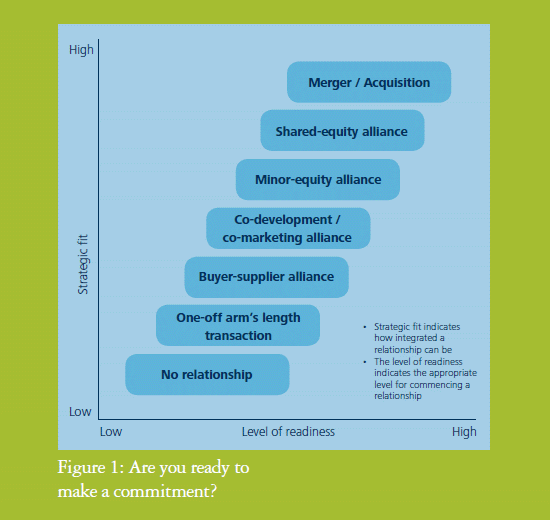 ---------------------------------------------------------------------------------------------------------------------------------------
To subscribe to our weekly business newsletter, enter your email address here.
---------------------------------------------------------------------------------------------------------------------------------------
Doing the homework
You've checked each other out thoroughly and everything is on track.
What happens next is like working out the game strategy; look at the details and work out what has to happen when.
Here are a couple of pointers.
1. Appoint an alliance manager (see Figure 2). This individual is empowered to get it over the line. In terms of the alliance, he or she is the centre of your universe. They own the strategy, selection, implementation and management of any initiative. Giving this person the resources and authority to get the job done sends a powerful message to your company and your potential partners that you are serious and committed.
2. Recognise that while you and your potential partner should have common goals, they don't have to be the same – as long as both are achievable. Negotiations should be focused on win-win scenarios, followed by the inevitable due diligence to determine if the other party can deliver on their side of the bargain.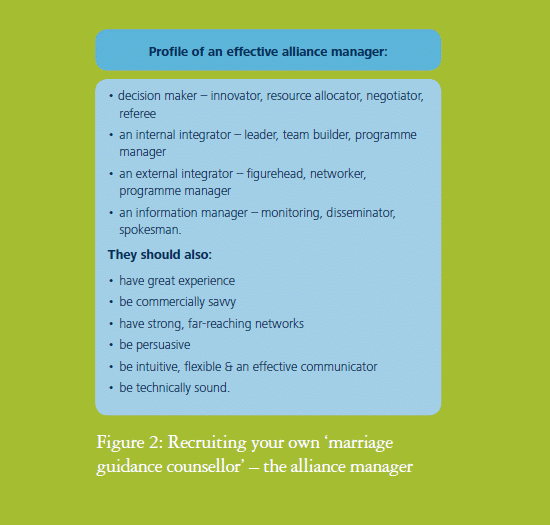 Celebrate your team
Exhausted by the negotiations leading up to the signing of a partner in the business team, many organisations fail to make it onto the playing field.
Making the deal is one thing; executing it is another.
The person managing the relationship needs to communicate to keep everyone up to speed on why the alliance is going ahead, what you expect to get out of it, any sticking points or areas of conflicts that might arise, and who to speak to if there is a problem (see Figure 3).
You will also need to work in tandem with your partner to duplicate this process in their organisation as well. Celebrate the alliance with a tight implementation plan that clearly defines who is responsible for what. Then shout it from the roof tops. Make it a celebration. Mark the occasion internally and in the marketplace. Leave no room for doubt that the success of this partnership is important for the future well-being of the company and all who work in it.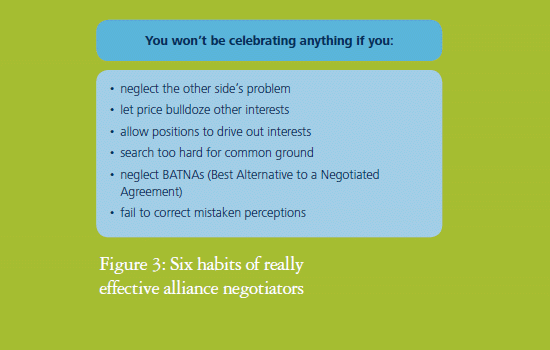 Doing the hard yards
Many business alliance breakdowns are a direct result of poor relationship management. You've chosen your players (alliances or partners), included the rest of your business team in the pre-match strategy but somehow it just isn't gelling into a winning combination.
Managing a winning alliance longer term takes discipline, focus, flexibility, and a desire to continually learn about what works and what doesn't.
Both parties need to take stock. Are you both satisfied? Have things gone off the rails? Are you over it? Is all well in paradise? Put in place a formal tracking system and take time out. Continually ask yourself whether there is anything you or your partner can do to make things better.
You also need to institutionalise your experience. Your "alliance manager" should develop manuals, processes and procedures that will guide anyone in the organisation through the process. This means formalising documents such as:
• detailed reports on why you entered into an alliance, what worked, what didn't, and why
• milestone reports
• case studies, and
• interviews and debriefings.
You must also encourage this same disciplined approach with any prospective partner. Probably the best way to do this is to establish a joint working party to oversee the negotiation and implementation processes.
Playing to win
Like any top winning team, successful alliances need give and take on both sides; an understanding and appreciation of each player's strengths and weaknesses.
Just as your needs will change, so will those of your partner. Make sure you give each other enough room and flexibility to redefine the relationship without jeopardising the makeup of the team (see Figure 4).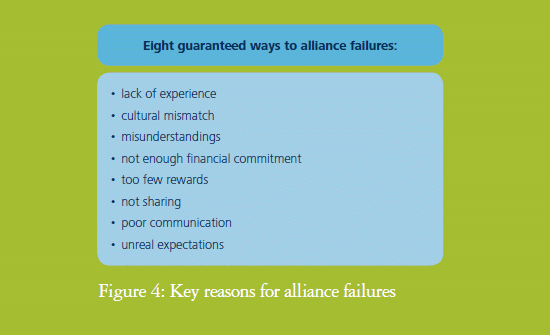 Although growth is synonymous with risk, you need to understand your risk tolerance level because this will influence:
• your attitude to the alliance
• levels of flexibility in the agreement
• what you expect to get out of it, and
• how much control you want over the process.
Nor should the inevitable end of a strategic alliance signal the end of the business relationship. Planning a smooth exit and leaving the door open for a future opportunity is crucial.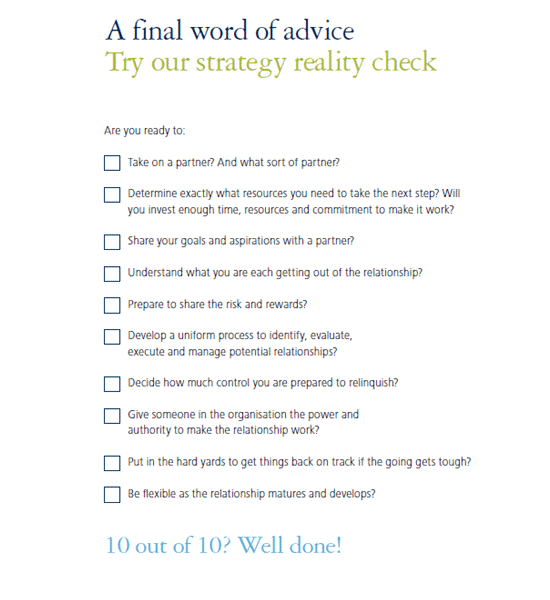 ----------------------------------------------------------------------------------------------
Andrew Gibbs is a partner at Deloitte NZ. You can contact him here »
This Guide is part two of a series. It is used here with permission.
Part one is about Strategic Planning and is here »
Part two is about Alliances and is here »
Part three is about Managing Risk and is here »
Part four is about Raising capital in New Zealand and is here »
Part five is about Marketing and is here »
Part six is about Outsourcing and is here »