The eighth of a ten part guide series on how to tackle the often complex challenges companies face when they are growing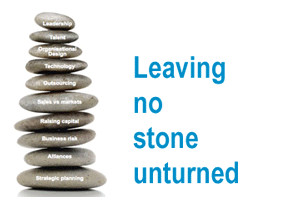 By Sara Elliott and Hamish Wilson*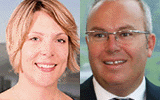 What do you want to be?
Whatever your goals, you need the right organisational structure to deal with changing priorities and more complex market opportunities.
For growing companies, success is very much tied to the need to develop strategies and structures to manage that growth, and at the same time, outsmart and outrun the competition.
Creating the right structure is a balancing act between three important but conflicting objectives:
• creating, sustaining and nurturing an entrepreneurial, innovative culture
• maintaining control and maximising efficiencies
• minimising bureaucracy.
These objectives take on different levels of importance as companies grow. What worked well in the past may not work in the future as priorities change – unless the business adapts.
In a smaller organisation, there may be an emphasis on employee initiative and rapid decision making, yet these could be problematic in a larger company where processes and risk management demand tighter controls.
If you want to evolve into a successful, fast growing company, read on. This guide to building your empire should see you laying down sound foundations and growing with confidence.
Putting the right structure in place
Evolution – not revolution – drives successful companies.
That's why restructuring tends to be such a high risk activity; it signals a new way of doing things and a different set of rules.
More often than not, restructuring creates winners and losers and can be a hugely divisive exercise.
Employees tend to be suspicious of change and rarely see it as a good thing. While disgruntled employees are not good for business, ongoing structural change is, so companies have to find evolutionary, rather than revolutionary, ways to achieve structural improvements whilst continuing to maintain staff engagement.
A well-planned and relevant organisational structure makes employees aware of their responsibilities, affects how decisions are made and influences a company's culture.
It's important to choose the structure that will embrace future direction, identify the key success factors and start communicating and influencing perceptions immediately.
This doesn't mean platitudes. Be honest.
Tell it how it is and why it is - because the company is evolving and the structure is evolving with it to achieve certain goals. Keeping all staff up to date as you progress will make the path to growth that much easier.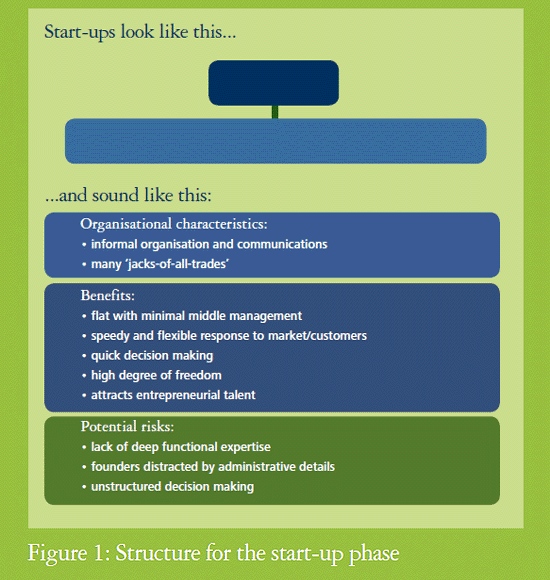 Designing a flexible business
Evolving a company from 'start-up' to 'grown up' means continual structural adjustments at specific points to accommodate change.
In the start-up phase (see Figure 1), it's usually a few very motivated employees who drive the business and work feverishly to bring their product or service to market.
Hungry for success, they can react quickly to the market and are generally willing to adapt their products or services to secure customers.
With limited finances, high risks and no long term certainty that the business will survive, they want to be well compensated.
For a start-up to succeed, it is critical that managers keep the business flexible, entrepreneurial and fast-paced. Communication channels and decision making tend to be informal as many of the employees know the business inside out and can make quick, well informed choices.
The more successful you are at fostering a fast-paced, innovative culture in a start up, the greater the need to adapt to the next phase where deeper functional expertise will be required.
Equally, the daily grind of running a bigger more complex business can distract key people from their roles and responsibilities, lead to unstructured decision making and impact their execution. This is the point at which managers feel frustrated that things are not happening fast enough, staff feel things are happening too fast and everyone suspects the wheels are about to come off but no-one doing anything about it.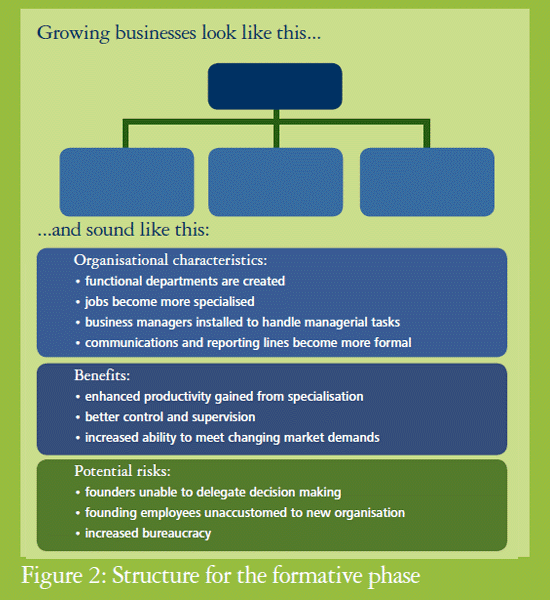 Begin the building process
You know you've got a winner on your hands. Now it's time to get on with building a sustainable business and setting the foundations for future on-going growth.
Start with your own building blocks, your corporate DNA, that makes your business unique.
To grow a company to its full potential you've got to map the management and operational successes that will underpin it. Determine what functional expertise you need in areas such as marketing and product development and identify what additional expertise you're going to need in the longer term and how it will fit into your structure.
Be mindful also that as you grow, employees will become more specialised and communication and reporting lines more formal.
There should be greater focus on areas where more value can be extracted either by improving existing products, creating new products or processes, or investing in long-term strategic planning.
While this evolution of the business will result in better controls, supervision and greater efficiencies, it can all be brought undone by a founder's inability to let go.
Having nurtured the company from a small idea through the growing pains and into the beginnings of a business, many founders have difficulty understanding that delegating responsibilities and focusing on growing the business does not mean a loss of control.
It is more likely than not, that the founder will not be the right person as CEO to take the company onto the next stage.
As this formative stage (see Figure 2) takes shape, it's likely the structure of the business will start to become stretched and stressed with increased layers of management and slower decision making. It's time to move up to the next level.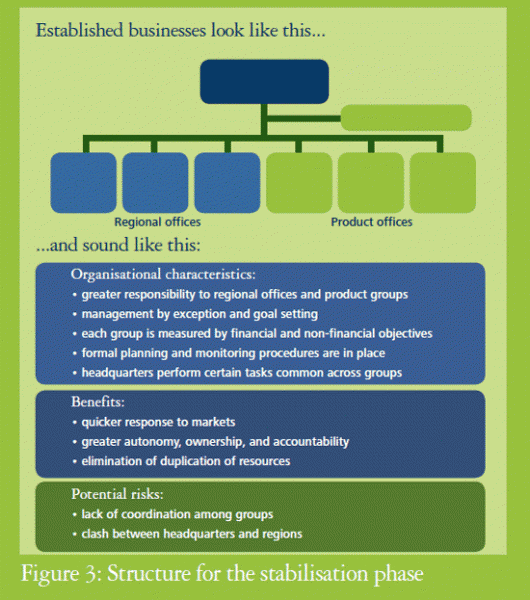 Who's responsible ?
As the business grows, individual units have to learn to survive on their own. During this stabilisation phase, the business should be more or less on course with some products or services generating fairly certain profits.
The goal now is to increase market share, introduce new products to market, and increase efficiency and productivity (see Figure 3).
While the headquarters will always be the control centre for executing strategy, establishing goals and setting budgets, functional and geographical heads need to assume greater responsibilities.
In some cases, regional offices can be set up as separate subsidiaries with their own management structure so they can respond swiftly and creatively to market demands. However, other functions like purchasing and human resources generally are centralised to avoid costly duplications.
Companies with a strong survival instinct strike the right balance between evolving some parts of the business in response to the external environment and centralised planning.
There's no doubt that formal planning processes contrasted with separate profit and loss responsibilities keeps both groups on their toes. The inevitable sparring that goes on between headquarters, regional offices and functional heads is an important part of sharpening their skills.
The constant challenge will force them to think through issues from every perspective.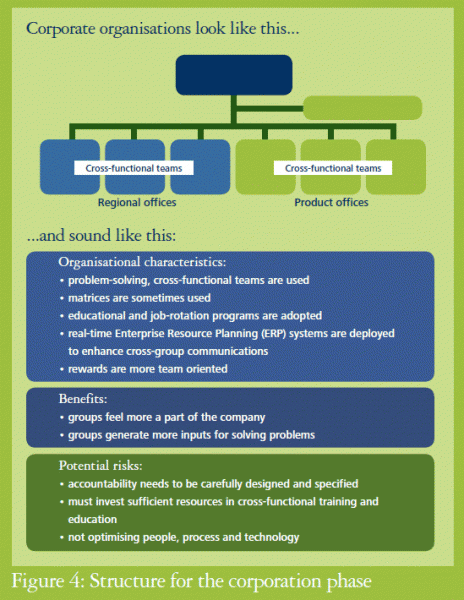 Being big doesn't guarantee survival
Just think of the dinosaurs; the reptilian ones as well as those big businesses that somehow just aren't around any more.
As the business gets bigger it becomes harder to keep everyone focused and the corporate culture aligned.
There is always the risk that as the business gets bigger, it becomes less innovative and entrepreneurial and more cumbersome unless there are disciplines in place.
People and divisions have to be encouraged at best, forced at worst, to work together.
Commonality of approach and enthusiasm to achieve certain goals will take the business to this final phase (see Figure 4).
Divide and conquer with crossfunctional teams. Educate, communicate and interrelate. Job rotation can be used to educate up and coming managers in how the company works as a whole and to build interpersonal relationships and trust across divisions. Invent and encourage participation in 'whole of company' activities.
Don't underestimate the value of any one employee, each one of them is your ambassador to the outside world.
How they feel about working in your company will colour how they relay this to friends, family, potential investors and of course, customers.
Technology can help facilitate this culture by linking people and processes. Real time systems are invaluable in managing processes and projects that are cross-functional.
Equally, rewards and goal setting should be more team based. So, you're almost there; your company is evolving.
You're no longer a small innovative business. You're bigger, successful and highly regarded – a prime example of your species. How do you nurture and retain this status with leaner, younger competitors coming along behind?
Everyone counts
Firstly, make everyone accountable.
When clear and concise areas of accountability have been established and roles and responsibilities articulated, employees have goals to achieve and managers have useful tools to measure and reward performance.
There is no need for endless fine-tuning and unsettling re-organisation. Without it, you end up with overlapping accountability or non-quantifiable objectives. The best example of overlapping accountability is when a new product fails to meet its sales target. Who is responsible – the product development people, the marketers or the sales team? Clear lines of responsibility and accountability can resolve this dilemma.
Where objectives were traditionally non-quantifiable, metrics are now emerging. For example in product research, sophisticated research, marketing and public relations metrics are now available.
Secondly, beware management build-up – the creation of layers of decision making that can suffocate the organisation.
Lastly, resist the temptation to remain inwardly focused on organising the organisation. Keep a keen eye trained on the marketplace, influencing external stakeholders and building market value. All require your attention.
Telling it like it is
Evolving your business doesn't mean tacking on new layers of management; in fact this can be one sure way of fast tracking onto the endangered species list.
Stay lean, agile, alert and responsive.
When you need extra resources or specific expertise, outsource or purchase it on a short term basis. Recognise that the larger and more high-tech you get, the greater the need for the human touch.
If there's change afoot, keep your people informed.
Keep in mind that generally it's the best people who go first when they suspect there is something going on and they're not in the loop.
When it comes to company reorganisation, most efforts fail because senior management has not seen things from an employee perspective, while employees and managers don't understand the thinking behind the change.
Companies should acknowledge their failures. Employees need to know about falling market share, unexplored expansion, failed products, poor performance and decreased profitability. People don't come to work to be mothered – they come to work to do a job.
Presenting a new organisational structure that is designed to overcome barriers to success is a strength, not a weakness. It helps employees adapt and accept a new structure that is geared towards future growth and wellbeing.
Finally, don't underestimate the need for effective communications. Restructures often fail because senior managers underestimate their impact, the way people will respond to it and the uncertainty it will create.
Successfully communicating a restructure is a step by step process to which senior management must be committed.
Communicating positive results along the way, no matter how small, will boost confidence in the process.
Thanks to natural selection, fortune will favour those companies who better adapt to the harsh corporate environment. Evolution, not revolution, is the key to effective organisational design.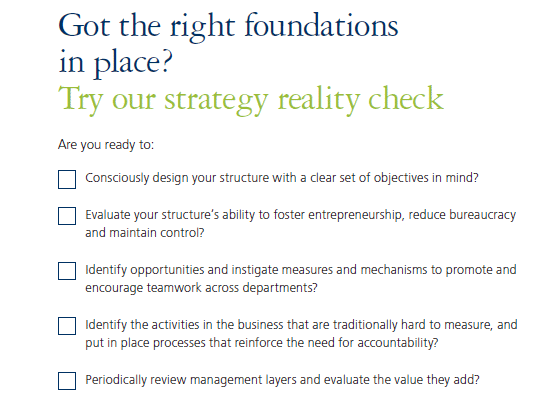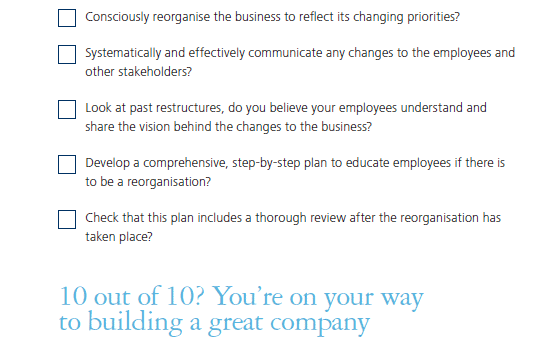 ----------------------------------------------------------------------------------------------
Sara Elliott and Hamish Wilson are senior managers at Deloitte NZ. You can contact Sara here » and Hamish here »
This Guide is part eight of a series. It is used here with permission.
Part one is about Strategic Planning and is here »
Part two is about Alliances and is here »
Part three is about Managing Risk and is here »
Part four is about Raising capital in New Zealand and is here »
Part five is about Marketing and is here »
Part six is about Outsourcing and is here »
Part seven is about Technology and is here »