The ninth of a ten part guide series on how to tackle the often complex challenges companies face when they are growing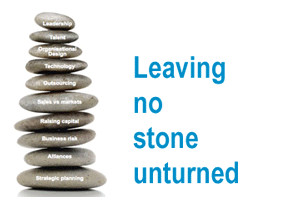 By Stephen Nicholas*

Time to put rubber to the road.
You can't win a Grand Prix without an exceptional pit crew.
For Kiwi motorsport superstars such as Bruce McLaren, John Britten and Denny Hulme, good support for their dreams helped them achieve greatness.
It's the same in business.
Developing and implementing a successful growth strategy depends on the commitment of the people supporting you.
Businesses have to anticipate what sort of people they need to drive them forward. They need to develop motivating, energising environments and put the right checks and balances in place to ensure they can achieve pole position.
Growing businesses need people with a variety of skill sets that will meet their evolving needs.
Inevitably, healthy growth creates complex organisational structures and a trend towards specialisation.
However, the biggest risk is high staff turnover. This disrupts growth, affects morale and can draw customers away when their loyalty lies with the individual rather than the company.
Bringing together a talented pit crew is a significant challenge in a tight labour market when businesses are coming to grips with a changing culture and facing increased employee expectations.
A growing business needs to:
1. plan for the long term by anticipating resource requirements as set by corporate goals
2. establish motivational factors. Salary and benefits alone will not cut it. Think about opportunities available to provide for personal growth
3. monitor the progress of human resource strategies and people's needs.
Ready to race?
To address this growth challenge, firstly plan for the long haul. Overhaul your business, get the strategy right and plan for the future (see Figure 1).
Because growth is dependent on having the right people in the right place at the right time, you must thoroughly analyse the future needs of the business and employees.
Develop a strong and positive brand proposition and determine the areas where you need skilled talent. Then focus on targeting the best and brightest talent in those areas.
Having identified the capabilities and savvy required to implement your business strategy, use a skills database to analyse the gap between available talent and desired talent.
Once you've done this, you can develop specific recruitment and retention strategies to overtake your competitors.
Identify critical talent. These are people who create the value that a business needs to succeed. This is the time to ensure that you:
1. have the strategic skills and capabilities crucial to your business's success
2. have an idea of the emerging workforce trends that will affect your ability to deliver value
3. attend to skill shortages that might start to bite
4. support networks for the company's critical talent
5. assist those within your critical workforce segments who possess the greatest potential with their career paths.

Get your motor running
With people as your engine for growth, you need long range strategies to ensure that everything ticks over like a proverbially well-oiled machine.
These actions should include regular assessment of what is on offer in the labour market as well as strategies targeting existing employees for development, promotion or interfunctional moves. Don't forget to include the costs to fuel the engine and remain flexible enough to take action to respond to external situations.
Bear in mind that strategies aimed at building an exceptional employee base should not be restricted to recruitment.
If there are concerns that an individual's performance is an oil patch on the road to growing the business, you need to think about ways to disperse the oil by releasing under-performers. This is a difficult but necessary task and absolutely essential if you are to attract and retain critical talent.
Generally, top performers are attracted to other high performers for the intellectual stimulation and mentoring benefits on offer.
Reputation is everything. Good people don't want to get behind the steering wheel of a poorly engineered company. They want to work for organisations
with a track record of honour, performance and integrity so you need to use every opportunity to articulate your core values.

Turbo charge your pit crew
The second step to manage your talent strategies is to understand what fuels your employees. Become an employer of choice by focusing on the three critical areas of compensation, culture and career opportunities.
Design creative and flexible compensation packages that include traditional elements such as salary, health and retirement plans as well as other benefits such as opportunities for advancement and flexible working hours (see Figure 2).
Ideally you will satisfy a range of individual requirements by letting employees cherry-pick a package from a host of options.
Another challenge for fast growing companies is maintaining a flexible and innovative culture as management layers invariably emerge. This can be overcome by fostering an empowered culture through knowledge sharing, rewarding creativity and risk taking to counter the emergence of hierarchy and bureaucracy.
High octane cultures:
• recruit the right people
• eliminate barriers and constraints
• create synergistic teams
• reward creativity
• coach, don't prescribe
• allow risk taking
• encourage knowledge-sharing
• avoid bureaucracy
• focus on outcomes
• have clearly defined responsibilities.
 
You're nothing without your pit crew and by establishing policies that manage employee relationships you can build personal and social ties that will enhance retention and keep the crew intact.
Encourage groups to cluster around common goals that support employee networks and the free flow of information and ideas. Employee Relationship Management (ERM) systems can improve employee performance, manage individual job performance, deliver online training and enhance employees' skills.

Head out on the highway
The third step to address this growth challenge is to watch the road and navigate.
Growing companies can lead the field. That's what makes them successful.
They should be nimble enough to adapt people strategies as the business grows and the external labour market changes gear. They also need to benchmark these strategies against those of their competitors, much like a time trial. In fact the human resource strategy is a primary management tool and must be linked to performance (see Figure 3).
Many companies have measures linking people strategies to business strategies and have created a human resource balanced scorecard as a measure of their success.
Through monitoring the acquisition of key talent for managerial positions, a company may be able to measure its success in building leadership capabilities. An organisation may examine the training and development of employees who would fill these positions in the future. As a result, managers may be able to track the progression and retention of key people and identify specific roles for recruitment.

Stay on track
At least once a year you should undertake a benchmarking exercise to see how you are performing against your competitors. This should take into account compensation, culture, learning programs and performance management systems. Assess yourself and then compare to the programs of those companies tailgating you (see Figure 4).
How do you fare on:
• salaries/wages
• variable compensation (bonuses, incentives, etc.)
• equity participation plan
• retirement/pension plan
• health, life, and other insurances
• vacation, paid leave and sabbaticals
• learning programs
• lifestyle plans (fitness club, fitness equipment, etc.)
• flexitime, job-sharing, day-care, parental leave policies
• performance evaluation and promotion plans
• lateral moves/exploring opportunities?
We live in a high octane world. A growing business has to navigate a tough economic environment while meeting its goals with employee expectations.
You'll need to:
• ensure corporate culture is in line with corporate strategy
• guard against inflexible policies that hinder the growth and development of the talent pool
• respond immediately to weaknesses and opportunities highlighted by benchmarking exercises
• respond to opportunities that arise from performance evaluations.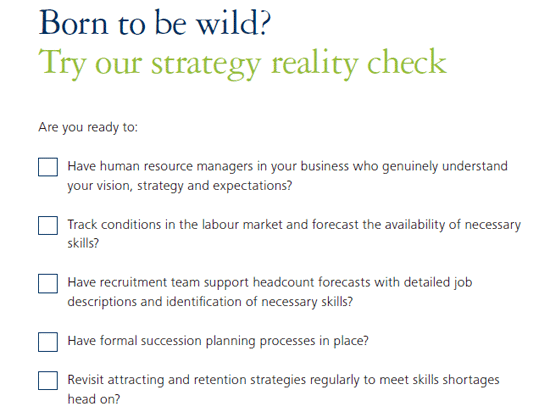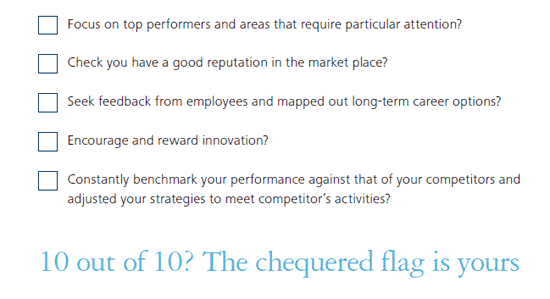 ----------------------------------------------------------------------------------------------
Stephen Nicholas is a partner at Deloitte NZ in Wellington. You can contact Stephen here ».
This Guide is part nine of a series. It is used here with permission.
Part one is about Strategic Planning and is here »
Part two is about Alliances and is here »
Part three is about Managing Risk and is here »
Part four is about Raising capital in New Zealand and is here »
Part five is about Marketing and is here »
Part six is about Outsourcing and is here »
Part seven is about Technology and is here »
Part eight is about Organisational Design and is here »