The tenth and final part in the series on how to tackle the often complex challenges companies face when they are growing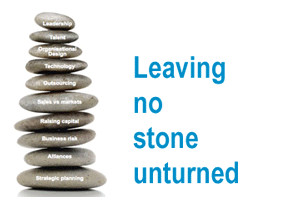 By Trevor Deed*

Growth increases business complexity.
This changes the rules of the game, creating a demand for successful leaders who can efficiently and effectively adapt and react to change.
The enormity of the task of juggling a growing business while growing a leadership team is often underestimated. Existing levels of management, increasingly complex commercial needs and the lack of time and resources only add to the frenzy on the field.
Many business owners assume that leaders are born not bred. They don't make leadership development a priority, looking instead to poach them from the opposition when the time and price is right.
But have your scoured your own reserve bench?
Unless well-handled, businesses can end up being over-managed and under-led.
Management processes are often focused on the short-term game plan and don't always reflect a business's long term goals.
The time and energy needed for leadership development can be difficult, but it is an essential investment in the future. You have to coach, even when there appears to be more pressing demands on your energy and funds.
What's your game plan?
Leadership is vital for a growing business to ensure it fields the best players and is playing the right game. Leaders need training, just like any elite athletes, no matter how impressive they appear right now.
They need a rigorous program that will ensure they have the skills to perform for the season.
When looking at the best leaders, decide on your game plan.
• identify the type of leaders you need – do they differ from who you have available?
• identify roles, styles and actions to make your leaders more effective
• develop a leadership process to pump out leaders at all levels.
The first step is identifying the type of leaders you want.
As leadership and management are very different games, you need to genuinely understand how they can be tackled within a business.
Leadership is essentially about movement or change, while management focuses on maintaining order and consistency (see Figure 1).
The challenge for most businesses is finding the best mix of leadership and management to fast track growth. Successful businesses need leaders who can embrace change, set direction and inspire others to follow. At the same time there is a great demand for managers who can plan, are detail oriented and can focus on execution.
Strong leadership and capable management are critical for growth, but getting the balance right can be tricky.

Which team would you rather be on?
Finding the right leadership/management mix helps a business to keep its eye on the ball as operations are scaled up (see Figure 2).
As a business travels up the growth curve it will need leaders who can tackle uncertainty, set a direction, and inspire others to follow. At the same time, the need for managers is also directly related to the increase in business complexity, creating a demand for managers who can plan, are detail oriented, and can focus on execution.
Too much tactical management with not enough strategic leadership can lead to a narrow-minded and bureaucratic business.
On the other hand, strong leadership with weak management can lead to a lack of structure, with little attention paid to short-term planning and performance.
Any combination other than strong leadership and sound management won't work. If both are too weak the business is fragile. If both are too strong there is enormous potential for posturing and ego-stroking to the detriment of the business.

Keep your eye on the ball
You're the team captain and as it grows, you've got to be prepared to grow with it. That's what leadership is all about.
A true leader, as distinct from an entrepreneur, evolves as the business matures.
Businesses in start-up mode typically have a few leaders dealing with a wide range of issues. More developed businesses have more leaders in specialised roles.
Businesses must be prepared to change and evolve their leadership style as a company grows and develops (see Figure 3).
This is particularly so for owner / managers.
Entrepreneurs start companies, managers manage them and leaders grow and develop them. What position are you playing?
None of these are exclusive. The lines between all three can become blurred. Entrepreneurs can be leaders and leaders can be managers.
A leader can be all three, but most importantly, he or she will be:
• inspirational
• strategic
• innovative
• keen to develop a new generation of leaders
• capable of engendering trust.


Play to your strengths
Once you know the type of leadership team you want to field, the next challenge is matching the available styles of your leaders to the situation for which they are best suited (see Figure 4).
When business is a battlefield, an autocratic style is more appropriate. A firm hand can give a sense of urgency to the entire team. This same style may not be appropriate when times are better, and where consensus has been used in the past to resolve key issues.
Effective leaders can adapt to fit varying situations. They don't need a checklist, and are far more flexible. Highly sensitive to the impact they have on others, they seamlessly adjust their style to the nature of the game.
To get your business across the line, you need to focus on three key moves:
1. establish direction
• searching for opportunities to grow
• experimenting, innovating and learning from mistakes
• envisioning the future
• enlisting the help of others to the common vision.
2. align the team
• fostering collaboration and building trust
• empowering others
• leading by example
• planning and celebrating small wins.
3. motivate and inspire
• recognising individual contributions
• celebrating team accomplishments.

Business boot camp
Choose your leaders, then start developing them.
Step three is about establishing your leadership pipeline. Assess their current level of leadership fitness, then develop their potential and instill leadership ideals. The best candidates demonstrate innate leadership ability and talent, are already flexing their leadership muscles and have expressed a willingness to learn (see Figure 5).
Encourage your new leaders through mentoring, coaching and learning from others who been round the track a few times. Expose them to experiences that highlight new ideas and provide them with unfamiliar situations causing them to question traditional ways of doing things. All this will create a basis for strong leadership.
Great leaders are great teachers. They learn from their own experiences, then teach their colleagues. This sharing of knowledge and emotional intelligence will encourage and energise a network of future leaders and become part of the cycle that sustains leadership within your business.
Potential leaders should be nurtured and challenged with organisational, financial and ethical support. In giving them the necessary resources and rewarding them with incentives, a business can reinforce its directions, belief and culture and go on to build a better corporate fan base.
Legends
Legendary leaders have many hallmarks.
They:
• prepare the business to look beyond the foreseeable future
• foster a new generation of leaders
• build systems that encourage, reward and support future leaders
• make development an integral part of everyone's job
• instill a culture of trust.
The need for trust can't be underestimated.
Trust is a two-way deal, leaders need to let others lead.
They need to acknowledge their strengths and weaknesses, sit back and let others take a run on the field.
Finally, the ultimate test of a leader's commitment to the future comes at the end of their career, when they care enough about the future to pass the baton, take on the role of coach and let the next generation enter the game.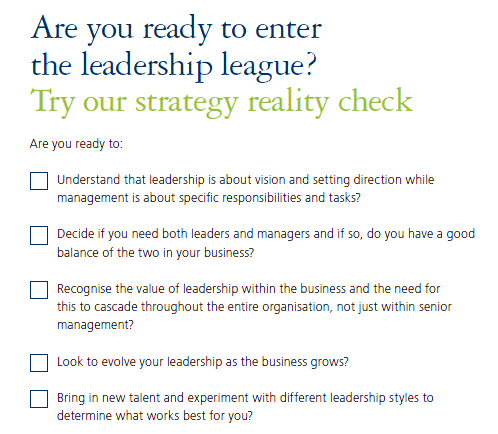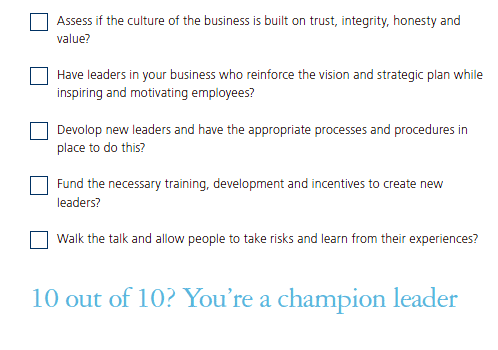 ----------------------------------------------------------------------------------------------
Trevor Deed is a partner at Deloitte NZ in Wellington. You can contact Trevor here ».
This Guide is part nine of a series. It is used here with permission.
Part one is about Strategic Planning and is here »
Part two is about Alliances and is here »
Part three is about Managing Risk and is here »
Part four is about Raising capital in New Zealand and is here »
Part five is about Marketing and is here »
Part six is about Outsourcing and is here »
Part seven is about Technology and is here »
Part eight is about Organisational Design and is here »
Part nine is about The corporate pit crew and is here »