Finding a more ethical business environment; EY surveys our corporate attitudes to fraud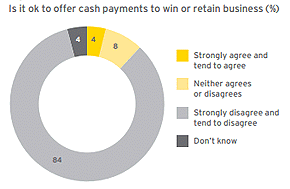 The following is sourced from the 2013 EY Asia Pacific fraud survey, and is the chapter on Australia and New Zealand.
-----------------------------------------------
Australian legislation on fraud is robust, with clear definitions and appropriate laws in place.
Levels of perceived fraud and corruption are also relatively low.
None of our Australia respondents, and only 8% of respondents in New Zealand, said that bribery and corruption practices occur widely.
When asked whether it is common practice to use bribery to win contracts, the perception was also the same.
Strikingly, for both Australia (70%) and New Zealand (42%), companies told us that the best way to proactively detect fraud is with stronger government regulations. This suggests that local authorities are successful in enforcing rules, something that does not resonate to the same extent in the other Asia-Pacific jurisdictions included in our survey.
It is encouraging that although Australia and New Zealand businesses generally believe that their home markets have relatively low levels of fraud, bribery and corruption, they acknowledge the increasing risks in the countries they are looking to grow in.
The culture of whistleblowing in Australia and New Zealand may be evolving, with employees being willing to step forward and speak out about instances of misconduct - 60% for Australia and 100% for New Zealand.
Surprisingly, however, 75% of companies in Australia and 87% in New Zealand do not appear to operate a whistleblowing program.
This disconnect between the willingness of using whistleblowing scheme and the existence of these schemes could be because whistleblower protection exists only in the public sector.
There is no specific legislation in the private sector, such as guarantees of anonymity or job security, to protect those who blow the whistle.
Even so, we believe that in line with best practice, firms should nevertheless self regulate and institute a program as a deterrent against misdeeds to protect whistleblowers as government regulation continues to improve.
There is an increasing focus from senior management and the boards within private corporations on how to combat fraud, bribery and corruption, especially given the cross-border impact of overseas regulation such as the UK's Bribery Act and the US's FCPA.
Companies need to be more aware of the local and overseas regulations to minimize the threat from within to take actions according to those regulations to strengthen their internal control environment.
Companies should also take steps to monitor the activities undertaken by staff.
The four main proactive and reactive pillars that companies should implement to minimize risk are:
• Set the tone in tackling fraud, bribery and corruption. This starts at the top with senior management and is fostered through education of employees on the behavior is expected of them.
• Implement proactive tools and a system to monitor and prevent fraud through the use of forensic data analytics. Effectively use large amounts of transactional data and focus on compliance and internal audit reviews.
• Establish whistleblowing policy and procedure within the organization to provide anonymity reporting and job protection for whistleblower, as well as a clear course of action to investigate allegations.
• Develop an escalation protocol so that once a fraud is detected, companies have the correct procedures in place to properly investigate and report to the relevant authorities as required.
Establishing the root cause(s) of the control failure is critical, and improvements to the control environment should be implemented by the organization.
"Australian companies have not implemented all four pillars. We have done a lot of work with companies on the reactive side, on policy setting and educating senior company officials. However there still needs to be more focus on the monitoring and use of forensic data analysis to mitigate fraud risk," says EY Fraud Investigation & Dispute Services Partner of Australia & New Zealand, Paul Fontanot.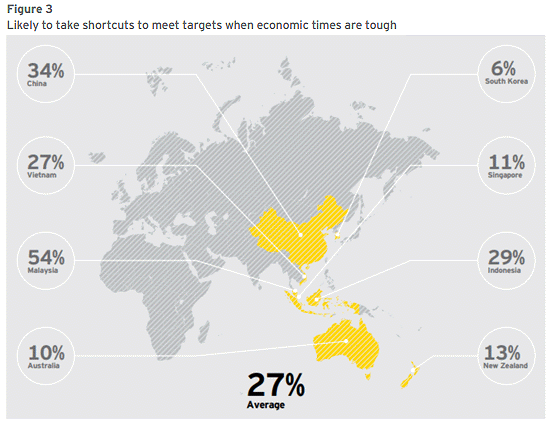 The full EY report is here.