Avondale College and Manurewa High join forces for a unique Silicon Valley experience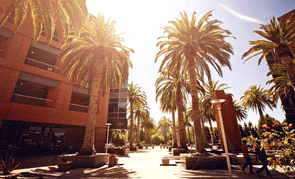 By Brent Lewis and Phil Muir*
The trip of a lifetime is in store for nine ICT-savvy students from Avondale College and Manurewa High School who head to Silicon Valley in July to visit industry giants and meet with start-ups and entrepreneurs.
The six day itinerary includes visits to Facebook, Apple, Microsoft, Google and Stanford University, as well as meetings with start-ups and entrepreneurs.
However, the students won't just be observers.
They will also have the opportunity to pitch their own ideas and innovations to venture capitalists based in Silicon Valley.
The trip, organised by RadioLIVE Business Correspondent Andrew Patterson, is being paid for by over 20 businesses and private donors who have willingly contributed to a travel fund to make the trip a reality.
The students themselves took part in a competitive pitch process to secure their places in the group.
Avondale College principal Brent Lewis says the experience will be life changing for the students. "They are having their world broken open in a very significant way. Future employment opportunities will come from focusing on the development of our intellectual property.  The tyranny of distance for New Zealand trade and enterprise is being broken by IT, and these students are at the leading edge of that."
For Jayden Cooke (17), a Year 13 student at Avondale College, the opportunity to experience first-hand the pace, energy and excitement of Silicon Valley is something he had only dreamed about. "I know I want to get into computing and I'm so excited to have this amazing opportunity to visit places like Google and Facebook."
Daniel Wilson, Acting Principal of Manurewa High School said the five students participating in the trip were truly deserving of the opportunity.
"This trip provides a unique opportunity for these exceptionally talented students to immerse themselves in a technological world that will inspire and motivate them as innovative business leaders of tomorrow".
Andrew Patterson, the organiser and driving force behind the trip, hopes the students will bring back to New Zealand a sense of global opportunity. 
"New Zealand is a very small part of the international economy. The students need to understand that successful businesses can be started here, but having connections with Silicon Valley is an important part of that process; it's the epicentre of the whole technology sector globally."
The group will depart Auckland on 6 July.
------------------------------------------
Brent Lewis is the principal of Avondale College and Phil Muir is the deputy principal of Manurewa High School