Are economists obsessed with Auckland's growth and growing divergence with the rest of NZ actually stuck in the dark ages?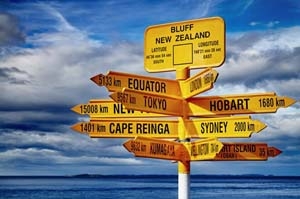 By Jenée Tibshraeny
Auckland, Auckland, Auckland – it's what people are talking about, where they're moving to, and where they're paying ridiculous amounts of money for houses to live in.
But to what extent does the country's economic growth hinge on development of the SuperCity?
To an increasingly large extent, according to many economists. The latest one to push this line is BNZ chief economist, Tony Alexander.
In his March edition of the NZ Observer, Alexander says:
"Business growth globally is coming less and less from incremental productivity gains and more and more from good innovation processes. Innovation is driven by talent, talent tends to be attracted to big cities… thus we will need a well performing Auckland to help drive our growth.
"Demographic changes suggest that in the next three decades up to two-thirds of New Zealand's economic growth will come out of Auckland.
"This substantially reflects projections that Auckland will account for 94% of New Zealand's working age population growth in the next three decades.
"The share which a region has of the country's Gross Domestic Product correlates almost exactly with the region's share of the nation's working age population. Taranaki has an excess GDP contribution because of energy extraction. Wellington also has a relatively high GDP share with many high paid occupations. Auckland has 35% of GDP and 35% of the working age population."
Late last year public policy research institute Motu suggested public policy should not overly constrain the size of Auckland, New Zealand's most productive city, because if it does the risk is growth will be lost to Australia's four largest cities. And NZIER's Shamubeel Eaqub also cautions that if Auckland is constrained, growth lost will turn up in Australia not Northland.
But despite this obsession with Auckland, there are plenty of examples of successful international New Zealand businesses operating from outside Auckland. Rod Drury's Wellington-based Xero is one obvious example. And given New Zealand's rural heritage, many innovations of the past have come from the provinces such as Bill Gallagher's electric fence.
So what do the businesspeople and entrepreneurs running these businesses think of this Auckland centric outlook, especially in the days of high-speed broadband?
David Turner: Sequal Lumber wood-processing company founder
David Turner's Sequal Lumber produces lumber used for furniture, construction, pallets and packaging, and exports it throughout the Australian, Asian, and Middle Eastern markets. The company kicked into action in 2008, and is based in Kawerau, which edges the largest Radiata Pine plantation in the southern hemisphere.
Turner says the growth we see in Auckland is centred on the services and construction sectors.

"There's no doubt about the importance of Auckland to New Zealand as a market for consumption, and for construction in the medium term", he says.

"(But) I don't really buy into the argument that there's some sort of divide between Auckland the rest of New Zealand, in terms of one can grow and the other can't. We can all grow."

Sequal Lumber's export volumes have doubled over the past three years, and Turner wants these to double again over the next three.

"In the current scenario what we see is wealth created in Auckland, because it is service-driven and fundamentally the people in Auckland are getting wealthy because their home values are going up. But that's unsustainable wealth creation.

"Real wealth creation is achieved through making things or selling services, and I think the provinces have a tremendous role to play making things to sell to Auckland and global consumers," says Turner.

Turner says the difficulties his business face aren't related to its location. He hasn't had trouble sourcing talented staff, with staff numbers growing from 40 to 60.

Despite Kawerau suffering major social deprivation issues, enhanced by more than 100 jobs going when the Norske Skog paper mill halved its production in 2012, he says people are attracted to the lifestyle the Bay of Plenty has to offer.

He says the hurdles his business faces are derived from uncertainty around the NZ dollar, barriers to free trade, the tax system favouring property investors, and New Zealand's infrastructure and transport favouring large scale raw material producers.
Daniel Radcliffe: International Volunteer HQ executive director and 2014 EY Entrepreneur of the Year
Daniel Radcliffe says, "A big city will attract young people. I don't know if it will attract innovative young people. I think it'll attract young people that want to go into your stock standard jobs.
"I believe young people who think outside the square and are looking for something else are drawn to places like Taranaki and the Hawke's Bay – the provinces."
Radcliffe founded International Volunteer HQ (IVHQ), a world leading travel company that connects people with volunteer projects around the world, in 2007.
He employs 24 staff who work out of New Plymouth, organising trips mainly for customers in the US, UK and Australia. The company also employs 300 people to help facilitate programmes around the world.
Radcliffe admits a downside to running a business from a smaller place, is that you have a smaller pool of staff to choose from. Yet with nearly all his New Plymouth staff under the age of 35, he says this hasn't been a problem for him.
Furthermore, he says technology means the business can operate from virtually anywhere in the world.
"The idea of working remotely is becoming more popular… in the next few years, with the way technology's going; it's going to allow people to work anywhere. Even if you can't get the staff you want, you're going to be able to hire remotely."
IVHQ's head of risk and sustainability is the company's only employee based in Auckland. Radcliffe says he needed someone with a certain skill set to fill this position, and they happened to live in Auckland.
BNZ's Alexander suggests, "Just as Auckland has representatives in London, San Francisco and Melbourne, regions should consider how they effectively connect with Auckland and Christchurch and feed off their growth and superior global connectivity".
Radcliffe says the nature of his business means it can connect to the world direct.
His staff members are frequent travellers, who stay connected to the global business community.
He says Auckland's size puts it in a difficult position on the global stage.
"If you're looking for pure business services it's pretty hard to compare Auckland to the likes to London or New York or Sydney. For a company like ours, it would be hard to justify moving to Auckland over moving somewhere else abroad."
And then there's lifestyle. Radcliffe admits this is ultimately what's kept him in New Zealand.
"As Auckland gets bigger, it's only going to lose some of that lifestyle appeal, which will make the provinces more attractive as a result."
Ian Taylor: Animation Research Limited chief executive, 2014 Sports Emmy Award Winner
Technology has underpinned Ian Taylor's successes on a number of levels.
Animation Research Limited (ARL) won the 35th Sports Emmy for developing the official America's Cup App for Apple and Android phones.
The company is one of Australasia's leading computer graphics producers, that's worked on graphics for a number of major international sporting events, as well as corporate and government projects.
Taylor and many of his 30-strong team are based in Dunedin.
"The age of the Internet has given us all the ability to live and work where we choose," says Taylor.

ARL's America's Cup App was made by a team scattered around the world. The majority of the team worked from San Francisco, where the event was taking place, while other specialists made their contributions from the depths of Dunedin, Oamaru and Queenstown.
Taylor says this group of people built an Emmy award-winning App without even really meeting.
"While creating business in the regions once meant you had to physically freight your goods to the market, this no longer makes sense. The "Information superhighway" means the cost of moving products designed for that highway is the same wherever you live.
"Given that is the case, why do we still have economists stuck in the dark ages believing that we need to be in large cities to be viable in this new world?
"A world class city needs a positive and vibrant country around it."