Shanghai Pengxin unit wins the BNZ New Zealand Chinese Business supreme award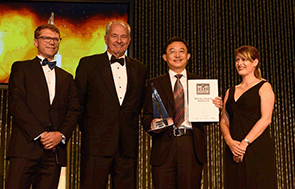 Content supplied by Pengxin in New Zealand
Shanghai Pengxin subsidiary, Milk New Zealand Holdings, was named the winner of the Emerging Business Award and then the overall Supreme Business Award at the BNZ New Zealand Chinese Business Awards in Auckland on Friday 20 March.
Accepting the Awards, Managing Director of Milk New Zealand Holdings and representative of Shanghai Pengxin Group, Terry Lee, said prior to November 2012 Milk New Zealand Holdings did not have any operations in New Zealand and "growth had taken place very quickly over the last two years."
In November 2012 the company purchased 16 North Island dairy farms formerly owned by the Crafar family. This was followed, in April 2013, by an agreement with Maori owned dairy processor and incorporation, Miraka, to produce UHT milk for export to China.
The following year, May 2014, Milk New Zealand became a majority shareholder in 13 dairy farms owned by Purata (formerly Synlait) Farms. 
July 2014 saw Milk New Zealand Holdings lodge an application with the Overseas Investment Office to purchase the central North Island Lochinver Station.
Terry Lee said in November 2014 Chinese President President Xi and New Zealand Prime Minister John Key "witnessed our three way agreement with Miraka and Mengniu to work together to accelerate the expansion of the UHT plant.
"Today, our own branded 'Theland' and Mengniu's 'Milk Deluxe, Global Selection' (result of our initial corporation) are supplying Chinese consumers with high quality UHT milk."
Mr Lee said it was very gratifying to win the Awards but said the real wins are taking place on the company's farms.
"We understand the affection New Zealanders hold for their land and have always emphasised that we see our role is as guardians of the land, committed to developing productive and profitable operations which are economically, environmentally and socially sustainable."
Some examples of those initiatives include:
- The first farming company to introduce a Long Term Incentive Scheme enabling 12 people from Purata Farms to be shareholders in the company.
- Since the settlement of North Island farms:
• Sixty houses have been renovated, and four additional new houses constructed to provide better living environments for farm staff.
• Around 1500 gateways have been installed for health and safety reasons.
• Two new farm dairies have been constructed.
• Water reticulation has improved with 900 additional water troughs.
• More than 300 km of fencing has been erected to protect riparian and sensitive areas of land.
• Extensive regressing has taken place - around 800 ha - to improve animal health and productivity
- LEAN manufacturing system was adopted on the South Island farms – the first time it had been applied in the farming sector. Milk New Zealand Holdings are active proponents of the approach and Terry Lee said it is gratifying to see this approach being adopted across the industry.