Oil price slump sees interest in 2015 Block Offer wane; companies awarded the nine exploration permits only commit to spending $4.4 million; Offer fails to attract new explorers to new areas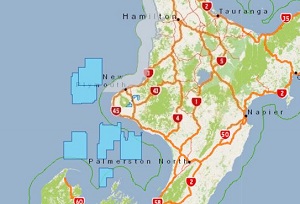 Oil and gas companies are this year committing to spending 96% less on new exploration in New Zealand, compared to last.
New Zealand's clearly being hit hard by the global oil price slump, with the companies that have received the nine exploration permits in the 2015 Block Offer announced today, only committing to spending a total of $4.4 million.
The companies awarded the 15 oil and gas exploration permits by New Zealand Petroleum and Minerals in last year's offer, committed to spending $110 million.
While the Government put the potential of future exploration expenditure from the 2014 Block Offer at $1 billion, it's only put it at $364 million, if the exploration work done further to this year's offering is successful.
Minister of Energy and Resources Simon Bridges recognises, "The exploration industry is now far more sensitive to budgets in the global context of a low oil price."
The price of crude oil has dropped to US$38 a barrel, from around US$110 a barrel in June 2014.
"This year we saw royalties earned by the sector fall around a $100 million to $258 million in the last financial year. And of course across the globe, we have seen companies dramatically reduce their exploration budgets," Bridges says.
"Since 2012 we have seen a significant increase in the number of permits granted each year: In three years the Block Offer process has delivered 35 exploration permits – compared to only five for the three years beforehand. The total committed spend over those three years was over $254 million." 
| | | | |
| --- | --- | --- | --- |
| Block Offers | Exploration expenditure committed  | Potential future exploration expenditure | Number of permits awarded |
| 2015 | $4.4m | $364m | 9 |
| 2014 | $110m | $1b | 15 |
| 2013 | $62m | $720m | 10 |
| 2012 | $82m | $776m | 10 |
Block Offer fails to attract new explorers to new areas
Oil and gas companies haven't taken the Government up on its offer to work in relatively unexplored areas, instead opting for on and offshore permits in the Taranaki Basin.
In 2013 and 2014 on the other hand, companies took the opportunity to get permits to explore in the Northland-Reinga, Pegasus, West Coast and Great South Basins.
This year's Block Offer has also failed to attract new companies to New Zealand, despite major international players – Cheveron, ONGC Videsh, Statoil and Woodside Energy Holdings – committing to exploring in New Zealand for the first time in 2013 and 2014.
This year's offer has seen companies with well-established work programmes in Taranaki, including Todd, OMV, Petrochem, and more recently Mont D'Or, get permits.
Bridges says budget pressures mean "exploration companies will seek mature basins, will look to leverage existing infrastructure, and will follow recent discoveries".
He says, "We know that industry will consider 'riskier' acreage less attractive in the current environment. It's completely predictable that companies will want to reduce risk, defer any uncommitted expenditure and target areas that are proven."
Noting that 19 of the 35 permits granted in the last three years have been in the Taranaki Basin, Bridges says, "While we might think of Taranaki as mature, it's far from the case. It's clearly a "proven" province – but industry interest shows its full potential is yet to be realised."
Investment pull-back from New Zealand – 15 permits surrendered this year
Not only are oil and gas companies not committing to new investment in New Zealand, but those which have already committed, are pulling out.
Fifteen exploration permits have been surrendered to New Zealand Petroleum and Minerals since January. Put in context, nine were surrendered in 2014, 12 in 2013 and 13 in 2012.
Bridges notes, "Over the past year we have seen some operators seeking to defer or alter their work programmes, as they rethink their commitments. Of course these changes happen fairly regularly for a range of reasons, which may or may not be linked to oil prices but price has to, generally speaking, be a significant factor."
New Zealand's most established oil and gas producer, Shell, last week revealed its interests in New Zealand were "under review".
In a shock announcement, it said, "Choices have to be made to streamline the global portfolio given the current environment.
"Shell is focusing on large growth opportunities, with deep water and integrated gas as growth priorities."
This comes further to Shell in September announcing it would delay its $200 million drilling project for the Great South Basin, which was to take place in the summer of 2016/17.
Nonetheless, Bridges is hopeful the industry will recover.
"Perspective is important, and petroleum is, and will remain, an important part of the global energy mix. The International Energy Agency's World Energy Outlook is forecasting that oil and natural gas will account for almost half of the world's energy needs until at least 2040," he says
"Some have questioned the Government's commitment to the Block Offer and petroleum exploration, suggesting we should embrace the fall in commodity prices as part of a general push toward renewable energy. 
"I have absolute faith in New Zealand's renewable advantage, and I take every opportunity to promote it here and on the international stage. But petroleum products are prevalent in almost every part of our day to day lives. 
"I am committed to a mixed and balanced approach to our energy potential, and will continue to pursue an 'all of the above' policy as New Zealand and the world transitions towards a low-carbon future."