Shaun Drylie, who 'successfully' led ASB's home loan operations through the RBNZ's introduction of LVR restrictions in 2013, named new SBS CEO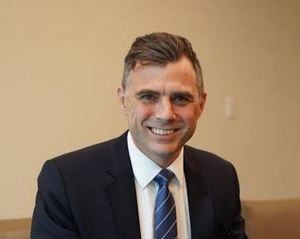 SBS Bank has named former long time ASB manager Shaun Drylie as its new chief executive officer.
Drylie will succeed Wayne Evans who died suddenly in January. Drylie has been based in Vietnam since 2014, working latterly as "general manager of the capability exchange programme" for Commonwealth VIB Bank, which is 20% owned by ASB's parent Commonwealth Bank of Australia.
In a long career at ASB Drylie worked as the bank's shareholder representative and board member at Paymark, general manager for product and strategy for retail and business banking, general manager for cards, transactions and payments, general manager for branch and third party banking, and chief manager of branch banking.
Drylie's LinkedIn profile says as ASB's general manager for product and strategy for retail and business banking he had "ownership of all the retail banking products (home/consumer/SME loans, transaction and savings accounts, term deposits, credit card issuing). Also, responsibility for the facilitation and formulation of retail and business banking's channel, segment and customer strategy, together with business planning."
He also cites "successfully" leading ASB's home loan business through significant regulatory intervention, being the Reserve Bank's introduction of restrictions on banks' high loan-to-value ratio residential mortgage lending. This process saw ASB give customers with pre-approvals for low equity mortgages only about 10 days to draw them down as the bank scrambled to comply with the new Reserve Bank measures. This led to a public ticking off for ASB from Finance Minister Bill English, who said the bank should have listened to Reserve Bank warnings six months earlier and not made promises it couldn't keep.
SBS chairman John Ward says the board sought a CEO with the right balance of industry experience, strategic thinking and proven leadership to replace Evans.
"Shaun's extensive background across the New Zealand banking industry, innovative thinking and international experience are vital components in the mix and breadth of the skill base that he will contribute to the management of our business," Ward says.
Drylie grew up in Blenheim, Dunedin and Hokitika, starting his banking career in Greymouth 30 years ago.
"SBS' values and vision for the future really connect with me. A bank that is in business for its customers rather than shareholders through its member structure is a unique proposition and competitive advantage," says Drylie.
SBS, which obtained banking registration from the Reserve Bank in October 2008, retains a mutual ownership structure as a building society.
Mark McLean, SBS' chief risk and innovation officer, has served as interim CEO. Drylie's due to return to New Zealand in July, and take on the CEO role from August 1.