BNZ unveils New Zealand launch of Android Pay for the bank's Visa Flexi debit card holders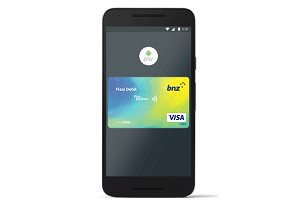 Android Pay has come to New Zealand.
BNZ Flexi Debit Visa cardholders can now make contactless payments using their Near Field Communications (NFC) enabled Android smartphones.
Payments under $80 can be made by holding your phone over a contactless payments terminal, while those over $80 require a pin number.
Retailers will need to have the same NFC-enabled terminals they use for contactless cards, for the payment scheme to work.
Visa says there are 16,000 NFC-enabled terminals in New Zealand - much of these being in supermarkets and other major retailers like The Warehouse, Noel Leeming, Paper Plus, Rebel Sport, Kathmandu, Farmers and JB Hi-Fi.
BNZ's partnership rivals Apple Pay, which was made available to ANZ customers with Visa debit or personal credit cards in mid-October, as well as ANZ's goMoney Wallet aimed at Android users. It also rivals ASB Virtual, launched in June for ASB credit or debit card holders with Android phones, and Westpac's PayTag - a sticker you put on your phone to make the transaction - launched in 2014 for Westpac debit and credit card holders.
BNZ's Android Pay is not yet available to credit card holders.
BNZ's director of products and technology, David Bullock, says there are tens of thousands of BNZ customers with the right technology to start using BNZ Android Pay straight away. 
"We see clear benefits in bringing Android Pay to New Zealand for BNZ customers - for many, it'll be the first time they can shop without their wallet. As the uptake of contactless payments increases there will be more places to pay with just a tap of your phone. It's about simplicity and convenience in payment options for your everyday banking," Bullock says.
"New Zealanders have a long standing affinity with electronic payments, as shown most recently by the swift uptake in contactless payments."
BNZ assures the technology is secure. When a BNZ customer adds their BNZ Flexi Debit Visa card to the Android Pay wallet, the 16 digit card account number is replaced with a unique digital identifier (a "token") that can be used for payment with a mobile. This token means that the cardholder's more sensitive account information is not exposed when a contactless payment is made. 
Also, if customers lose their phone they can use the Android Device Manager to instantly lock it, secure it with a new password, or wipe it clean of personal data. 
Android Pay was first unveiled in May 2015 and has been available in the US since September last year. New Zealand is just the sixth country in the world to have Android Pay. 
BNZ customers can get Android Pay by installing the app on their phone, and adding their BNZ Flexi Debit Visa card by taking a photo of it. They will need to have the BNZ Mobile Banking app loaded on their phone to verify their details. 
BNZ doesn't have a payment system set up for iPhone users, as it is opposed to Apple Pay taking a slice of banks' interchange fees, or the charges banks levy on merchants' sales. 
BNZ's Australian parent, along with Westpac and ASB's parent have asked the Australian Competition and Consumer Commission for permission to act collectively to negotiate with Apple over access for their own digital wallet products in its phones, tablets and watches.