NZ trusts and companies, a failed Russian bank, an out of favour oligarch, a descendant of Leo Tolstoy, asset protection, the Parnell HQ and a 'very concerned' Auckland lawyer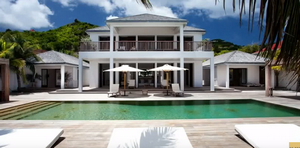 By Gareth Vaughan
A failed Russian bank, an oligarch who fell out of favour with President Vladimir Putin, a descendant of War and Peace author Leo Tolstoy, five New Zealand trusts, a series of NZ companies and an Auckland lawyer.
These are among the key ingredients in a British court judgment that concludes the NZ trusts were used by the oligarch to retain control of assets and hide his control of them.
The failed bank is Mezhprom Bank. The out of favour oligarch is Sergei Pugachev. Leo Tolstoy's descendant is Alexandra Tolstoy, whose paternal grandfather fled the Russian revolution settling in England.
Mezhprom Bank was the court case's first claimant and Russia's Deposit Insurance Agency (DIA), its liquidator, the second claimant. The Bank entered insolvent liquidation in 2010 with the DIA claiming to be owed the equivalent of more than US$1 billion by Pugachev, who founded Mezhprom Bank in 1992. Pugachev became a Russian senator in 2001, and assisted Putin's rise to power, as Justice Colin Birss's judgment puts it.
The married but separated Pugachev, who had two young adult sons, began a relationship with Alexandra Tolstoy in 2008. They've subsequently had three children.
As Justice Birss puts it, in 2008 Pugachev was a man of enormous wealth telling Tolstoy he was worth US$15 billion.
"As well as Mezhprom Bank, he told Ms Tolstoy he owned a number of other things. They included a huge property on Red Square in Moscow, the largest shipyard in Russia, in St Petersburg, the second largest coking coal mine in the world in Tuva, Siberia, the French retail chain Hediard, the French national newspaper France Soir, a chateau in the south of France, three yachts worth $35 million, $25 million and $5 million, two private jets and a 'massive' helicopter. Mr Pugachev used a company called OPK to hold some of his major assets, such as Mezhprom Bank, the Red Square property, the shipyard and the coking coal mine," Justice Birss's judgment says.
The Parnell HQ of the Russian bank's parent company
OPK, or OPK Holding Trust Company Ltd, was a New Zealand registered company that voluntarily deregistered in 2011. The registered office of the company that held a major Russian bank, Russia's biggest shipyard and the world's second biggest coking coal mine, was the house in Auckland's Parnell owned by William Patterson and Robyn Hopkins pictured below. (More on them soon).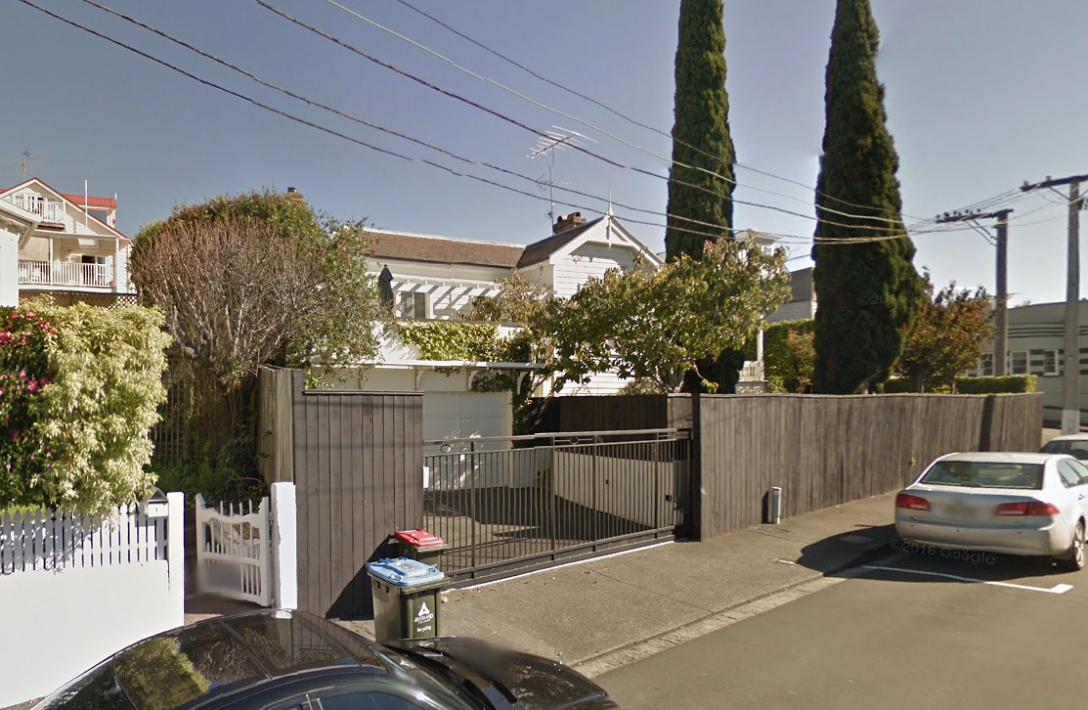 Things soured for Mezhprom Bank and Pugachev from late 2008. The bank got into strife and received ultimately unsuccessful support from the Russian Central Bank. Its licence was revoked and the bank was declared insolvent with the DIA appointed liquidator. 
"At the time the bank was collapsing so too was Mr Pugachev's standing with the Russian ruling elite," Justice Birss writes. "The claimants contend that Mr Pugachev misappropriated very large sums of money from the bank. On the other hand Mr Pugachev contends that the Russian state unlawfully expropriated his major Russian assets. He contends that the Red Square property was taken in 2009 and the shipyards were expropriated in 2010."
"By early 2011 Mr Pugachev's position had deteriorated and he fled Russia on 28th January 2011, just after criminal investigations were opened in Russia relating to the bank's collapse."
From 2009 Pugachev and Tolstoy had split their time between London, Moscow, the south of France and St Barths in the Caribbean.
The US$95m NZ trusts are established
In December 2011 a NZ trust, London Residence Trust, was established with the trust deed drafted by Auckland lawyer William Patterson, whose firm Patterson Hopkins was also corporate administrator for OPK. With the trust holding a home in London's Chelsea, Old Battersea House bought for £12 million, discretionary beneficiaries include Pugachev, Tolstoy, their children plus initially Pugachev's other two kids, Victor and Alexander. The trustee was NZ company Kea Trust Company Ltd, in which Patterson was a director and shareholder.
Meanwhile, pressure on Pugachev from Russia mounted. In late 2012 his company's licence for the Tuva coking coal mine was revoked. In December 2012 he hired a London company named GPW + Co Ltd seeking advice on defending his assets from claims by Russian creditors.
Between July and November 2013 four more NZ trusts were established by Patterson on instruction from Pugachev's lieutenants, with assets placed in them. These were the Kea Three Trust, the Riviera Residence Trust, the Wiltshire Residence Trust, and the Green Residence Trust. Discretionary trusts, Pugachev and his children with Tolstoy are among the beneficiaries.
The Kea Three Trust holds shares in an Isle of Man company, Redflame Ltd, which owns a London property, the Riviera Residence Trust holds shares in companies that ultimately hold the US$40 million Sand Club luxury property in St Barths, an empty watch factory in Switzerland and "some other things," as Justice Birss puts it. The Wiltshire Residence Trust holds cash used to buy Doves House in Wiltshire, and the Green Residence Trust holds a Russian property named Gorki 10.
NZ companies Kea Two Trust Company, which changed its name to Finetree Company Ltd, Kea Four Trust Company Ltd, which changed its name to Bramerton Company Ltd, and Bluering Company Ltd were established as trustees with Patterson and Hopkins serving as directors and shareholders.
Justice Birss says that the value of the assets in all the trusts was more than US$95 million. A worldwide asset freezing injunction against Pugachev in July 2014 required him to disclose information about his assets. That he was among the discretionary beneficiaries of the five NZ trusts was disclosed in a schedule of assets provided by Pugachev's lawyers. In late 2014 the London Residence Trust advanced Pugachev about £3.5 million as unsecured loans.
From bad to worse for Pugachev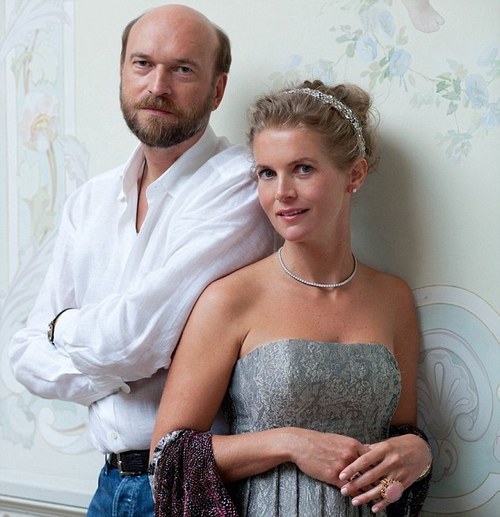 Events turned even more negative for Pugachev (pictured right in
a Daily Mail photo
with Tolstoy) in 2015. A British court injunction required him to surrender his passports and not leave the jurisdiction. And a Russian court gave judgment against Pugachev for the equivalent of about US$1 billion. Despite a further order restricting his travel, Pugachev - who had not surrendered a French passport - left England for France in June 2015 where he remains.
Subsequently in July 2015 the original trustees of the NZ trusts were removed and replaced with newly incorporated trust companies more closely controlled by Pugachev, according to Justice Birss. These were the NZ companies Maru Ltd, Haspori Ltd, Miharo Ltd and Arotau Ltd. The new trustees paid Pugachev's lawyers US$800,000 in August 2015.
In September 2015 Pugachev brought a claim against the Russian state under the Bilateral Investment Treaty between France and Russia, issued in the International Court of Arbitration in the Hague. Via this he wants to recover assets he maintains were unlawfully expropriated by the Russian state including the St Petersburg shipyard and the coking coal mine.
"The claim accuses senior Russian officials, including Mr Putin, of dishonest and fraudulent conduct," Justice Birss notes.
In a British court judgment dating from February 2016 Pugachev was sentenced to the maximum period for contempt of court being 24 months. This was after his travel restriction breach, and he breached terms of freezing orders by transferring £4.75 million which was proceeds from selling shares in Hediard. By early 2016 Pugachev and Tolstoy's relationship was breaking down, with Pugachev cutting Tolstoy off financially, Justice Birss says.
The case, before Justice Birss in the England and Wales High Court, saw Mezhprom Bank and its liquidator DIA arguing the beneficial interests in the assets held by the NZ trusts belong to Pugachev. They sought an order requiring the assets be vested in them, or persons or a receiver selected by the court.
Justice Birss says a critical question is what Pugachev's intentions were in setting the trusts up and transferring assets into them. Since he hadn't heard from Pugachev himself, Justice Birss says he must "draw inferences."
"The evidence shows that Mr Pugachev has two important characteristics. He is not a person who would lightly relinquish control of anything and he is a person quite willing to lie and put forward false statements deliberately if it would suit his purpose. The circumstances as a whole and Mr Pugachev's character support a credible inference that one of Mr Pugachev's purposes in transferring the property into these trusts was what is euphemistically called 'asset protection', in other words to hide them from possible claims, facilitate a plausible denial of ownership, while retaining control in fact," says Justice Birss.
Patterson's 'unacceptable behaviour'
Patterson, meanwhile, also comes under fire in the judgment.
"...I listened very carefully to Mr Patterson's testimony when these points were put to him. I was not convinced by his answers. In my judgment the best that can be said is that Mr Patterson rationalised a deliberate attempt to misdirect the court and the claimants by using language which he knew would most likely be understood in one natural (false) sense but which he thought he could rationalise as having a different (true) meaning. That is not acceptable behaviour. If Mr Patterson is prepared to do that in relation to this important issue, I doubt I can rely on anything Mr Patterson says unless it is supported by the documents," Justice Birss wrote.
"There is plenty of evidence that Mr Patterson regarded Mr Pugachev as 'the client' and 'the principal', which he clearly was. It supports the point that Mr Pugachev was the settlor for all the assets."
Justice Birss goes on to say the point of the NZ trusts was to "hide his [Pugachev's] control" of the assets in them. "In other words Mr Pugachev intended to use the trusts as a pretence to mislead other people, by creating the appearance that the property did not belong to him when it really did."
"Mr Pugachev is the settlor of all the trusts. All the assets in the trusts were his beneficially before they were transferred. That includes the assets transferred in Victor Pugachev's name. Victor was acting as Mr Pugachev's nominee," Justice Birss writes.
"Mr Pugachev's intention in setting up all five trusts was to retain control of the assets but use them as a pretence to mislead third parties by hiding his control. No other natural person involved in setting up the trusts (neither Mr [Martin] Liechti, Ms [Natalia] Dozortseva, Ms Hopkins nor Mr Patterson) had an intention independent of Mr Pugachev's. Accordingly if the interpretation of the true effect of the deeds is wrong, such that they would have the effect in law of divesting Mr Pugachev of his beneficial ownership of the trust assets, then they are shams and should not be given effect to."
Liechti ran what's described as Pugachev's family office in London, and Dozortseva as a close associate of Pugachev.
Justice Birss says he is satisfied he should make "appropriate declarations" in response to the claimants desire for declarations and an order that the trust assets be transferred to them or a receiver.
'I categorically deny that I had any such intent'
Patterson provided interest.co.nz with a statement in which he says he's "very concerned" about Justice Birss's judgment. Patterson says it appears the Judge has decided that for the trusts to be shams he (Patterson) must have had the intention of following Pugachev's orders regardless of trustee obligations under the trust deeds.
"I categorically deny that I had any such intent - at all times I have endeavoured to act professionally and to the highest standards. It is absurd to suggest otherwise. In fact I only met Mr Pugachev once for about 15 minutes in late 2013 and this was just a general introduction. He never issued or gave me any directions about the trusts," Patterson says.
He also says he had no reason to doubt that Tolstoy in one trust, and her three children in all the trusts, were important beneficiaries.
"Unfortunately one of the sad outcomes of this decision, if it stands, is that this claim by the Russian state means Ms Tolstoy and her young children will lose the home they are living in and any financial support," adds Patterson.
"I have been advised by the London solicitors for Ms Tolstoy that they are reviewing the judgment & considering appeal options."
He goes on to say the trusts were properly administered at all times, with due diligence performed on the assets that went into the trusts with an asset rejected in one case. The "highest standards of probity and care were exercised in relation to the administration" of the NZ trusts.
"In early 2014 I learned of claims against Mr Pugachev. I immediately sought and received a lengthy report from his solicitor advising that there was no substance to the claims which were politically motivated. I had no reason to disbelieve that legal counsel and thus I saw no legitimate reason to terminate the trusteeships," says Patterson.
Asked how and when he first become acquainted with Pugachev and/or interests associated with him, and when he first began working for interests and/or parties associated with Pugachev, Patterson says: "I was never introduced directly to Mr Pugachev. Some years before the trusts in question were established his solicitor, a partner in a large international firm, retained me to prepare a trust deed for an unnamed Russian client. As I have done in many similar instructions I was confident that I could accept such an instruction from a reputable law firm."
Birss's judgment provides further details on the NZ trusts, outlined below:
London Residence Trust 

i) Victor transferred £12.5 million into Kea Trust Company Ltd's bank account on 5th December 2011 to fund the purchase of Old Battersea House on 6th December. The London Residence Trust was declared on the 6th. 

ii) Victor transferred further sums into the London Residence Trust in late 2013. Mr Patterson's understanding was that these were to fund the renovation of the Old Battersea House and he prepared a number of deeds of gift relating to these payments. There was one in October 2013 for $8.8 million, one on 22nd November for $5 million. The defendants interpret the $8.8 million as going into the Kea Three Trust rather than the London Residence Trust (the two trusts have the same trustee although they appear to have had distinct accounts run by Oakhill Management in 2013) although Mr Patterson's evidence relates this payment to the London Residence Trust. 

Kea Three Trust 

iii) Mr Pugachev himself had provided £4.125 million to Redflame in July 2010 as a loan to purchase 53 Glebe Place. When 54 Glebe Place was bought, the money came from Victor as another loan to Redflame of £4.2 million in July 2011, although later accounting documents show the lender as Mr Pugachev and include a loan agreement executed by Mr Pugachev and Redflame. 

iv) The key trust asset in the Kea Three Trust is the shareholding in Redflame. The shares were transferred to the trustee company by Mr Pugachev on 8th August 2013 under a deed of gift. 

v) The $8.8 million from Victor mentioned above may have been for this trust instead (see above). 

Riviera Residence Trust 

vi) The two key assets of this trust are the shareholdings of two Luxembourg companies called Topaze Funds SA and Romy Finance SA. 

vii) The Sand Club property in St Barths is held by an entity called Sand Club SCI. Topaze owns 0.1% of Sand Club SCI directly and wholly owns a Belgian company called Notting Hill Invest SA which in turn holds the other 99.9% of Sand Club SCI. 

viii) Romy Finance holds the Swiss watch factory (apparently valued at CHF 2.74 million in 2014) and two companies – Hediard Monaco and Delare LLC (a Delaware company). Hediard Monaco apparently has no assets and did not hold anything relating to the Hediard group. Delare owns about 35% of an entity called Eleven Street Associates which in turn owns a property at 11 Hurley Street, Cambridge, Massachusetts, USA. 

ix) Mr Pugachev transferred the shares in Topaze SA to the third defendant (now called Finetree) on 9th August 2013, recorded in a deed of gift. Mr Pugachev transferred the shares in Romy Finance on 16th December 2013, also recorded in a deed of gift. 

Wiltshire Residence Trust 

x) The price agreed in August 2013 for the purchase of Doves House in Wiltshire had been £4.2 million. Deeds of gift seem to show that Victor transferring two sums to Bramerton as trustee of this trust. The money was paid into Oakhill's Bramerton account held at Barclays Bank in London. The deeds show sums of $5 million on 1st December 2013, and $6 million on 16th December. Since the purchase did not proceed that money remained on deposit. However it seems that the total paid into the trust was in fact only US$4.5 million. 

Green Residence Trust 

xi) The deed for this trust declares the primary investment as shares in Lenux Group Ltd. This is a BVI [British Virgin Islands] company. It holds a Russian company called Korporatsiva Obligaz LLC which in turn holds land in Russia (Gorki-10). The original trustee of this trust was Bluering. 

xii) On 1st December 2013 Victor transferred the shares in Lenux to Bluering, recorded in a deed of gift. Prior to that the sole shareholder of Lenux was Hearnville Properties Ltd, which was beneficially owned by Victor.
Here is a Hediard advert featuring Tolstoy.