Two of New Zealand's highest-flying companies are again clashing, with Air NZ asking the Government to further regulate Auckland Airport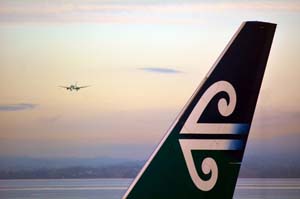 Air New Zealand has launched a scathing attack on Auckland International Airport in front of MPs, pleading for its fellow NZX-listed company to be more highly regulated.
But the Airports Association says Air NZ's criticisms are just another in a long line of "toing and froing" between the two companies.
Speaking at the Transport and Infrastructure select committee on Thursday, Air New Zealand Head of Government and Industry Affairs Duncan Small argued high airport charges were hurting its customers and the company.
"Airlines' frustration with airport charging is long-standing," he told MPs.
Small was submitting on the Commerce Amendment Bill, which would introduce competition studies regimes and update the regulatory regime for airports.
At the moment, he says airports are able to set charges prices as they see fit and this has resulted in an escalation price hikes.
He wants the Commerce Commission to have to power to step in. 
"The current regulatory regime was designed in the days before airports were corporatised," Small says.
He adds that Auckland Airport is essentially a monopoly and, as such, tighter regulation is needed.
"There are only two ways to make a monopoly asset owner respond to their consumers: either the threat of regulation or the threat of competition."
As there is no "credible threat" of competition for the airport, regulation is the "only realistic way to make airports respond to their consumers," Small says.
The current regulatory settings have not led to good investment in Auckland Airport's infrastructure, he says.
This is despite its "unsurpassed and almost embarrassing ability to raise capital."
Auckland Airport has a policy of returning 100% of its profit back to its shareholders.
In 2015, the company gave an additional almost $450 million in a special dividend to its shareholders.
Auckland Airport is in the middle of a $2 billion infrastructure upgrade.
Acting Prime Minister Winston Peters notes there has been a lot of controversy in this area for a while.
He says Auckland Airport is a monopoly and he is meeting with the company's top brass soon to better understand the issue.
"The reality is there should be a fairness about it all," he said, when asked if the airport should be regulated further.
Minister of Consumer Affairs Kris Faafoi would not go as far as saying the airport had a monopoly, by did say it was the only airport in the city.
"That's why we have the legislation to make sure we can control pricing of airports because usually, we only have one airport in the main centers."
Lower ticket prices?
Small is expecting Auckland Airport will continue to raise its airport fees, which are some of the highest in the world, without proper regulation.
"If airport charges were to reduce, a portion of that would be passed back to consumers and would form lower ticket prices."
But the Airports Association Chief Executive Kevin Ward says the airport's charges are "genuinely not that high."
"At Auckland Airport, it's little more than a cup of coffee that the airport charges onto the airline per passenger."
He says the Commerce Commission has estimated the charges amount to roughly 60c per passenger.
"Airline tickets go up by $10, $20, or hundreds of dollars depending on the time of day or week – we think 60c would be lost in the mix."
But Small says those costs add up for airlines.
"In the business airlines are in, which is very low margins, airlines are frequently making less than $5 per seat from that flight."
The Commerce Amendment Bill is in the select committee process and MPs are hearing submissions from many interested parties.