Boat builder McMullen and Wing preparing business case to build electric ferries for Fullers360's Auckland services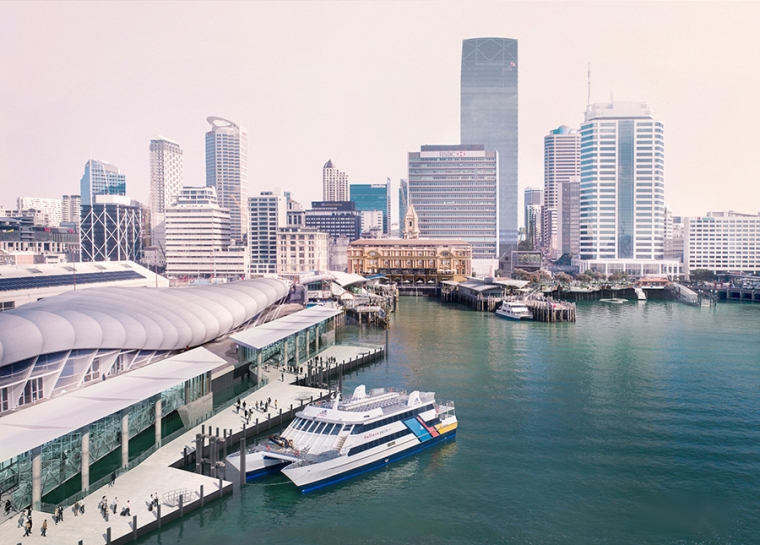 Auckland boat builder McMullen and Wing says it can build 25 to 30 electric ferries for Auckland's transport network.
And it's getting set to present a business case to Fullers360 next month for the first boat it's proposing to build, an electric ferry to run between Auckland and Devonport.
McMullen and Wing chief executive Michael Eaglen says it's still a work in progress and he's unable to divulge the exact costs involved. But he's confident the company can build the ferries.
"We would like Auckland to be the centrepiece of that."
He says many of the existing ferries in Auckland are nearing the end of their lives and the likes of Fullers360, which runs many of the services, is aware of that.
Eaglen says McMullen and Wing has no plans to operate ferry services itself.
He says the company has a lot of work to do to establish what size of ferries would be needed, and to make sure its proposal provides the best service and value for money for the operator.
"Fullers has stepped up and has been involved with our research and development proposal and they are now looking at electric ferries for their Devonport to Auckland services. At the moment they haven't committed to buying a ferry from us, but we've still got the rest of this month to finalise our business case."
McMullen and Wing was started in 1969 and is based in Mount Wellington. Over the years it has built a number of boats ranging from Team New Zealand's Black Magic yacht which won the 1995 America's Cup, through to a number of super yachts and charter vessels. It already carries out refit and maintenance work for Fullers360.
"It's a very significant opportunity for all of the businesses involved if we can we have a globally leading fleet of electric ferries here in our harbour," Eaglen says.
He says there has been significant growth in Auckland's ferry services, with commuters from Hobsonville, Beachhaven, Pinehaven, Gulf Harbour and Half Moon Bay regularly using such services.
Fullers360 CEO Mike Horne says the company strongly believes in the potential of developing an electric ferry fleet.
"Auckland's population is predicted to reach two million by 2029 – and ferry passengers are forecast to grow by a third, to nearly 29 million by 2025. We're seeing steady growth in patronage and need an efficient, eco-friendly and sustainable ferry network to match. Working with McMullen and Wing and contributing to funding, we're in the preliminary stages of a research and development proposal to prove the viability of electric ferries, and may look to progress this into a more substantial project."
He says Fullers360 has a fleet of 20 vessels currently in its fleet, servicing the tourism and commuter ferry network across 18 destinations.
"All current ferries run on diesel as that's the most appropriate fuel at this stage, but we're definitely keen to consider alternative technologies – electric or otherwise – when investing in new vessels for Auckland, as we take the health of the Hauraki Gulf seriously," Horne says.
"Fullers360 is still in early planning stages for electric vessels. We need to not only prove the viability of the electric technology but also ensure practicality, such as ability to build appropriate wharf infrastructure. We're optimistic and look forward to sharing progress and any updates as we're able."
In a report released last year entitled: Unifying the Hauraki Gulf: Calculating the Contribution of Ferries, the company outlined its plans to expand its services.
"Use of public transport – including ferries – is up significantly. Ferry use rose 37% from just over 4.5 million at the beginning of 2010 to 6.16 million for the year to March 2018. As the city's population surges, ferry services play a vital role in reducing road congestion – and getting Auckland moving."
Auckland Transport (AT) spokesman Mark Hannan says it would support any plans to introduce electric ferries in Auckland, but the proposal is being led by Fullers360.
"We're talking about a private operator here, but we would support them on it," Hannan says.
He says AT doesn't have any plans to buy or own ferries itself.
"But we do want to expand ferry services in Auckland and there's definitely room for growth there."
He says the launch of new ferry services from Hobsonville Point is a recent example.
"That has exceeded all expectations."
AT figures released in March show ferry services totalled 6.2 million passenger boardings for the 12-months to February. An increase of 2.5% on the previous year. Patronage for February 2019 was 0.59 million, an increase of 7.2% on February 2018 and 7.4% below target.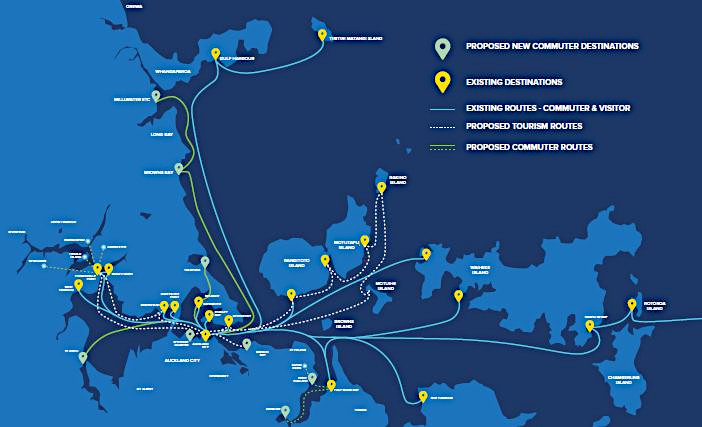 A Fullers360 graphic showing its plans for more ferry services.