The Waikato region's future growth will need to overcome challenges to its two core industries. But opportunities will also come from its 'golden triangle' advantages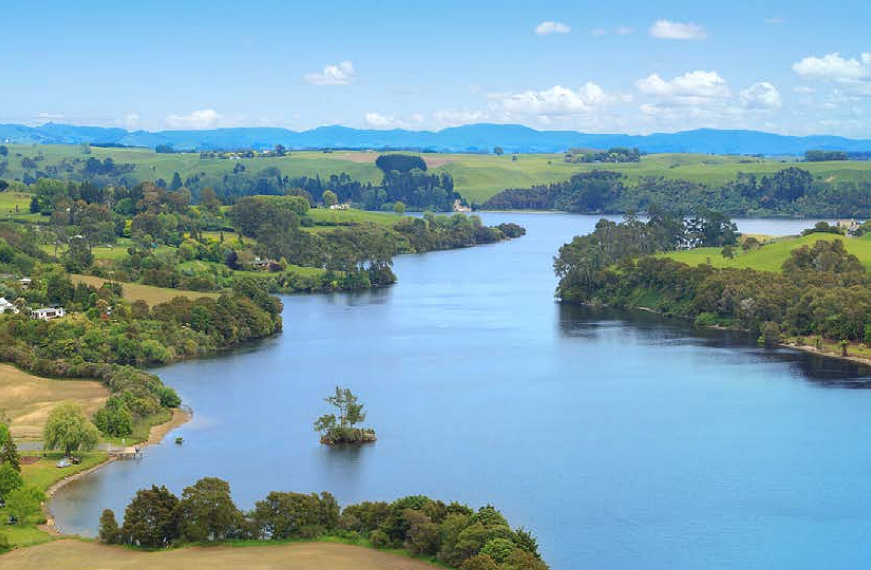 This is the fourth part of Deloitte Access Economic's "Regions of Growth" series. The earlier sections are here. This chapter is here with permission.
----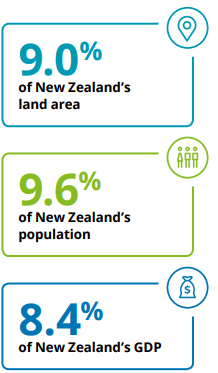 Waikato is New Zealand's fourth largest regional economy, driven by the agriculture industry, and dairy in particular. This comes with challenges due to concerns about biological effluent and increased regulation of the sector, which the region will have to navigate to continue its economic growth.
Also of economic significance to Waikato are the business services, construction, and health and community services sectors. In addition, Hamilton is emerging as a major freight and logistics centre and a pivotal corner of the country's "golden triangle" along with Auckland and Tauranga.
A major player in the region is Tainui Group Holdings (TGH). As the investment arm of Waikato-Tainui it has the role of creating and growing tribal wealth, and represents over 76,000 members from 68 marae across the wider Waikato region. TGH has a long-term, balanced approach to its investments, with a strong focus on the primary sector – it now owns over 4000 hectares of Waikato land that supports dairy, sheep, beef and forestry operations, in addition to having a fishing quota. TGH is also a part owner of Waikato Milking Systems, a Hamilton-based company that designs and manufactures world-class dairy technology, particularly innovative rotary platforms. They provide dairy farm solutions in over 30 countries, including USA, Russia and China.
TGHs inland port development at Ruakura is set to be a game-changer for the Waikato. It is officially recognised as a project of national significance, bringing a wide range of benefits to Waikato-Tainui, the Waikato region and to the entire country.
Industries of opportunity
Waikato is an agricultural powerhouse contributing to New Zealand's economy through its domestic dairy supply and exports. The downside to this is that agribusiness is a key contributor to pollution, with the sector producing three-quarters of Waikato's emissions. However, change is underway, with emissions per kilo of milk and meat falling each year as farmers adopt innovative ways to manage and mitigate biological emissions.
Tied to the agriculture sector, the Waikato region is also a major source of food processing and has eight global food processing plants.32,33 Waikato is home to the most significant cluster of agri-tech companies in New Zealand and also has strong aviation sector capability.34,35
International tourism has grown strongly in Waikato in recent years, with international visitor expenditure and guest nights outperforming the national average, growing 8.4 percent in the past year.36 Additionally, the region is well positioned to host first-rate sports and business events, which attract many domestic and international visitors to the region.37
Figure 7: The economic impact of reaching national export growth targets / forecasts to the Waikato region, relative to the 'base case' scenario, 2019 – 2040
Economic impact of reaching industry export growth targets
Each of our industries of opportunity provide significant scope to contribute to Waikato's future prosperity.
Impact on regional GDP
Under our 'counterfactual' scenarios, tourism provides the greatest opportunity for Waikato in terms of growing GDP. When compared to the 'base case', if tourism were to grow at a rate necessary to meet national targets, it would result in an economic benefit of $1.4 billion to the region, equivalent to 6.1 percent of the region's GDP.
On the other hand, if agribusiness growth targets were met, this would increase Waikato's regional GDP by an additional 2.2 percent ($500 million) over the period from 2019 to 2040. This represents only the impact on the Waikato economy, with an expected knock on effect much wider than the local area, thanks to the dynamic interconnectivity between regions.
This interconnectivity also means that an increase in productivity on-farm will have flow-on effects for other regions, as dairy, produce and meat become cheaper to supply.
Food processing provides a significant opportunity for Waikato, with regional GDP increasing by $800 million (3.5 percent of regional GDP) in today's dollar terms if targets are met. Despite hosting the largest cluster of agri-tech companies in New Zealand, the estimated economic benefit as a result of increasing exports in advanced manufacturing has the smallest impact on Waikato's economy ($100 million from 2019 to 2040 relative to the 'base case').
Impact on employment
Food processing provides the greatest opportunity for the Waikato in terms of regional employment. Our modelling shows an increase to regional employment of 2,900 FTE by 2040, or 1.1 percent of the region's current employment levels, driven by increases in both food processing and agribusiness.
Capitalising on this economic opportunity
These results may be surprising, with tourism offering almost three times as much potential economic benefit as agribusiness – Waikato's most renowned industry – over the period modelled. This illustrates the untapped potential of tourism for Waikato.
Figure 8: Annual change in regional GDP by industry, 2019 – 2040 (2018 dollars)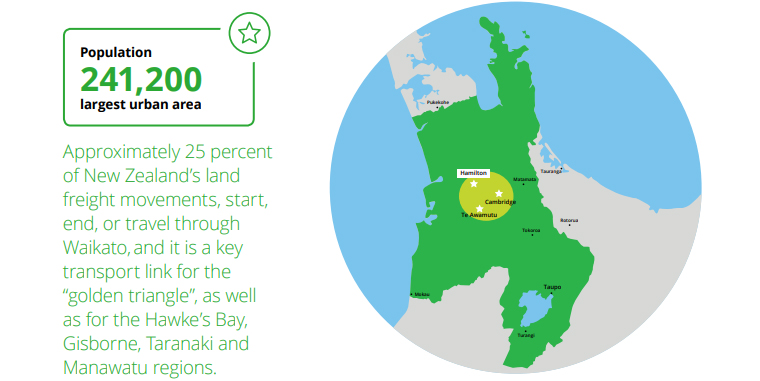 Creating a sustainable sector prepared for future regulation.
Agriculture has historically been a significant source of prosperity for the region and this is unlikely to change in the future. Our modelling clearly demonstrates the benefit to Waikato of increasing exports in agribusiness. The key challenge to capitalising on this opportunity is the ever-increasing need for farmers to respond to regulatory and market needs, including changing consumer preferences for reduced biological emissions. This will necessitate hard conversations around the use of bio-technologies, access to water, competition for land, soil management, and planting of carbonsequestering vegetation. This topic is further complicated by the current land moratorium affecting how land can be used in Waikato
 Farmers are already responding to these requirements, and biological emissions have been decreasing since 2005. It is questionable, however, whether Waikato farmers are able to continue doing so on an economically sustainable basis over the long-term, particularly if they are competing internationally against farmers who are not regulated in the same way.
The Government has commissioned the Interim Climate Change Committee to assess how agri-sector obligations could best be arranged if agricultural methane and nitrous oxide emissions were to enter into the New Zealand Emissions Trading Scheme. A well-managed scheme that operates globally could be beneficial in the long-run due to the transparency it would place on the value of carbon, but we need to ensure that these conversations happen today to ensure its viability. In this way, the Waikato region would still be able to reap the potential benefits from its strongest industry into the future.
A leader in agri-tech.
One way the industry is trying to increase output, while reducing emissions, is through the advancement of agri-tech, with Waikato home to the largest cluster of agri-tech companies in New Zealand. This cluster would support the Waikato region to stay ahead of the innovation curve, and subsequently grow the region's exports. Agri-tech would do this specifically by improving primary sector efficiency, yield, sustainability and profitability through the development of high-tech, energy-efficient, products and solutions. With local farms likely to be used as a testing ground in the first instance, the Waikato stands to be at the global forefront of primary sector innovation and best practice.
Waikato's tourism potential is untapped.
Tourism has been identified as the industry of opportunity with the largest potential economic impact for the Waikato – with export growth potentially increasing regional GDP by $1.4 billion from 2019 to 2040. Apart from the Coromandel – which is largely a domestic tourism destination – the region has not traditionally been known for its tourism sector. Yet Waikato's strong agricultural sector, natural assets (such as the Waitomo caves), and rich Māori culture and heritage should enable the region to build a distinctly Waikato tourism offering. Planning is also underway by Te Waka - the recently formed Waikato Economic Development Agency to develop a cultural tourism package with input from local iwi. Currently under development is an agri-tourism hub located on the Waikato River near Pokeno.
The hub will showcase a working farm, sell local produce, have accommodation and offer boat rides on the Waikato River. This project has been driven by the success of Field Days, the largest agriculture event in the Southern Hemisphere, and is expected to be completed in time for the 2021 America's Cup. However, some areas – specifically the Coromandel – will require infrastructure investment to cope with the growing numbers of tourists.
The inland port will increase the potential for trade.
Waikato's lack of coastline within proximity of an urban hub creates a barrier for sea-freight movements. However, this constraint is alleviated through its connectivity via road and rail to Tauranga. The region is also capitalising on the connectivity through the development of the Ruakura inland port and logistics centre by TGH, due for completion in 2021. This development will contain a logistics hub, inland port, additional land for residential development, three shopping areas and a "Learn Precinct" which will wrap around the existing Waikato Innovation Hub. Utilising this opportunity would be a significant growth enabler for the region.
Connectivity is key.
While Waikato may not have its own seaport, its proximity to the Port of Tauranga still provides a substantial opportunity for increased trade, combined with the region's proximity to Auckland's food processing economy. Approximately 25 percent of New Zealand's land freight movements, start, end, or travel through Waikato,38 and it is a key transport link for the "golden triangle", as well as for the Hawke's Bay, Gisborne, Taranaki and Manawatu regions. The region has strong rail transport links to both Tauranga and Auckland, and road journeys to Auckland will be reduced by up to 35 minutes once the Waikato Expressway is completed in 2020. Its connectivity will support growing Waikato's export sectors, while also providing good opportunities for the logistics, distribution and manufacturing sectors.
---
Notes:
32. New Zealand Trade and Enterprise (2016), Waikato Investment Profile, December 2016
33. Open Waikato, Farming, retrieved from http://openwaikato.co.nz/Invest/Detail/11/farming
34. Ibid.
35. Ibid.
36. Year ended August 2018; Ministry of Business, Innovation and Employment, MRTE Insights Viewer; and Hamilton & Waikato Tourism, Tourism Opportunities Plan 2016, June 2016
37. Ibid.
38. New Zealand Trade and Enterprise (2016). Waikato Investment Profile, December 2016
---
This is the third section of Deloitte's report: "Shaping our slice of heaven: Regions of opportunity". The earlier sections are here and the full report is here. This article is reproduced with permission.