New research indicates geothermal energy could make a big contribution to electricity needs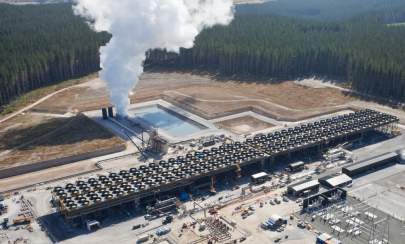 A leading energy scientist thinks geothermal energy could produce around 50% more electricity by 2030 than it does now. 
This increase could go some way towards easing New Zealand's electricity supply predicament, which Transpower warned about in May and again last month.
At that stage, New Zealand had experienced several worries over the supply of electricity, which required the issuance of so-called low residual customer advice notices. On one occasion, the country slipped to within 50 megawatts of the danger zone.
But a presentation by GNS Science has shown there is plenty of opportunity for geothermal energy to take up that slack.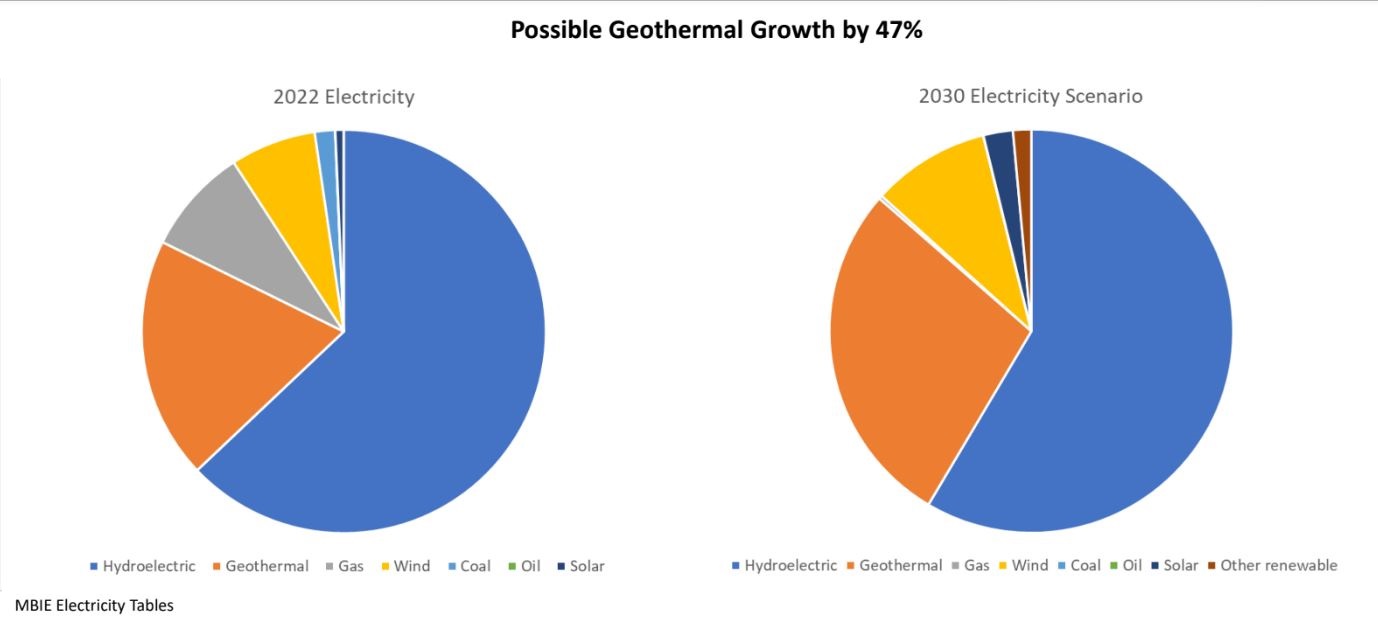 "We are probably around 19% of electricity generation now and we can probably generate about 30% of electricity from geothermal," says Isabelle Chambefort, who is a geothermal specialist and Energy Futures Theme Leader at GNS Science.
 Geothermal power plants use heat from the earth's core to drive turbines with steam from water or from some other heated fluid. They are most common in geologically active countries such as New Zealand, Iceland, the Philippines or parts of the United States.
New Zealand's Wairakei plant was opened in 1958, making NZ a relatively early producer of geothermal electricity.  Activity then levelled off before being revived with several big generating plants opening in the past 20 years.  
That expansion is continuing. New projects include Contact Energy's plant at Tauhara, near Taupo. This will be in operation later this year and will supply 3.5% of all NZ's electricity use on its own.  Another project is Mercury Energy's planned expansion of its 82-megawatt Nga Tamariki power plant, also near Taupo. 
Chambefort says besides building new power plants, output can be boosted by using improved technology to extract more power from geothermal stations that already exist. 
There have been repeated claims that extracting too much energy from a geothermal field will reduce the pressure underground, and so diminish output bit by bit. Chambefort says that is a serious risk, but it is being dealt with by geothermal operators pumping water back into the ground after it has been used.
"As part of the consenting process, companies are limited in the amount of fluids they can take out of a geothermal field," she says.  
"It is based on the simple calculation that what is taken out is going back in.
"So, we have to re-inject the fluid to maintain the pressure, so you don't have pressure inversion of your geothermal field and therefore the system is sustainable in the long term." 
So, this is the promise of the geothermal power industry. It can provide 30% of New Zealand's electricity using heat from the earth's core. And it is economic, because no one has to pay for that heat, unlike thermal producers, who must buy gas or coal for their furnaces. Geothermal energy is renewable, and it is constant, unlike wind or solar, because the earth's core is always hot. Surely, this is mana from heaven to stressed electricity planners. But is it?   
Greg Sise is a veteran analyst from the Dunedin consultancy Energy Link, and he says yes and no.  Yes, because geothermal energy adds to the total supply of electricity, but no, because it is not suited to fill in the gaps when the supply of electricity fluctuates.
"We could run a geothermal power plant during a dry year, or a dry period, and we could turn it off for the rest of the time," Sise says. 
"But that is very expensive to do, the economics just don't stack up. Geothermal power stations take time to heat up and to cool down. They work best when they are operating continuously."
In other words, the very constancy of geothermal electricity is one of its drawbacks. NZ already has plenty of base-load power, to quote industry jargon, but not enough peak-load power.  At present, NZ uses the coal or gas-burning plants at Huntly to provide a lot of peak supplies during a cold night in winter. But those plants were always designed for base-load, not peak-load, and are slow and expensive to turn on and off.
In other words, producing more geothermal power could replicate the problems that already exist with the Huntly power stations. 
Despite this, Sise insists there are big advantages in further developments of geothermal energy. But other methods are needed to complement a system prone to intermittent supplies of electricity from wind or solar energy plants. 
He says one solution is to have more generating plants that can be turned on and off quickly, and these would have to be powered by gas.  
"It is very difficult to do it without gas, for the next decade, anyway," Sise says. 
His comments follow a long line of argument that gas-fired peaking plants can actually assist the environment by giving people confidence to install solar and wind farms, knowing they will still have electricity available on a still night in winter.
Meanwhile, there is another question mark over geothermal energy: it is not always as clean as it might appear. Sometimes, greenhouse gases come out of the ground along with the hot water.  
These so-called fugitive emissions can add to the total quantum of greenhouse gas emissions. 
Chambefort says this challenge is being faced up to. 
"These days, the geothermal industry is putting a lot of effort into being able to solve this problem in the future," she says.
"They are doing a lot of research and development into capturing and probably re-injecting (greenhouse gases) back into the ground as well."
"So, in the future, geothermal energy is likely to be renewable and carbon-free," Chambefort says.
Some geothermal fields produce higher fugitive emissions than others.  
Even so, their impact on climate change is small compared with other sources of greenhouse gases. 
Figures from the Ministry of Business Innovation and Employment show fugitive emissions contributed just 4.62% of all energy sector emissions in 2020. This was dwarfed by 38.64% for domestic transport and 24.60% for manufacturing and construction.