Weather-related insurance claims mount up in 2010 after a quiet few years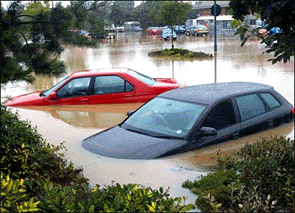 By John Grant
It's too early for the insurance industry to publish an estimate on losses from recent floods but the indications are that the recent adverse weather will result in numerous losses for insurers, and the pressure to raise premiums in the future.
After a relatively good run with-out major weather-related claims in 2009, the recent downpours in both the North and South Islands are not only keeping insurance assessors busy but have also resulted in a number of claims being lodged with the Earthquake Commission.
The Earthquake Commission has received 138 claims following the heavy rain in many parts of New Zealand over the past two weeks. These claims, which are estimated to cost $1.5 million in total, are for landslip damage to houses, and flood and storm damage to land.

"They come from throughout the country, with Napier, Whakatane, Tasman, Waitaki and Wellington particularly hard hit," says EQC's insurance manager Lance Dixon.

"We are bringing in assessors as quickly as possible to work on the claims."

Everyone with home or contents insurance is automatically covered by the Earthquake Commission, but only to their relatively low limits.
People who have damage that could be a claim should ring EQC on 0800 326 243, or their insurance company. 
You have up to three months from the date of the event to lodge a claim so more immediate concerns, such as cleaning up, can be attended to first.

EQC's cover includes landslip damage to houses and contents.  This cover is for the cost of repairing damage up to $100,000 + GST for houses and up to $20,000 + GST for contents.

It also includes damage from storm, flood or landslip to land up to eight metres from an insured house and up to 60 metres from the same house for the main accessway.  The cover is for the value of the insured land which has been lost or damaged.
Insurers themselves are protected under their re-insurance arrangements for weather related claims where the combined total from one event exceeds a threshold limit.