Vulnerable re-insurers under pressure to raise their rates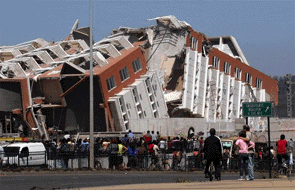 The losses insurance companies will have to absorb from natural disasters are running almost double their usual rate so far in 2010, according to a major re-insurer.
This will likely impact New Zealand insurance premiums because almost all our insurers pass off much of their risk exposure above a certain level to international re-insurers, and those re-insurers will need to cover their losses with higher premiums.
The big natural disasters so far this year include the Icelandic volcano, the Chilean earthquake, and the haiti earthquake. In addition, there have been costly winter storms that swept through Europe.
All up, the economic losses from these natural events have been over NZ$100 billion for the half year. The figure was disclosed in an email statement to the media by one of the biggest re-insurers, Munich Re, prompting some to suggest that this was the start of the softening up process for looming premium rises.
In fact, more big events may be on the way. Credit rating agency Moodys has warned that the Atlantic storm season, which began in Jume and lasts until September, could add up to NZ$150 billion more in claims. Moodys warned re-insurers are "particularly vulnerable" to the magnitude of these claims.
Globally, and here in New Zealand, the level of 2009 claims were fairly modest, allowing insurers to build back their reserves. But despite there being few local natural disaster events, there are likely to be substantial new re-insurance costs that are imposed on our local front-line insurers.
If you notice these impacts affecting your insurance costs, we would love to hear the details. Email us or comment below.