Christchurch earthquake a big shakeup for insurers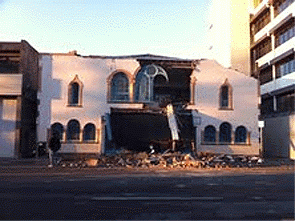 A 7.1 7.4 magnitude earthquake struck the Christchurch area at around 4.30pm this morning. (Update 2 with comment from PM John Key on the damage cost.)
It was centered west of Christchurch around the Darfield area and felt throughout the central South Island.
Damage is extensive with reports of damaged buildings and infrastructure throughout the region. Very few residential properties have escaped some form of damage.
The cost of the cleanup could run into billions of dollars, Prime Minister John Key said. Treasury has advised him that their estimate is about $2 billion.
At this stage the authorities are in the early stages of assessing the damage and it is clear that the repair bills will be extensive.
The last major earthquake to strike a populated area in New Zealand was in the Bay of Plenty in 1987. This cost the industry an estimated $330m but this Christchurch quake will be far more extensive.
The Insurance industry has an emergency plan for such events and the emergency call centre numbers for all of the insurers can be found here.
Insurers work with the EQC (Earthquake Commission) who will be the first line of payments for residential damage to buildings and contents. Information on their procedures for claiming can be found at their website   www.eqc.govt.nz.
The Isurance Council recently published the historical costs of natural disasters in New Zealand, and adjusted those costs to 2009 dollars.
Here is a chart of those insurance costs, with a pure guestimate of the Christchurch earthquake added. The guestimate is not from the ICNZ, and we will update this chart as proper estimates come to hand. For the basis of this early guess, see here.