Am I covered? - A guide to how earthquake insurance cover works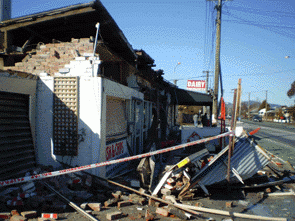 By John Grant
The size of the damage bill from the Canterbury earthquake will take weeks if not months to be understood.
It impacts both the private and commercial sectors - houses, contents and personal property, commercial buildings, damage to stock, business interruption and the damage to public infrastructure, roads, bridges, retaining walls, water supplies, power and sewage.
The end result will be a figure that will no doubt surprise many. Current estimates of between $1.5 and $2 billion are likely to be revised upwards as more detailed investigations reveal the true extent of the damage.
The government's Earthquake Commission (EQC) was established in 1945 to provide earthquake and war damage cover for purchasers of fire insurance. Later, cover for other natural disasters was included and, later still, cover for war damage dropped. The modern EQC is a Government-owned Crown Entity.
Cover is now capped at maximum claim amounts.
To obtain EQC insurance you must hold a current fire insurance policy on the property with a private insurer.
The private insurer is required to collect a premium on behalf of the EQC. You pay 5c for every $100 of cover plus GST. As the cover is limited to $100,000 (plus GST) for houses and $20,000 plus GST for contents this means most people pay $67.50 per annum as part of their House and Contents insurance.
In addition to the limited EQC cover, private insurers provide cover beyond the EQC cover to the limit of the cover you have on your house and contents policies.
In most cases these days houses are insured for replacement cover to a physical size of the property.  This means a property of 300 sq metres is insured for the cost to replace a 300sq m property.
The benefits of this type of cover will now become very apparent as costs are bound to escalate due to scarcity of material and the labour to rebuild.
Therefore if your loss is of a minor nature then you will probably be dealing with the EQC.
However larger residential losses that will exceed the $100,000 cap will require a coordinated role between your private insurer and EQC. In these cases your insurer will be your primary point of contact and they will liaise with EQC.
EQC only cover physical damage to your property. Therefore if the house is not habitable then you will need to claim for temporary accommodation costs from your insurer.
All claims for non residential losses will need to be made to your private insurer.
Claims for damage to commercial buildings will be substantial. However the largest cost is likely to be for business interruption claims. This is where an insurer will cover loss of profits from the inability to trade. It also provides cover for reduced profits due to damage or restricted access through an event such as this earthquake.
Uninsured and under insured problems
The difficulty will come from those who are either not insured or underinsured. The size and extent of this problem will become increasingly apparent in coming weeks.
In previous large disasters, it has been found that one third of people impacted are uninsured, a further third are underinsured, while the remaining third have adequate cover.
Those who do not hold a house or contents cover and have suffered loss or damage to their house or contents are not insured by the Earthquake Commission.