Govt covered for quake because reinsurance was put in place after Sept quake, Finance Minister English says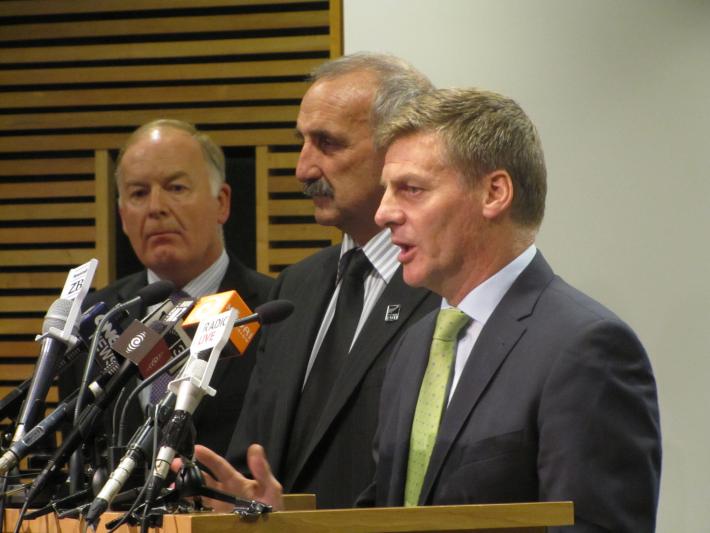 The Earthquake Commission and New Zealand government are covered for today's 6.3 magnitude earthquake in Christchurch as a separate earthquake from the one that hit the city on September 4 because reinsurance had been put in place, Finance Minister Bill English said this afternoon
"My advice is that it is a new event. That means the Government reinsurance was back in place and any claims would be regarded as new claims," English said at a press conference in the Beehive.
"To the extent that we've got to meet some costs, the Earthquake Commission has already been liquidating some of its assets. Clearly the impact of a large event like this is going to have a very big impact on the earthquake fund, but fortunately we have got some reinsurance back in place," he said.
"It'll be a longer term issue, not a shorter term one."
The quake could also have an effect on the Government's fiscal position, English said.
"But as [Civil Defence] Minister [John Carter] has said, the big focus right now is the safety of those people that are affected, and getting the system up and running to support them," English said.
Larger and more devastating
In terms of damage and human impact, the Government was gearing up for something "larger and more devastating" than the September quake, English said.
Meanwhile, Carter said the Government did not have an estimate of any fatalities following the quake. It was not "prudent or proper" to speculate on that figure at this stage, he said.
Search and rescue teams from Auckland and New Plymouth were on route to Christchurch, and government had received an offers from Australia to send teams over.
Carter urged people to leave the city centre, saying the army and police would evacuate and cordon off the area.
Carter also said it might be useful for people, over time, to think about taking a break from Christchurch if they could.
It would also be helpful if people thinking of going into the city stayed away, Carter said, citing problems with an influx of people to the city centre to help following the September quake.