Failed insurance broker Jeffrey McNally blacklisted in Australia for pocketing inflated premiums, then set up here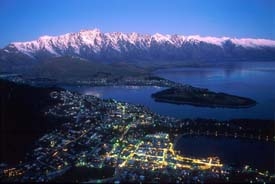 By Amanda Morrall
Former insurance broker Jeffrey McNally, a director of failed Queenstown insurer Western Pacific, was sanctioned in Australia in 2002 for hiking premiums and pocketing the profit instead of passing them along to underwriters.
Western Pacific, established three months after McNally's insurance broker business Allied Asia was stripped of its license in Australia, was placed into liquidation on Friday after the company signalled concerns about its solvency, leaving 7,000 customers worried about their coverage in the wake of the Christchurch earthquake. (See original interest.co.nz article here).
New Zealand's insurance market was monitored by the Ministry of Economic Development at the time Western Pacific was founded in 2002. The industry's formal regulation by the Reserve Bank did not start until 2010.

According to Australian Securities & Investment Commission (ASIC) documents and records released by the Australian Prudential Regulation Authority, McNally's irregular business practices led to several consumer warnings about his company Allied Asia.
The Commission, in March 2002, refused to renew McNally's license for acting in a "false and misleading manner in dealing with clients" and for failing to "discharge the ordinary obligations of an insurance intermediary."  
Specifically, his company was accused of charging its clients premiums above what were quoted by insurers, then pocketing the difference without the knowledge of both underwriters and clients to whom it was acting as intermediary. It was also charged with taking higher commissions than it was entitled to receive from the insurance companies and for failing to file audited accounts in the required timeframe.
The company was also sanctioned by the Commission for placing insurance with two companies that were not registered with the Australian Prudential Regulation Authority. (For full details see this release ASIC).
Following his blacklisting in Australia, McNally partnered with Arrowtown businessman Graham Smolenski and set up Western Pacific Insurance in 2002.

McNally could not be reached for comment, but his partner (also his brother-in-law) said ASIC's rulings did not reflect the global circumstances of the company. Despite ASIC's refusal to relicense McNally, Smolenski maintained that he was not banned from the insurance industry there.
"It's not true...he was not banned,'' Smolenski  told interest.co.nz.
See the ASIC document here titled: "ASIC stops Victorian broker (McNally) selling insurance policies for unregistered companies.
Smolenski said the 'whole basis' of the case against McNally was later found to be incorrect, but he refused to explain why, deferring explanation to McNally who lives in Victoria, Australia.
Whilst McNally was refused a license for Allied Asia, Smolenski said his partner remained in business through other companies he was involved with.
McNally did not mention the sactions by ASIC and APRA in the about page on Western Pacific's website.
On Western Pacific's website,  numerous Allied Asia off-shoots are noted including companies operating under a similar name in Singapore, Malaysia and Indonesia and Hong Kong.
According to liquidators Grant Thornton (appointed last Friday to handle the company's dissolution) Western Pacific is  "principally a broker brand that offers a wide range of commercial, domestic and specialty products as well as programmes for affinity groups, underwriting agents and preferred brokers.''
Although the liquidator has declined to comment on the company's reasons for failure pending a review, rating's agency Standard & Poor's suggests the tipping point was the Feb.22nd earthquake in Christchurch, where Western Pacific had a uncomfortable exposure.
"Standard & Poor's had always acknowledged WPIL's inherent weaknesses in a small absolute capital size, exposure to operational and small business risks, and limited financial flexibility of entrepreneurial private ownership, but the reinsurance program was viewed as good for a company of this profile.
"The financial flexibility of its shareholders to support the company in need, which supported the 'B/Stable' rating at the time of the earthquakes, proved not forthcoming beyond an interim injection of around NZ$500,000 late 2010.''
Under Grant Thornton's advisement, Smolenski said he could not comment on Western Pacific's insolvency woes.
However, Grant Thornton confirmed Western Pacific was hit with at least 150 claims in the region.
The Reserve Bank, now prudential supervisor of the insurance industry in New Zealand, deferred comment on Western Pacific's situation and the licensing issue in Australia to the Ministry of Economic Development, which was responsible for regulating the industry when Western Pacific went into business.
A spokesperson for the central bank said under the new Insurance (Prudential Supervision) Act, all insurers are required to be licensed but the final deadline to do so isn't until 2013. The Reserve Bank website sets out the terms and guidelines for licensing and can be read here.
* This article was first published in our email for paid subscribers this morning. See here for more details and to subscribe.