Questions raised over whether new Gen Y insurer, Volo, loses transparency as it cuts the paperwork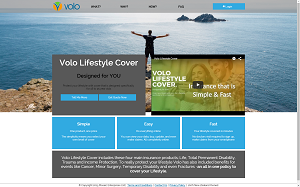 The newest life insurance brand to enter the market is clashing heads with advocates calling for greater transparency within the industry.
Mosaic has launched a new product, Volo LifeStyle, which provides a mix of life, income protection, trauma, and health cover for 18 to 35-year-olds.
Volo lives up to its marketing campaign, which promotes itself as being a cheap, quick and easy way for young people to buy insurance underwritten by Partners Life, online.
It doesn't bombard the Generation Y customers it's targeting with long-winded insurance jargon, but cuts to the chase and lets them know what they need to pay for what quality of cover.
But there's a crucial catch that separates Volo from other insurers. It doesn't give you the policy document detailing all the terms and conditions of the policy until you've paid and signed up.
A policy document essentially outlines the terms and conditions of the contract you agree to. While policy documents are often long and cumbersome, they are key in letting you know why your insurer may not pay out your claim and what you can do to ensure it does.
What Volo does reveal before you hand over your money is a simplified list of exclusions detailing that people who work in specified higher risk professions or do certain dangerous hobbies will not be covered. It also says it won't pay out claims related to any pre-existing medical conditions.
While these exclusions are presented in a clear format, they only provide the bare minimum necessary for customers to really know what they're signing up for.
In the quoting process, Volo also specifies set amounts it'll pay out if you get specific injuries, illnesses or disabilities.
While most insurers' policy documents say they'll pay "up to" X if you suffer condition Y, Volo lets you know exactly what you'll get for suffering certain conditions.
Overall, its underwriting process is quite unique, as it calculates the cost of your premium and the quality of your cover, according to your income and not your age. If you earn less, it assumes you have less to spend on insurance so will produce a cheaper premium with lighter cover for example.
It does however give you the flexibility to change this recommendation if you wish.
Call for greater transparency so people can make better comparisons
Volo has to some extent moved in the opposite direction some insurance experts have been advocating the industry move in, when it comes to transparency.
Chatswood Consulting director Russell Hutchinson says that broadly speaking, insurers which sell their products online should at least provide the terms of their product.
He points out that if you look to buy a car online, you'll check out its price and specs before you go ahead with the purchase.
"The idea that I can't find that with insurance is out of date and needs to go", he says.
Westpac Massey Fin-Ed Centre Centre director, Dr Pushpa Wood, agrees.
She says there needs to be more transparency within the industry, so people have the information they need to easily make comparisons between insurers.
She maintains insurers need to be consistent with the language they use when writing policy documents. They need to ensure that the key components of their offerings are clearly communicated.
Wood says the industry is mature enough to regulate itself and meet this basic level of transparency.
She says the low-uptake of life insurance in New Zealand compared to other parts of the world should be a strong enough indicator there is a need for the industry to better connect with consumers.
Volo 'we're not hiding anything"
Taking a different approach to better connect with customers' needs is exactly what Volo maintains it's doing.
Its chief marketing officer, Andy Baird, says the research its done has found one of the biggest complaints people have about life insurance is the fact they have to go through lengthy and confusing paperwork.
"We ran a lot of focus groups and what a lot of Gen Y told us was that it's more about the process, than necessarily the comparison", he says.
He says there's "actually no reason" Volo's policy document isn't on the insurer's website, or provided to customers until after they buy the product.
"It's not that we're hiding anything. It will be put on there [at some unspecified time in the future]. But obviously the website is brand new, we're adding stuff all the time."
While Baird has agreed to provide interest.co.nz with a copy of its policy document, he notes Volo is being cautious about making what is deems commercially sensitive information available to its competitors in the initial stages of it getting up and running.
He notes, "We have in some regards been holding it back a little bit because obviously there are other insurers, which are signing up for our product to try to get the policy doc so they can see exactly what we're doing."
Baird points out people can read the important exclusions in simple English (as explained above) before signing up.
They will also be prevented from continuing with their application if the computerised system picks up that they work in a profession that excludes them from being covered.
He admits that Volo is ultimately targeted towards healthy young people, who work in office-type jobs. By taking on lower risk customers, the idea is that Volo can provide cheaper premiums.
"Legally it's all legitimate. We've got all the disclaimers, we've got all the exclusions", he says.
"We're going to find out over the next couple of weeks, if people say, 'hey where is this policy doc? We don't trust you'."
Baird points out Volo is transparent in the sense that it gives customers the ability to select how much cover they would like if they were to suffer certain conditions. They know this before they sign up, rather than being surprised when their insurer agrees to pay out less than expected when they come to making a claim.
This ties in to Volo's strategy of not giving customers advice, but rather giving them the power to make their own decisions.
Baird is confident they have all the information they need to do so effectively, even without access to the policy document.