Youi insurance reports $14.8m loss during first year operating in NZ; tracks in line with parent company's expectations despite paying high marketing & sales call centre costs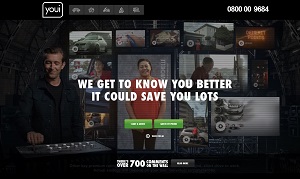 Youi NZ has reported a $14.8 million loss for the year to June, having spent big bucks on marketing during its first year operating in New Zealand.
The South African general insurer, launched in New Zealand in July last year, has differentiated itself from its competitors by fervently advertising its strategy to ask customers more questions to give them a more tailored premium.
While Youi NZ's financial results don't specify how much it has spent on advertising, one of its parent companies, OUTsurance International's 2015 annual report says, "high marketing budgets and sales call centre costs resulted in significant start-up costs being incurred".
Youi NZ's financial results show it made a net income of $28.6m in the past year. This was largely made up by gross premium revenue of $5.0m, and the company receiving a $23.9m 'management fee from Group companies'.
However it forked out $11.1m for 'acquisition costs and other underwriting expenses', which include marketing costs.
It also paid 'short-term employee benefits' – salaries and non-monetary benefits – of $21.5m, and rent for its offices of $1.7 million
OUTsurance says, "We are pleased with the performance of the business [Youi NZ] to date which is in line with our expectations. The business leverages the support infrastructure of the Australian business and operates a large call centre in Auckland.
"We believe that the growth opportunities available in the Australasian market present the Group with good growth potential over the medium term."
OUTsurance also notes, "The Youi Group incurred central funding costs of R31 million [around NZ$3.4m] relating to an intragroup funding arrangement which was primarily established to support the New Zealand expansion.
"The intergroup funding arrangement consists of long-term redeemable preference shares which were issued by Youi Holdings to OUTsurance."
Youi in July last year told interest.co.nz it was investing "close to $60 million" in capital, and would have 420 New Zealand-based staff by April 2015.
Its chief executive, Daniel Matthee, said Youi saw itself as a challenger brand, and already competed with NZ insurance sector behemoth, Insurance Australia Group, in Australia.
"I think our offering is based around the fact that we ask more questions of our customers, we understand their insurance needs better, how they use and don't use their cars, what features and factors are important around their insurance needs, and then we tailor make policies and a quote that is suited to an individual's needs," he said.
"We plan to communicate that via online marketing campaigns and above the line television campaigns as well as through word of mouth.
"We're committed to this market [and] not for the short-term. We're in this for the long haul. We certainly intend to be here for a very, very long time.
"We fully understand that we're the challenger. There's a much larger player in this market that we are conscious of. But we also think it's a sophisticated player and there won't be irrational behaviour."
Youi NZ is a wholly owned subsidiary of Youi Holdings. Youi Holdings is a subsidiary of OUTsurance International (owns 93% of Youi NZ), which is South Africa's largest direct insurer. OUTsurance is part of the Rand Merchant Insurance Holdings Group.
Youi has declined interest.co.nz's invitation for an interview on how the company's progressing.