5.7 jolt hits recovering City in new blow. No reports of injury or death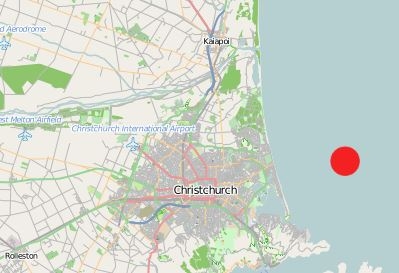 A magnitude 5.7 earthquake occurred 15 km E of Christchurch, New Zealand at Sun Feb 14 2016 1:13 PM (NZDT).
This is just one of thousands of aftershocks from the 2010-2011 events, but a large one.
A few buildings (such as Riccarton Mall and other public shopping centres) have or are being evacuated.
The first reports show considerable impact in the Sumner and Brighton suburbs.
There are reports of liquifaction.
There has been more damage to the un-restored Cathedral.
The quake was felt as far as Asburton and Hanmer Springs.
Some cell-phone towers are reported to be out in the east of the city. There are also reports of overhead cables down.
Power is reported to be out in Akaroa, and parts of the eastern City suburbs.
There also reports of burst watermains that are causing problems, and valves at the city's reservoirs automatically closed. Some pump stations have been affected by power outages and stand-by generators are being brought in.
Queues are being reported at some supermarkets, especially in the north east of the City.
An NZTA spokeswoman says all highways remain open and bridges have been checked.
The Fire Service said there have been no emergency line calls for structural damage.
Some fire alarms have been activated.
St John ambulance said there was a sharp increase in calls during the quake but they were mostly related to minor injuries from falls as people were running.
This event comes just eight days short of the 22 February 2011 Christchurch magnitude 6.3 quake which claimed the many lives.