Insurance industry up in arms over Government's call to make people with property, contents and motor insurance contribute an extra $161m towards funding the fire service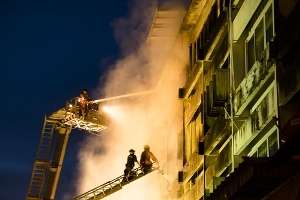 People with property, contents and motor insurance will have to stump up more to fund the fire service from July 2018.
The Minister of Internal Affairs, Peter Dunne, has announced the fire levy on insurance will be increased by $161 million over three years from 2017/18. Put in perspective, levy collections totalled $350 million last year. 
Currently, 95% of the Fire Service's operations are funded by the levy, which is payable on all contracts of fire insurance for all assets insured in New Zealand. 
From July 2018 the fire levy will be broadened to include insurance on material damage. The levy on motor vehicle insurance will also be extended to include third party insurance.
Dunne says: "The new funding arrangements will be much fairer and will ensure that both large and small property owners and most motorists will pay their fair share towards the cost of fire and emergency services."
However the insurance industry, which has been lobbying the Government to do away with the levy altogether and fund the fire service through general taxation, considers today's announcement a huge slap in the face.
"Continuing to tax only those people who pay insurance to fund the fire service is blatantly unfair and well out of step with best policy practice internationally," the Insurance Council of New Zealand (ICNZ) says.
The funding change comes as the urban and rural fire services are combined into one organisation – Fire and Emergency New Zealand – from mid next year.
The Government will also chip in $30 million of funding over three years from 2017/18, to go towards the cost of "public good non-fire activities", such as responding to medical emergencies, floods or other natural emergencies.
It will also provide a $112 million capital injection to be repaid over the next 10 years.
ICNZ's chief executive Tim Grafton says: "Insured people will pay about $300 million in tax above what they do now to fund the changes.
"This is not good for hard working kiwis who do the right thing by taking out insurance to protect their property.
"We're naturally disappointed the Government only wants to tax people who take out insurance and allow those who don't insure to be free-loaders.
"There had been an option that was supported by officials to remove the tax from insured drivers and apply it to the annual licensing fee or 'rego', so all road users paid. Instead, the Government has expanded the tax on motor insurance to third party insurance on the misguided basis that this will reduce avoidance". 
Dunne says the changes to the levy mean there may be small increases from the 2017-18 year, but more work has to be done. 
The levy is currently calculated at 76c per $100 of sum insured, subject to upper limits and special calculations. For example, the levy on insurance for residential buildings is capped at $76 and domestic contents, $15.20. There's a flat rate of $6.08 for vehicles under 3.5T.
Legislation will be introduced to Parliament within the next three months.