Tower CEO sets sights on embattled insurer becoming a 'leading digital challenger brand' that uses better data to assess risk and target premiums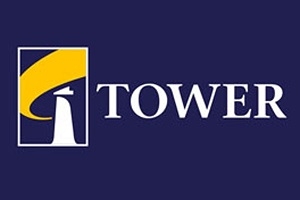 Tower is planning to use new technology to better target customers in low-risk parts of the country, like Auckland, who under traditional insurance models effectively subsidise those in higher-risk places.
Speaking at an investor briefing, further to Tower on Tuesday announcing it suffered an $8 million loss in 2017, the company's CEO Richard Harding said the insurer aimed to "transform into New Zealand's leading digital challenger brand".
He said a market dominated by two big players (IAG and Suncorp) had seen cross-subsidisation, where customers paid relatively similar premiums regardless of their risk.
This he believed had created a "huge market opportunity for Tower".
"What happened in Australia five to seven years ago, was that challenger brands started entering the market and achieved significant growth thanks to their ability to target those customers who were unfairly subsidising others," he explained.
"The strength and value of a challenger brand is built at underwriting excellence. It's the ability to use data to deliver compelling, targeted offerings to niche and profitable customer segments.
"Tower has the inherent power to become a leading digital challenger brand in a way that the other big players just can't match.
"Our size and the culture we are creating enables us to be nimble and rapidly respond to customer and market changes."
Nothing new?
In December, IAG's chief risk officer at the time, Karl Armstrong, told interest.co.nz an end to cross-subsidisation was on the horizon.
He noted commercial policyholders were already paying premiums according to where their properties were located, how they were constructed and the type of soil they were built on.
He said that while high-risk residential policyholders in Christchurch for example had already had their premiums bumped up, this risk-based division may become more pronounced.
Interest.co.nz also understands Youi's business model to be all about asking more questions to better quantify risk.
Nonetheless, Harding talked up the need for investment to "amplify" the work Tower had already done in digital to accelerate its transition into a "high performing company".
Better data = better targeted pricing
Tower on Tuesday announced plans to raise $70.8 million of capital to get the business, still struggling in the wake of the Canterbury earthquakes, back on track.
Yet Harding told investors: "The key to accelerating our transformation is a new IT platform that combines our existing data with that of our partners to get full understanding of our customers.
"This understanding leads to increased market share by actively targeting those niche customer segments with compelling and appropriately priced propositions.
"Implementation of our strategy will allow us to rapidly respond in today's constantly changing digital landscape by significantly simplifying our business and the way that customers interact with us.
"Some of the key benefits we'll see from accelerating our transformation include the ability to… target specific profitable customer segments through granular and automated pricing and underwriting, charge fairer and more accurate premiums for improved access to and use of internal and external data, easily experiment with products and pricing, rationalise products and reduce claims costs by improving the customer claims journey and overall claims management…"
Online sales growth solid
Tower in its results announcement said it had already started some of the work simplifying its IT system.
"The new build is likely to take 12 months, following which new business will immediately go live on the new platform and migration of the legacy book can start," it said.
To date, Tower has made some solid digital gains. Its online sales increased from 9% of new business transactions in March 2016, to 30% in September 2017.
Further to its relaunch of a new Trade Me Insurance platform, it has also more than tripled its net earned premium on the prior year.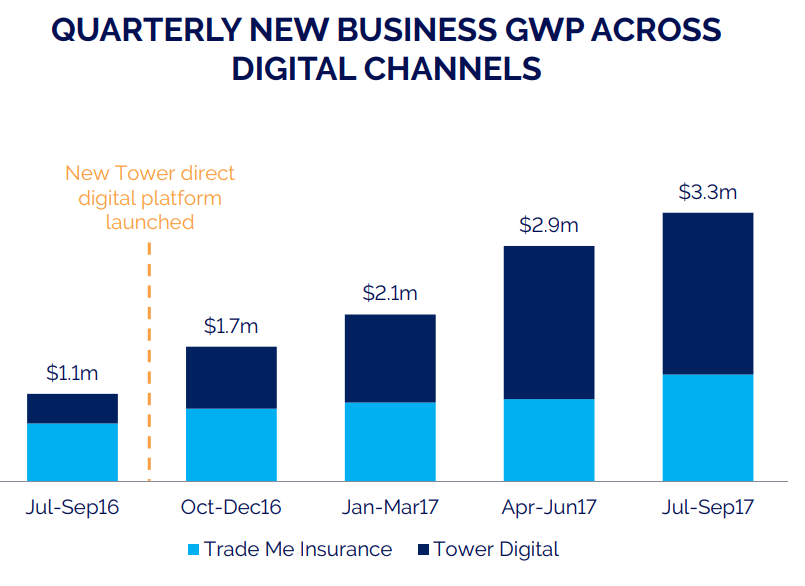 In the medium term, Tower aims for its "challenger brand" to deliver gross written premium growth of 4% to 6%, an expense ratio of less than 35% and a return on equity of 12% to 14%.
In the 2017 financial year it experienced GWP growth of 3%, had an expense ratio of 39.9%, and had no ROE.
Tower still faces a number of obstacles (outlined here) to be in a comfortable financial position.