Buying insurance via Facebook Messenger a step closer to becoming a reality as Lloyd's of London agrees to underwrite Auckland insurance start-up, Cove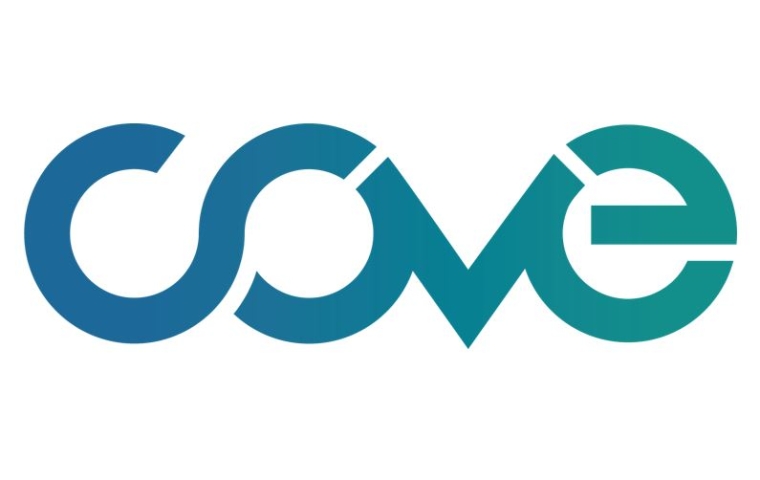 By the end of the year, you should be able to buy car insurance using Facebook Messenger and make a claim by submitting a video recording of yourself explaining your loss.
These are some of the ways an Auckland-based start-up plans to make buying insurance and making a claim intuitive for those more at ease sending a message on their mobile phones than filling in a form.
Andy and Rob Coon (the sons of Sovereign founder Chris Coon) as well as Tower's former CFO, Brett Wilson, last year founded Cove.
The insurance provider has just become an approved coverholder for Lloyd's of London. This means its products will be underwritten by certain underwriters at Lloyd's.  
Cove will in coming months start offering comprehensive car and mobile phone cover, before enabling people to insure other individual items, all their contents and by the start of next year, their homes.
Ultimately, Wilson and the Coon brothers would also like to sell life insurance.
Facebook a data source during underwriting
They see the user experience differentiating Cove from other insurers in the market.
For example, rather than filling out an online form to buy car insurance, a chatbot will ask you to provide the information Cove needs about you to price your risk.
Andy Coon maintains this is easier than tapping into the various fields of a form on a mobile phone.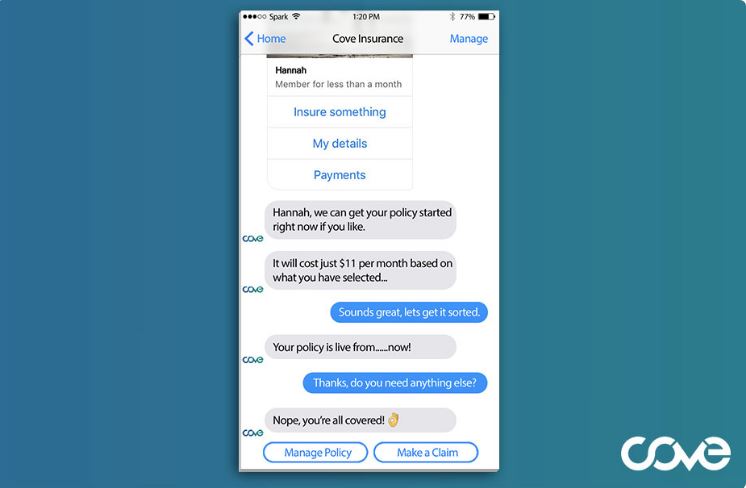 Cove will also try to draw data from as many external sources as possible, to reduce the amount of typing you have to do.
Like other insurers, it will tap into databases to get information about your car by you providing your number plate; or your house, by you stating your address.
However it will also be able to pick up your location, and get your name, email address and mobile phone number from your Facebook account - in the same way a number of other apps do this with your permission.
Wilson assures Cove won't be able to see your personal Facebook information. Nor will it use whatever information you have on Facebook to weigh up your risk profile - IE charge you a higher premium if there is a photo of you on Facebook doing donuts in a carpark.
Nonetheless, Wilson says customers will need to be comfortable with the media they're dealing with.
"It's similar to any online purchase that you make. The level of analytics that Google and others have is quite complete," Andy Coon adds.
While the interface is completely novel, he says the way Cove prices risk is fairly similar to other insurers.
Video message claims
When it comes to making a claim, Cove customers will once again use the chatbot.
By the end of the year they will also be able to upload a video of them explaining their loss.
Cove's technology will analyse this and in most cases settle the claim immediately.
If the video analysis comes back with certain tell-tail signs the claim may be fraudulent, Cove will analyse the claim manually.
While Cove intends to automate a number of the processes involved in insurance, customers will still be able to request to talk to a real person through its messaging service, or call a 0800 number.
A regulatory sweet-spot?
While Cove has written its own policy documents and come up with its own processes, being underwritten by Lloyd's means it doesn't need a Reserve Bank of New Zealand insurance licence.
And because its chatbot doesn't provide advice, it doesn't come under the Financial Markets Authority's remit.
However it has registered as a financial service provider.
Asked whether its model has meant Cove has been able to side-step some major regulatory hurdles, Andy Coon says, "That's true and not true.
"Lloyd's does behave as its own regulator, so achieving coverholder status is no light feat. We have been through a process - that while not the same as becoming directly regulated - has a very heavy focus on all the consumer protection."
Wilson also attests to the detailed due diligence Lloyd's did before deciding to back Cove.
Cove is expected to be available to the general public later this year.